Everyone has a dream project. So often, those are the ones we can never dedicate the time and resources to. That's why we created the Adobe Creative Residency. The mission is simple: to support the creative community and cultivate a culture of creating and sharing.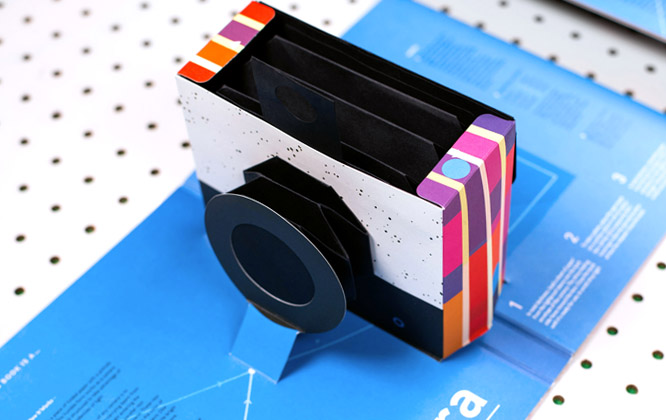 This Book is A Camera a project by Kelli Anderson during her residency
The role of a Creative Resident

Your role as a Creative Resident is to create and share. You proactively make inspiring and innovative work. You energetically engage with others by sharing your progress, discoveries and outcomes. You try new tools and workflows in order to explore the potential of your work. You attend events, speak at conferences and collaborate with other leaders in your field. You find value in sharing your work with the larger creative community through sharing all parts of your process.
---
"The Creative Residency has taught me to take more creative chances. I've said yes to opportunities the old me would've found scary—like public speaking and drawing on walls! It also introduced me and my work to some of my biggest design heroes, which has helped me be more confident in putting myself out there."
— Christine Herrin, 2016 Creative Resident
---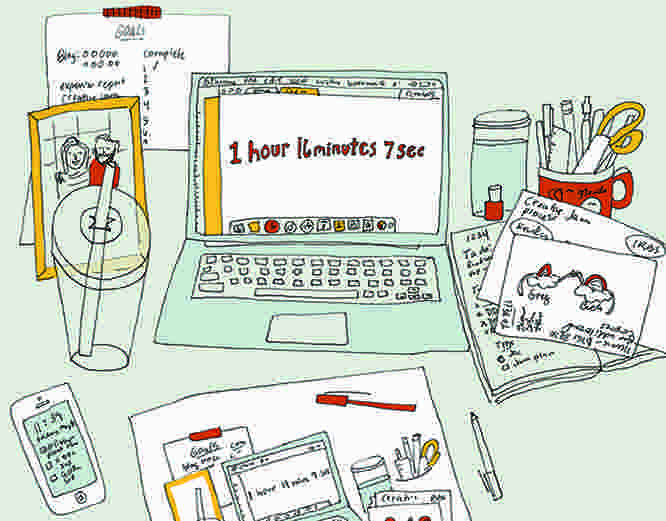 "Studio Desk" illustration by Becky Simpson during her residency
The benefits of being a Creative Resident

An entire year to focus on a personal creative project

Adobe support and expertise to help you realize your project

Access to Creative Cloud

Hardware as needed for your project

Opportunities to meet and receive guidance from leading creatives

Access to participate in creative events including Adobe MAX and 99U

Increased exposure and recognition in the creative community

Full salary and health benefits



---
"The Creative Residency has allowed the opportunity and laid the foundation for my career as a content creator. I will be forever thankful for the freedom to just create. The progress that I made in my Residency was only possible by devoting 100 percent of my energy to my creative projects — something that would have been impossible without the Creative Residency."
— Sara Dietschy, 2016 Creative Resident

---
FAQ
When can I apply for the Creative Residency?
The 2018 application is now closed. Applications are open every year late January through February.
What are the dates of the Creative Residency year?
The Creative Residency runs from May through April each year.
What questions will I be asked in the application?
If you are applying to the Creative Residency, take time gathering your application materials. We will be looking at your project proposal, alongside your previous work samples to determine if they are a good match for the program. Here are the kinds of questions you should be prepared to answer in the application.
What is your project about? What do you want to accomplish with it

How does this project build off work you've been doing?

What tools will you use?

What will your creative process be?

How will you share it with the creative community?

What will others learn from your project?
While preparing your answers, begin selecting three past projects you want to share with us along with links to your online portfolio and/or Behance page. Do some research on best portfolio styles, by checking out Behance projects from some of our residents like Jessica Bellamy and Rosa Kammermeier.
What do I include in the budget section of my application?
Please include costs related to your project alone. You do not need to include your salary, travel or living expenses.
Who owns the work Creative Residents make during the residency?
The Creative Resident retains ownership of all their work created during the residency. The resident grants Adobe a license to use the work they create during the residency and Adobe will work with the resident to ensure the integrity of their work.
Are the Creative Residents paid?
Creative Residents are provided with health insurance and paid a full salary commensurate with their experience and geographical location. Adobe also covers each resident's travel and project costs, including hardware during the Creative Residency.
What are the eligibility requirements for Adobe Creative Residents?
Live in the United States, Germany, the United Kingdom, or Canada

Of legal age and status to work in their given country

Speak and write fluent English




Interact with the creative community in the primary language of the country where they live--e.g. German residents in German, North American residents in English
In which creative fields are you interested in candidates?
We have a focus on the following fields:
Photography

Digital drawing and painting

Graphic design (Digital and Print)

UI/UX design

Short form online video
The Creative Residency program aims to provide a diverse range of creative viewpoints, backgrounds, and experiences, so even if your area of interest is not in one of the fields above, we still encourage you to apply.
Are Creative Residents required to relocate?
Creative Residents remain in their current living location with their existing studio setup. Residents will visit our Adobe San Francisco office once a quarter and can expect to spend up to 25% of their time traveling to creative events.
Can Creative Residents work for other clients during the residency?
The focus of the program is for the Creative Resident to work on their project and accomplish their long term goals. Exceptions are considered on a case-by-case basis.
Can I apply with another person or as a team?
No, we currently accept only individuals for the Adobe Creative Residency.
Is there an age requirement?
You must be of legal working age in the country of your residence. Other than that, there are no age requirements or limitations.
How much experience is too little or too much to qualify for this program?
We are looking for applicants early in their creative careers. We do consider applicants that are switching from non-design careers.
Can I work another job or be in school during the Creative Residency?
The residency is a full-time committment. If, during the residency year (May-April), you would be working another job, taking a long vacation, or have any other commitment that would prevent you from investing yourself full-time to the residency, you are not eligible to be a resident. If you are a graduating student, you are eligible only if your tests and coursework are complete by the residency launch in May.
What is meant by residents will travel up to 25% percent of the year?
Residents will travel for Creative Jams, Adobe MAX, 99U and other conferences. Residents will work with the program coordinator to determine which trips are most beneficial for their project. Travel will be spread out over the whole year.
Who do I contact about the Creative Residency?

Please drop us a note at CreativeResidency@adobe.com.
---
"Take a minute and imagine all of those side projects you've been writing down and dreaming about. You know, those ideas you can't stop thinking about. With the Creative Residency Program, you can turn these endeavors into a reality with a year's worth of focus, incredibly supported by Adobe."
— Nic Annette Miller, 2015 Creative Resident mentor
---
Read up on application tips from our admissions team on Create magazine.