Explore our artists at work
Go layer by layer and see how our creators transformed their reality with Photoshop. Discover the tools and techniques that brought their ideas to life as they reveal the inspiration behind their creations.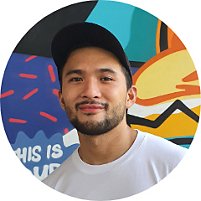 Photoshop on the iPad gives Jappy the freedom and flexibility to create from anywhere. Watch as he breaks down the process behind his colourful, dynamic murals, from sketching to inking, colouring and texturing and how he can seamlessly switch between devices to create the perfect virtual mural!
Discover how Melbourne illustrator Janelle creates her intergalactic train artwork using an array of Photoshop tools. From line working with default brushes, to using the Ellipse tool to adjust shapes and the Magic Wand tool to make the colouring process more efficient, the possibilities are truly endless.
Uncover the inspiration behind Seoul graffiti artist XEVA's signature City Of Energy piece as he captures symbols and icons of different cities across the world using the Pen, Marquee and Gradient tool - his favourite Photoshop tools.
Uncover how Indonesian artist Boby created this stunning artwork composition through creatively combining images. Simply using one-click selections, easy masking and Photoshop's unlimited layers, you can master creating what your camera can't capture too.
Take a sneak peek into the tools and techniques used by Australian typographer Mae Nguyen (aka @maeraki). From uplifting lettering techniques to futuristic abstract designs, Photoshop creates unlimited opportunities for digital typography.
Join us on a creative journey powered by imagination and Photoshop and see how other artists have remixed the world around them with these amazing creations. From Seoul to Singapore, explore what the community has shared with #YourWorldYourCanvas and create your own!