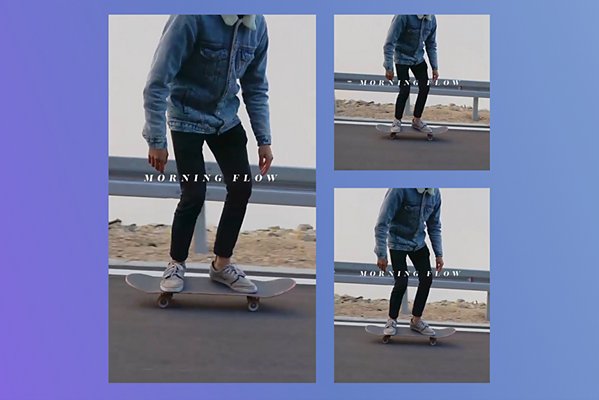 Students get Adobe Premiere Pro with the Adobe Creative Cloud All Apps plan and save over 60%. Get 20+ apps, including the video editing software used by influencers and filmmakers.
Grab eyes, gain followers.
Rise above the noise on YouTube and TikTok. Bring your videos together faster with seamless transitions, captions in one click, and auto-resizing for any social channel.
Bring old-school projects to life.
Turn written essays into engaging documentaries, or share school events on film. Smart in-app features help you edit clips from any device and set it to royalty-free music from Adobe Stock.
Go grassroots for a cause or fundraiser and move people to action. Timesaving Motion Graphics templates make it easy to level up your videos with animated intros, titles, and graphics.
Put your best footage forward.
Build skills that stand out with how-tos for video editing and beyond. Then take your talents to the bank, whether it's tutorials to grow your followers or a demo reel for your dream job.

Connected creative apps for social clicks and the classroom.
Save over 60% with student pricing on the All Apps plan to get Premiere Pro and 20+ apps like Adobe Photoshop, Acrobat, and Illustrator, plus all the support you need to bring your vision to life.
Frequently asked questions.
Premiere Pro and After Effects are both powerful apps for video production, but are used for different parts of the process. Premiere Pro helps you organize your footage, edit it together, add stock clips and music, synchronize audio, and correct color. After Effects is used to add elements like special effects, animation, and motion graphics. Learn more about Premiere Pro and After Effects.
Yes, and educators, too, as part of the Creative Cloud All Apps plan. Simply purchase with a verified school email address to save over 60% on 20+ apps, including Premiere Pro. The price is    ​for the first year, and    ​after that. Learn more about how to qualify for a student discount. For more information, see the terms and conditions.
Premiere Pro includes comprehensive in-app tutorials for video editing and effects. You'll learn to use essential AI-powered tools like speech-to-text or Auto Reframe to make beautiful, engaging content with precision and speed.
Anyone who purchases the Creative Cloud All Apps plan with a verified school email address qualifies for student pricing. If you don't have a school email address, you can send additional proof of eligibility after purchase.
The Creative Cloud All Apps plan for students puts over 20 connected creative apps at your fingertips. After you edit footage in Premiere Pro, you can finesse your project with elements made in other apps from your plan. Add special effects with After Effects, or bring cartoons to life in Adobe Animate. Make lower thirds and text graphics with Illustrator, and touch up stills and photos in Photoshop or Lightroom.
Every app in Creative Cloud includes step-by-step tutorials to get you started. Once you've got the basics down, check out Behance for guidance on specific techniques or styles. You can always find an answer, whether you want to edit audio in Adobe Audition or animate text in After Effects.
Creative Cloud includes access to hundreds of thousands of royalty-free assets via Adobe Stock like B-roll, photos, video clips, design templates, music, and 3D assets to polish any project. Many of these assets are free to Creative Cloud subscribers for commercial or personal use.