Make engaging presentations in InDesign.
We all know what to expect with the usual slide presentations — and they can start looking the same. When stakeholder approval is riding on your project presentation, it's critical to make it unique, engaging, and memorable. This is where InDesign comes through.
InDesign lets you easily customize screens and text and include surprise elements, like .psd files or movie clips — so you can add your own illustrations and both sound and video files to make your work really stand out. Plus, it's a simple two-step command to export and immediately preview, so you can quickly see it through your audience's eyes and tell if it's ready to go.
Let's look at how you can use InDesign's easy-to-use, powerful tools to make your presentation impactful and entertaining.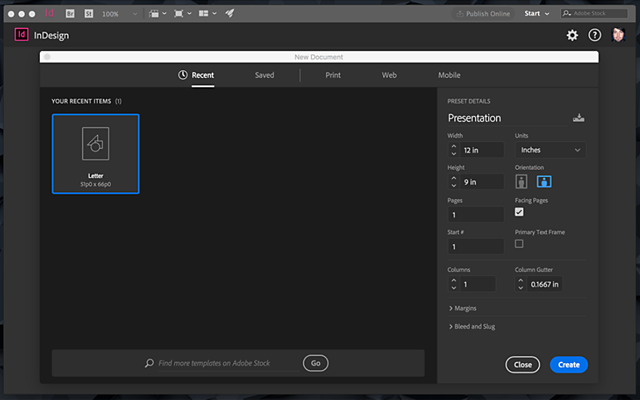 1. Set your page dimensions.
Click on File in the InDesign main menu, then New Document. A dialog box will open.
If you're not sure what dimensions to use, set the page width to 12 in and the page height to 9 in. These are good general dimensions for a slide deck. Click Create and a blank page will appear..
2. Choose a background image.
A simple approach is often best when it comes to slide decks. A striking background image with some text overlay can be very compelling. The deck's title can also become part of the background.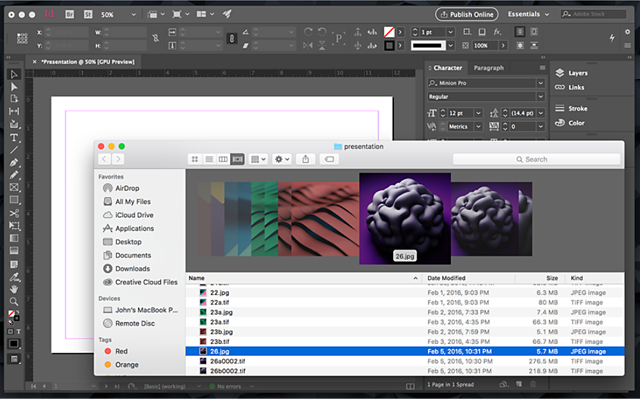 Once you've created a blank page, you can drag just about any image file into it — including Photoshop (.psd) files, PDFs, Illustrator (.ai) files, JPEGs, PNGs, or GIFs.
To add text, you can copy and paste text files or select the Type Tool from the toolbar and type directly into the file and choose your font and font size from the menu..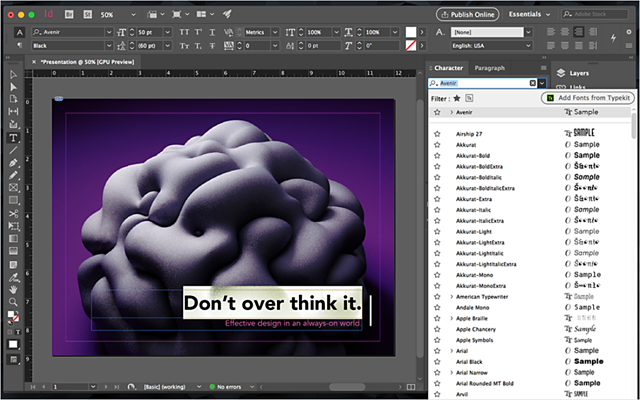 Adding page numbers will help you and your audience keep track of any sequentially paged documents. To insert page numbers, select Type from the main menu, then Insert Special Character, then Markers, and finally Current Page Number. InDesign will automatically number the slides.
5. Complete your presentation.
Take advantage of InDesign's ability to add interactive features for your presentation. From movies and sound clips to hyperlinks, cross references, and page transitions, you've got options to make your story — or case — more compelling.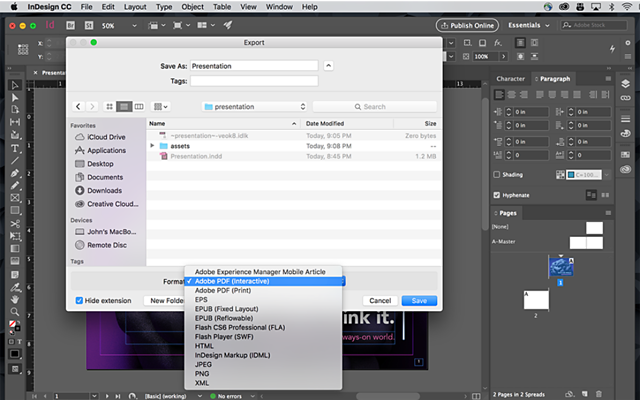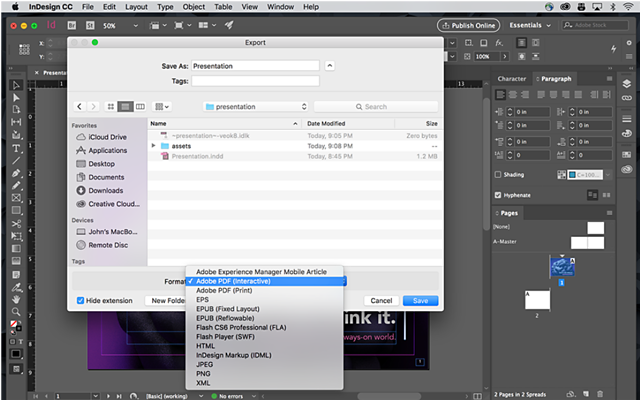 6. Export your slide deck.
When you've finished creating your deck, the final step is to export it in a format that can be projected or distributed. Exporting as Adobe PDF (Interactive) lets you play or click through on interactive content directly in the presentation.
Click File in the main menu, then Export. From the Format dropdown menu, select Adobe PDF (Interactive), and then click Save.
We've barely scratched the surface of the presentations you can create in InDesign.
You can export content from an InDesign document to XML, HTML, and other formats for publishing on the Internet. After you've tagged the document or content section, changing the format is as simple as selecting from a dropdown. Learn more on our InDesign help page.  
Presentations are sometimes your one shot to keep your project moving forward. With InDesign's tools allowing for creativity, you have more ways to communicate your vision, designs, and project goals — and have fun with it from start to finish.
Get the most out of Creative Cloud with our How-to guides.