Create music video slideshows that amp up your audience.
Learn how to add photos and music tracks together in a video editor to personalize presentations and create beautiful slideshows.
The best slideshow makers go beyond background music.
Any photo slideshow maker can upload photos and add music to create a nice-looking presentation of images and music. But you can take your montage or promo video to the next level with video editing tools that give you more control over how your slideshow music syncs up with your pics and video clips. Don't just slap together your next slideshow — direct it. Add narratives, emotional beats, and more to your next music video, presentation, or even end-of-year recap slideshow.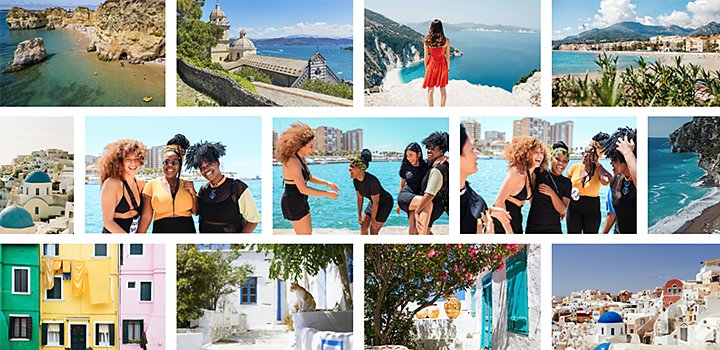 Bring a moviemaker's mentality to your work.
It's easy to drag and drop a folder of your own photos and an audio file into a program to create a simple, generic montage video. But the most compelling slideshow videos and lyric videos do more.
Begin with a goal and a theme. Is the vibe you're going for romantic? Nostalgic? Sad? Joyful? Spend some time with the images you want to use. See what emotions they conjure and try to find a song that works with and amplifies the way the images make you feel.
Or flip the script and explore your music library for a song that really speaks to you. What imagery or scenes do the lyrics and music make you think of? Instead of a creative process driven by images, take a music video maker approach and let the song push your creative choices.
Consider the pace and tempo of your video.
You can adjust how long each image appears in your photo video to control the pace and add emotional resonance.
Show a series of images quickly during a rapidly paced part of a song, or pause on a single image for an extended time as a singer hits a long note. Variety in how the images are presented and how they sync with the ebbs and flows of your music will draw in your audience. Go beyond the simplicity of most slideshow creator software you may find in an app store, and get the tools that allow you to truly craft something compelling.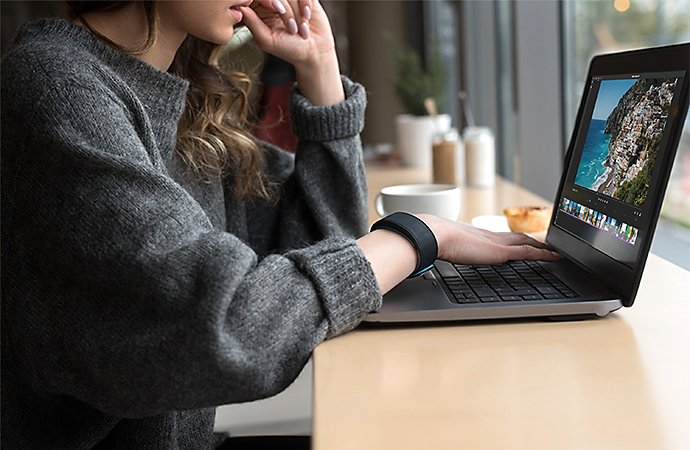 Take complete control of music and images with Adobe Premiere Rush.

High-quality music video slideshows are at your fingertips with the tools available right on your iPhone or Android smartphone with Premiere Rush. (Premiere Rush is available on Mac devices with iOS and PCs, but the app version puts a slideshow video maker right in your pocket wherever you go.)
With the functionality to pan, zoom, and adjust the audio and duration of each image, you can craft a slideshow or image-centric music video that makes a statement. These quick tutorial steps show just how easy it can be:
Make photos into a video slideshow.
1. Create a new project and add your images to the timeline.
2. Pan and zoom will automatically be applied, but you can adjust the size and area of the panned image under Effects › Motion › Pan and Zoom › Toggle.
3.  Adjust the duration of the clip in the timeline to tweak how long the image is shown in the video.
4. The default pan and zoom locations and length will be applied to any photos you add, but you can fine-tune everything, from where the images show up in the video to how long each is shown.
Add music to a video.
1. Click the plus icon (+) at the bottom of the screen to add audio.
2. Premiere Rush provides some free music and sounds: soundtracks, sound effects, and loops.
Sound effects include options like car horns or phone rings.
Loops are sounds that repeat seamlessly — ideal for clips of any length.
3. You can also add your own music or downloaded audio files to any video. Just keep in mind that you can't use a popular track from iTunes without a license.
Once your images are added and your music is selected, you can edit how long each image is displayed and how the pace of the imagery syncs up with the music you selected. Turn photos from a day at the beach into a twangy music video, or compile your best photos from the past year into a sentimental sequence backed by your own piano composition. With Premiere Rush, you can achieve the exact mood you imagine.
You might also be interested in…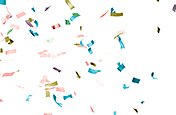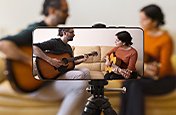 Convert videos into GIFS to create looping product demos or memes for social media.