Use eye-catching motion graphics to make your videos stand out.
Create amazing videos anywhere with powerful and intuitive tools designed for beginners to professionals.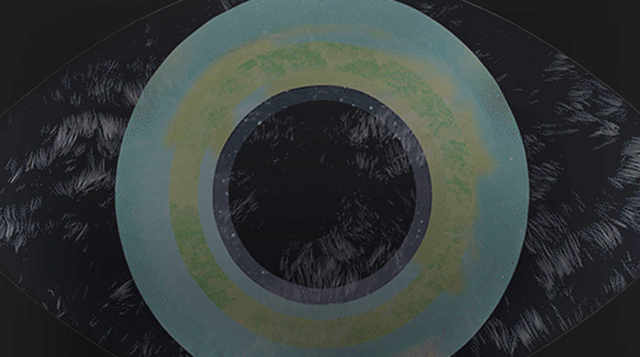 From home movies to YouTube videos to feature-length films, Adobe Creative Cloud has you covered.
Shoot, edit, and share online videos. Fast and easy.
Premiere Rush is the all-new, all-in-one video software that makes editing and sharing online videos fast and easy. It works on all your devices, it's simple to use, and it'll transform the way you create. Whether you're into video editing for YouTube or any other online video channel, Premiere Rush offers amazing motion graphics templates that make going from shoot to showtime easier than ever — from anywhere.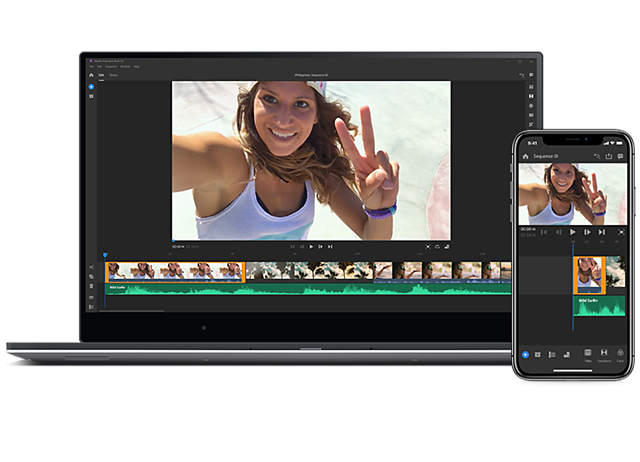 Motion graphics templates
Choose from a selection of built-in templates—or access more from Adobe Stock—for titles and animated titles that you can customize by changing text, font, color, and size.
Easily change properties (text, color, size)
Customize your titles and animated titles with sliders, pull-down menus, and other intuitive tools to change the font, style, color, and size.
Edit on your phone, tablet, Mac or PC — wherever. Your edits are automatically synced so you always have access to your latest versions.
With an intuitive interface, interactive tutorials, and creative flexibility as you progress, Rush makes editing for social media a snap.
Share directly to social media sites like YouTube, Facebook, Instagram, and more — even publish to multiple sites at once.
Choose presets or create custom filters with simple sliders to adjust tint, exposure, and more.
Dynamic visuals up your game.
Make your projects stand out using motion graphics tools for titles, credits, lower thirds and more.
Create visuals with a clic.
Easily add animated graphics and effects to your video projects with Premiere Pro.
Premiere Pro offers an intuitive way to add motion graphics.
Pick a template from the Essential Graphics panel or create a new one. There are dozens of built-in templates for titles, credits, lower thirds, bumpers and more.
Easy-to-use controls allow you to customize  templates for your project so you can quickly add and edit text and drop in graphics.
You can change and animate almost any attribute, such as color, fonts and text styles. Get graphics to move, blend and change color.
Use animations and effects in your video or save them as a new template to add to a future video sequence or share with others.
Flexible designs with brand consistency
Motion graphics designers ensure visual consistency that allow editors to change defined settings, such as text, timing, positioning, or more, without altering key design elements that will alter a brand's identity.

Get additional Motion Graphics templates. Search Adobe Stock for even more high-quality animations and titles.
Animate and composite for moving visuals.
Let your imagination move you with powerful tools to take you from first concept to finished motion graphic.
Create graphics, animations and effects for video and film.
Whether you're an animator, compositor or designer, if you can imagine a motion graphic, you can create it with After Effects.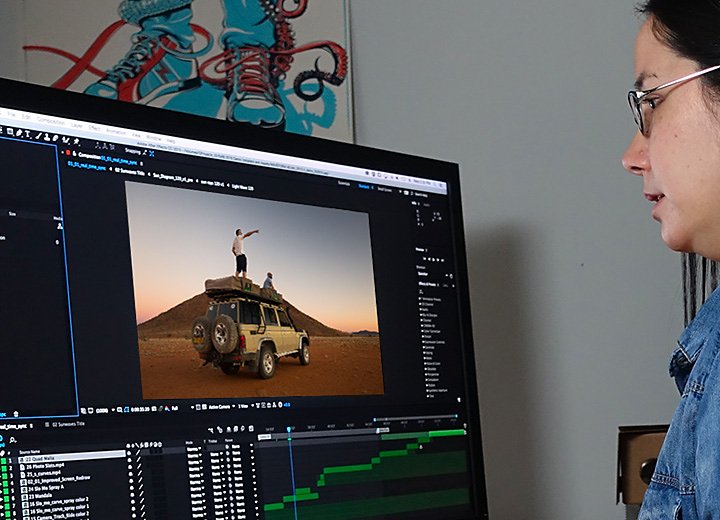 After Effects brings more to the game.
A comprehensive graphics engine handles most file formats for video, stills and audio.
Easily arrange or isolate objects and combine images into layers. Animate your graphics using a variety of presets.
Animate and apply effects
Put in motion, grow and shrink, blend and distort. Settings are quickly adjustable and can be animated to create arresting affects.
Export or create templates
Render a finished motion graphic and output a high-resolution video file or a compressed film. Or create a template and share it with editors using Premiere Pro.
Create charts, graphs and infographics to animate based on data files.

Streamline graphics creation with Master Properties
Create multiple variations of a single composition with Master Properties.

From inspiration to video in minutes.
Now it's easier than ever to put your story into motion and leave a lasting impression with a short video.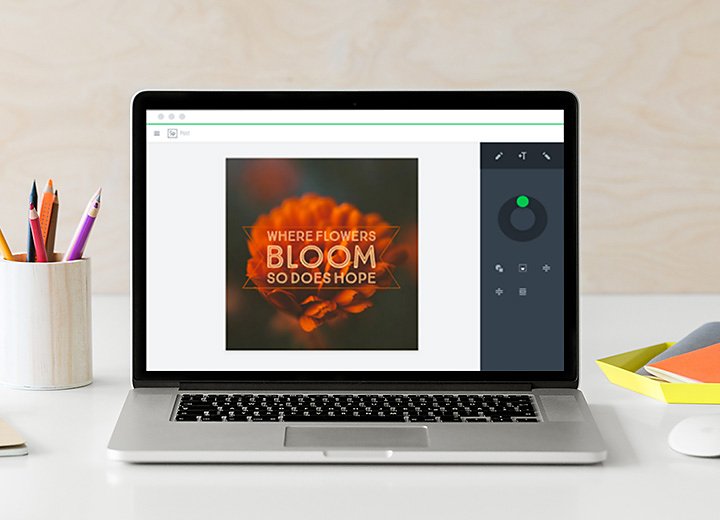 Get everything you need to produce quick and compelling videos. It's the first choice to tell your story on sitio web, mobile and more.

Spark is ideal for moving visuals.
We'll guide you through the process or you can set off on your own. Professionally designed templates can help you to tell your story quickly and easily.
Add visual elements and sound
Fill the frames with photos, clips, icons or text. An easy-to-use search function helps you quickly find images and music.
Watch as your graphics, text and icons are made into motion graphics. High-quality templates add effects and transitions to take your video to the next level.
Post your completed video to the social platform of your choice or send it via email. Download an mp4 and then post or email a link to share it.
Adjust colors and fonts and select icons and images. Then watch as they are turned into a compelling video.

A clic away from your favorite platform
It's connected with all the most popular social media. Just clic and go.
Start editing on your phone and finish at your computer. Your videos sync automatically no matter where you're working.

Mobile apps bring moving visuals to your fingertips.
Do you know where inspiration will strike next? Apps for your hand-held devices mean you're always ready for the challenge.
Create and share online videos
— anywhere.
The all-new, fast, flexible, and easy way to create and share online videos from anywhere. Premiere Rush works on all your devices, and your edits are automatically synced to the cloud, so your latest work is always at your fingertips.
Make moving visual stories
in minutes.
Spark Video templates make storytelling a breeze. In a few minutes you can combine videos, images, text, and music for presentations, social media, or sitio web sharing. It's the fastest and easiest way to create compelling short videos. Now everyone can tell their story.
Compare video editing features.
Whether you're looking for a simple or advanced video editor, our feature-rich apps will meet your needs.
| | | | | |
| --- | --- | --- | --- | --- |
| | | | | |
| | | | | |
| | | | | |
| | | | | |
| | | | | |
| Editing of Motion Graphics templates | | | | |
| | | | | |
| | | | | |
| | | | | |
| | | | | |
| | | | | |
| | | | | |
| | | | | |
| | | | | |
| | | | | |
Learn more about motion graphics design with Creative Cloud.
The only limit to amazing moving visuals is your imagination. Our comprehensive how-to tutorials will help to learn the basics or master the newest features in no time.
Create and edit videos on the go
Discover how Premiere Rush makes it easy to create and share videos for YouTube, Facebook, and other social channels from anywhere.
Learn about the Graphics workspace in Premiere Pro
The Essential Graphics panel contains powerful tools to design and build moving graphics. Use a Motion Graphics template to create titles for a space documentary.
Enhance video motion graphics animation
Focus your users' attention. Use text and images to draw your viewers into your story.
Create moving visuals with tools for Windows, macOS, Android and iOS.
Whether you're just starting out or already a veteran, there's a Creative Cloud plan to suit your needs, with membership plans for individuals and businesses and deep discounts for students and educators. Get a single app, like Premiere Pro or After Effects or the entire set of tools.