Create Virtual Reality walkthroughs
Create experiential learning such as – "virtual tours", "crisis management", "safety drills", "first responder situations" and more. Watch video >>
Live preview on VR devices
Generate a QR code on Adobe Captivate. Scan it using your mobile phone and immediately see how your virtual reality project will appear on your learner's VR device. Publish your VR project for devices.

Mobile responsive courses created in minutes
Create mobile courses using mobile-ready slides from the asset store. Customize Fluid Boxes and inbuilt course preview for publishing across various devices. Watch video >>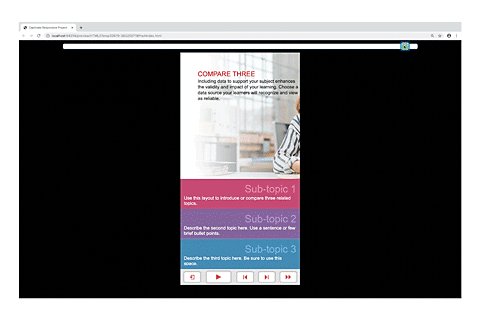 Hand-pick mobile-ready slides from Quick Start Projects
Choose from a wide range of mobile- ready slides. Easily swap out images, replace text, shapes, characters and videos in those slides.

Use Fluid Boxes in your
responsive project
Alternately, apply a combination of horizontal and vertical Fluid Boxes to your responsive project. Simply add objects like text, images, smart shapes etc. and quiz questions to your course.

Preview content
across devices
Choose a specific device from the dropdown menu, or use the responsive slider, to preview how your content will look on different devices.