Get started with Adobe Premiere Pro.
Simple and intuitive video editing, perfect for beginners - Adobe Premiere Pro has everything you need to create videos for lasting memories.

Premiere Pro Single App LE 414.96/mo *
*Based on Annual plan, paid monthly. Cancellation fees apply.

Get started with Adobe Premiere Pro.
Simple and intuitive video editing, perfect for beginners - Adobe Premiere Pro has everything you need to create videos for lasting memories.

Premiere Pro Single App LE 414.96/mo *
*Based on Annual plan, paid monthly. Cancellation fees apply.

Never miss a trick with top tips and endless inspiration.
Whether you're just starting out or already have some editing experience, there's support on hand. Used by millions of video editors across the world, you'll never be short of an abundance of inspiration, tips and how-to's for all your video editing needs.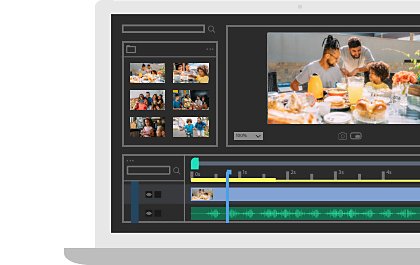 Shoot, edit, create with ease.
Premiere Pro provides easy to use features and tools to help you to get started quickly and easily. So whether you're making home films or sharing stories on social media, you can focus on creating what matters to you.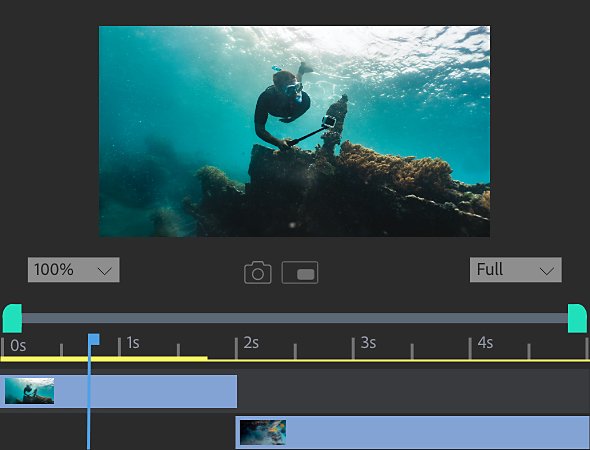 Shoot your footage and get creative.
With Premiere Pro, it's easy to work with different camera formats for any type of project. From Go Pro footage to 4K video or mobile phone recordings, work with clips on any machine in almost any format and still expect the best-quality. 
Drag and drop on the timeline. Simple.
Start your project by simply dragging your chosen media into the timeline. It's as easy as that. Remove unwanted clips with one click and trim the length or rearrange clips to perfect your first cut. Then you're ready to add some magic.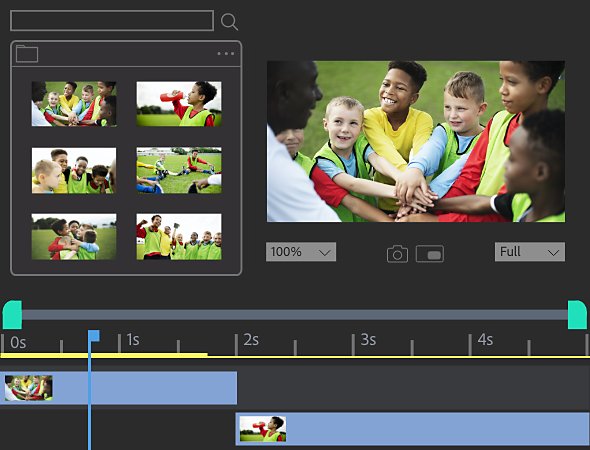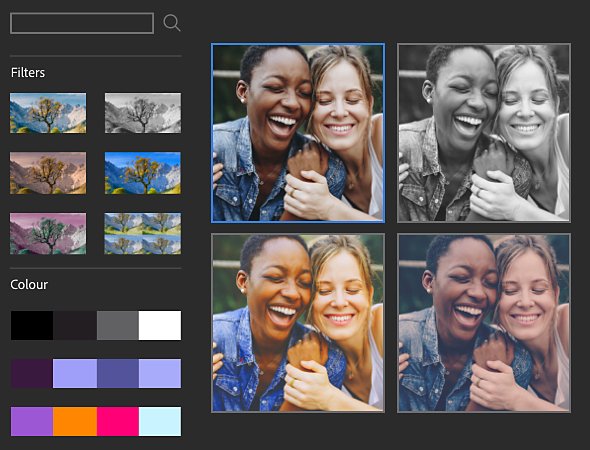 Achieve the perfect look and feel.
Experiment with hundreds of filters and effects to instantly enhance your videos. Make one-click corrections or fine-tune with easy to use sliders and colour wheels. Get creative with built-in Lumetri looks or import your own colour presets to change the mood or give your shot that cinematic feel.
Amplify your sound.
Bring out your inner audio mixer with Premiere Pro's audio capabilities. Easily add Stock tracks and sound effects, remove unwanted audio or even add your own voice-over. Make your video sound as good as it looks by automatically removing background noise. Achieve flawless sound in a few clicks.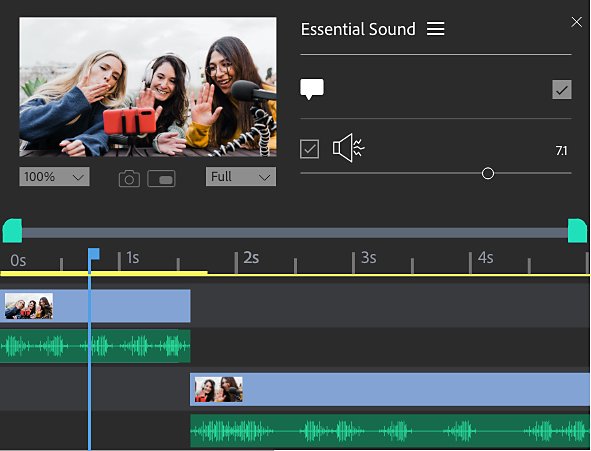 Make your videos stand out from the crowd.
With Premiere Pro, you have access to powerful features and tools to enable you to add the finishing touches to take your videos to the next level.
Add animated titles with impressive transitions.
Use ready-made professional motion graphics templates for eye-catching titles, lower thirds or transitions. Customise text and media to add a personal touch to titles.
Create magic with animation and motion effects.
Bring pictures to life with the animation tool -  use keyframes to select parts of an image to animate or add a new dimension with ready to use motion presets.
Automatically resize for uploading to social media.
Auto Reframe automatically resizes videos for different social media aspect ratios and keeps the main action in frame. Share content faster without manual tweaks.
See how other creators found using Premiere Pro for the first time
Tega Alexander, 
#LevelUpWithAdobe Creator
"I've never used Adobe Premiere Pro before, so even the introduction to the user interface has been very helpful…the most surprising thing for me was the fact that it is actually a lot more straightforward than it first appears."
Justin Powell, 
Director and Co-Producer of The Djinn
"Premiere Pro is just so user friendly. It's an easy programme to figure out, even if you have limited experience, so that you can focus on the creative aspects of cutting and not get bogged down with all the technical logistics."
Work from wherever, whenever with Creative Cloud.
Get 20+ apps including Photoshop and After Effects, as well as 100 GB of Cloud storage included with your subscription. Plus, you can work from anywhere with seamless mobile workflows.
Showcase your work, grow your skills, connect with your peers and feed your imagination with tools like Behance and Adobe Portfolio, included with your Creative Cloud subscription.

Access to 20+ apps.
Combine Premiere Pro with Photoshop, After Effects, Audition, Animate and more apps to elevate your skills and perfect your post-production.
Royalty free assets.
Choose from millions of stock images, videos, templates and audio tracks from Adobe Stock. Find the perfect material with one click.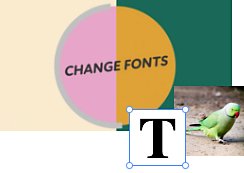 Find the Creative Cloud plan that's right for you.
Premiere Pro Single App
7 days free, then LE 414.96/mo
Includes Premiere Rush, 100 GB of cloud storage, Adobe Fonts and Adobe Portfolio.
---
Creative Cloud All Apps
7 days free, then LE 1,024.86/mo
Get Premiere Pro, Premiere Rush, After Effects and the entire collection of creative apps.
---
Students and teachers
7 days free, then LE 397.86/mo
Save over 65% on the entire collection of Creative Cloud apps — includes Premiere Pro.
---
Frequently Asked Questions
No, Premiere Pro is available only as part of a Creative Cloud membership. You can choose a Single App plan with Premiere Pro only or a plan that includes more apps. We offer Creative Cloud plans for individuals, students and teachers, photographers, institutions and businesses. Learn more
Your free trial starts when you check out and it lasts for seven days. The trial will automatically convert to a paid Creative Cloud membership when it's complete, unless you cancel before then.
Sign in periodically for licensing validation — every 30 days for monthly members and every 99 days for annual members. Sign in is also required when you download or update Premiere Pro. For more information, see Activate and deactivate Adobe Creative Cloud apps.
Yes, it includes all the features and updates in the latest version of Premiere Pro.