Boost your image quality to the max with Super Resolution.
Pack more megapixels into your photos with one click. Use this feature in Adobe Photoshop Lightroom to create ultra-high-resolution images.

Photo enlargement made easy.
If you have old or low-resolution photos you want to make print quality, use the Super Resolution feature in Adobe Photoshop Lightroom. Super Resolution creates a single image with two times the linear resolution. That means the enhanced image will have twice the width and twice the height of the original image, or four times the total pixel count.
Prepare images for large prints.
Large prints require more pixels. With Super Resolution, you can meet rigorous print standards to upsample a 12MP image to 48MP — equivalent to a 16" x 24" photo.
Make tightly cropped photos usable.
A tight crop shrinks your image size. This used to leave you with a small, lower-resolution photo. Now you can crop away to get the composition and the quality you need.
Upsample low-resolution images.
If you've taken photos on an older camera or a lower-resolution phone camera, you can scale up those shots to match today's higher-resolution image quality standards. 
Showcase incredible detail.
Don't let low resolution keep you from getting up close and personal. Apply Super Resolution to bring out exceptional clarity and clean edges every time, even in close-ups.

Crisp results backed by AI.
Built on an algorithm-based machine-learning model trained by analyzing millions of images, Super Resolution builds on the interpolation method of Enhance Details features that launched in other Creative Cloud apps, like Adobe Camera Raw (ACR) and Photoshop — where Super Resolution is also available.
Do more with connected apps.

Adobe Bridge.
Quickly organize, edit, and export your creative assets with Adobe Bridge. Open your images for editing in Adobe Camera Raw from Bridge or Photoshop for targeted edits.

Make your finishing touches in Photoshop.
Everything you need to make your newly enlarged photos shine is within reach with Photoshop. Remove distracting objects, retouch small details, and much more.
How to apply Super Resolution in Lightroom.
Grab a photo, pull it into Lightroom, then follow these simple steps to enlarge your photo.
Right-click on a photo (or hold the Command or Control key while clicking) and choose Enhance.

In the Enhance Preview dialog box, check the Super Resolution box and then press Enhance. Make sure to select Raw Details.

Continue editing your new DNG file.
Tips for upscaling images.
Keep it RAW.
For the best results, use RAW files when you do image enhancement. You can use other file formats such as JPGs, PNGs, and TIFFs, but RAW files give you more image data to work with.
Edit and adjust your image.
Fine-tune your Sharpening, Noise Reduction, and Texture settings to get the best results from your enlargement.
Apply changes to different images.
You can apply Enhance to multiple images at once. Select multiple images in the Filmstrip, then run the Enhance command.
Speed up the process.
A faster GPU means faster image processing. Use a solid state drive (SSD) to process your image as quickly as possible.
Dive deeper into image enhancement with these tutorials.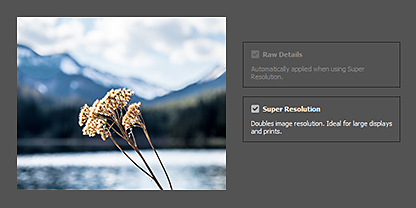 Use Enhance features in Adobe Camera Raw.
Learn how to apply Raw Details and Super Resolution in Adobe Camera Raw.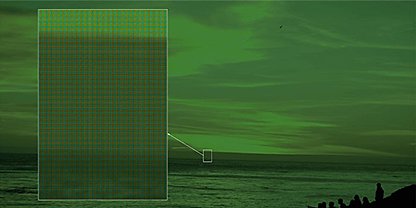 Use Enhance Details in Camera Raw, Lightroom, and Lightroom Classic.
Learn how this feature works to reduce artifacts, moiré patterns, and false patterns in your images.
Find the plan that's right for you.
Lightroom (1TB)
$13,14/μήνα* (συμπ. GST) 
Lightroom για υπολογιστή και φορητές συσκευές με άλλες υπηρεσίες Creative Cloud.
Photography (20GB)
$13,14/μήνα* (συμπ. GST)
Lightroom για υπολογιστή και φορητές συσκευές, Lightroom Classic και Photoshop για υπολογιστή και iPad.
Photography (1TB)
$26.30/μήνα* (συμπ. GST)
Lightroom για υπολογιστή και κινητές συσκευές και Lightroom Classic, συν Photoshop για υπολογιστή και iPad.