The fast and free tool for collaborative UX and UI design.
Get the whole team in on the project. Adobe XD allows you to work in real time with other designers, share files for review, and easily hand off specs for developers. Keep all your design work on a single efficient platform and create great user experiences for websites, mobile and desktop apps, games, voice interfaces, and more.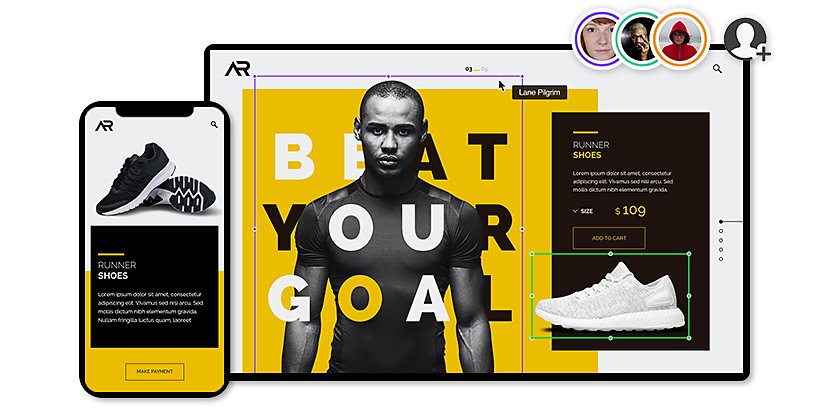 Keep your teams connected.
With XD, product design teams can use one tool to create UX and UI designs, facilitating communication and enhancing productivity.
Collaborate in real time.
Coediting allows multiple designers to work on a project file at the same time. No need to wait for handoffs during phases when team members can create in sync. 

Shareable links make it simple for stakeholders to view, interact with, and comment on your designs. Clear permissions management mean that everyone gets the access they need.

View wireframes and prototypes in the formats you need for previews and presentations. You can present from a computer, open on mobile with the XD app, or record and share MP4 videos to demonstrate user flows.

Speed up development with automatically generated design specs. Include the sequence and flow of your artboards, colors, character styles, measurements, and CSS code snippets that developers can copy into their code base.

Shared tools and an active community make for great user experiences.
Unlock efficient processes
Bring your workflow into a single UI/UX design tool. Design teams — including those with remote workers — can move from wireframes to design to fully interactive prototypes and then iterate, share, and collaborate using one platform for the entire creative process. 

Explore easy integrations
Connect XD with the apps you and your teams already use — Slack, Jira, Trello, Dropbox, Airtable, Google Sheets, and more. Capture comments, post detailed links, keep reviews on track, and collaborate in your favorite tools.

Simplify scale with design systems
You can create consistent user experiences across devices and product groups by setting up a design system within XD. Teams get quick access to shared assets and standard components, keeping workflows efficient and projects on-brand.

Files update and save automatically with cloud documents so your work is always current and available. And you can restore any previous versions using document history. 
Join a community of makers
Find support when you need it in our online support center and vote for new features on UserVoice. Stay in the loop with social media and get involved via meetups, daily live streams and challenges, and more. 

Design and wireframing tools that perform on both macOS and Windows.
Collaborate across operating systems. Work on the platform of your choice and share your workflow with colleagues on another system. XD works smoothly on both platforms, and files are fully compatible. 
Find the plan that's right for you.
Get the free XD Starter plan or get unlimited sharing and collaboration with a Creative Cloud plan.