Craft vivid catalogue designs. 
Discover how to build a high-quality catalogue that showcases top-selling products and introduces new ones. 

Build an enticing catalogue for all your products.
A great way to help your business stand out is to supplement your web presence with a memorable printed catalogue. Product catalogues can fill a hole in your overall marketing strategy — whether they arrive by mail or are grabbed from a shop, they keep potential customers thinking about your brand off-line. Catalogues give your customers inspiration to engage with your brand or head online to make purchases. 


You can show off a different side of your brand with a well-designed catalogue, as well. They provide an opportunity to use your artistic and design skills to excite potential customers by showing your product in the wild and pairing it with intriguing design elements. Don't just showcase the product — demonstrate the lifestyle it can give a prospective buyer.
With the basics of good marketing materials and some creative ingenuity, you can make catalogues that build your brand while they excite customers.
Know your audience. 
Determine the audience of your catalogue before you begin your design. Certain businesses may use catalogues to target stylish or discerning individuals, while business-to-business (B2B) catalogues are typically geared toward a business decision maker at a company responsible for larger purchases. The first typically highlights individual products, their value and the ways they can improve a single customer's life. The latter is geared toward products or services that deliver a business impact.

The key elements of catalogue design.
Every catalogue has three crucial elements: 

A tightly structured layout
Compelling imagery
Quality product information 
Catalogue layout and form
Kick things off with a blank canvas and endless creative possibility. Deciding the form of the catalogue is one of the most exciting parts of the process. How is the catalogue going to show up for your customers? Will it be a small square brochure or a massive tome? What will the page count be? What type of paper stock will you use? How will images be laid out — full spreads or individual insets? 
 
Choose a theme or narrative to focus your answer around these variables. A catalogue of golf apparel with a theme of adventure might be ideal for a short landscape catalogue that showcases products against the rolling hills on long golf holes. A thick, traditional, magazine-sized brochure might be perfect for the dense descriptions needed of a tech company's product offerings.
There are no right or wrong answers to any of these layout design questions. What's key is to create consistency. The entire catalogue should feel like a cohesive whole. If you've ever worked on a  brochure design, a catalogue is a similar type of endeavour — like a business card for your products.
The right visuals
Next up, explore the visual design of your catalogue. How can you play with the format you've chosen? Can you lay out the visuals in a way that encourages a viewer to spend more time perusing each page? There are limitless design opportunities within a catalogue and plenty of chances to push the boundaries of design. Duluth Trading Company's catalogues add a fun element of visual design to its products, showcasing each in a hand-drawn style that evokes the rustic charm of its merchandise.
Contrast that with Anthropologie, which takes a more art house approach, laying products out in creative and colourful spreads to evoke a sense of place and add liveliness to its offerings. Explore even more catalogue designs and concepts on Behance to kick-start your creative juices.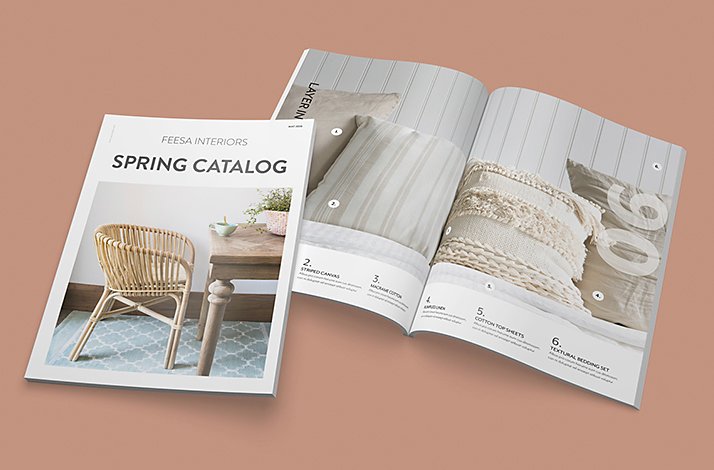 Whatever design elements you choose (photos, illustration, line art), make sure they are consistent with existing branding in both familiar and unexpected ways. Your catalogue should feel like your company, but look for ways to intrigue both new customers and your established audience alike with elements that surprise and delight. Think about unique headers and other compelling design work and pull ideas from these or more unconventional places, like vintage catalogues, game rule books or old-school maintenance manuals. 
A cohesive and compelling message
Your catalogue doesn't need a high word count. Marketing materials like catalogues are built around simple blocks of information. A catalogue of evocative imagery and minimal relevant information can work perfectly. Here are some important things to include in text form, so customers don't get confused:
Product names
Descriptions
Pricing information
Features
Sizing information
Return policies      
Digital vs. print catalogues 
If a print catalogue isn't in your budget or your audience lives online, digital catalogues can be effective as well. A digital catalogue allows you to create exciting and experimental digital spaces that are separate from your e-commerce store. 
Create an interactive journey through your products, filled with videos, blogs and other content blocks. Many of the principles of designing a compelling print catalogue apply here too. The primary difference is that you are not bound by the limits of print — animation, interesting scrolling user interfaces and links to other content can make your digital catalogue a special experience. 
When it comes to digital catalogue options that ensure animations, video, copy and layout work in tandem, designers may need different tools. Adobe XD features prototyping and design tools for digital environments, as well as sharing and editing options ideal for boosting collaboration and helping teams work efficiently.
Additional tips and tricks.
Because well-designed and thoughtful catalogues are rare — especially from smaller businesses — customers are often happy to browse through them. Make it worth their while. Try out a few unconventional strategies to reward the customer for using the catalogue and engaging with your brand.

Use unusual materials. 
Include different types of paper stock in the catalogue. A nice cover made of linen or another material can take your work to a new level — these features can make a catalogue feel interactive. Work with your catalogue printing company to see what's available.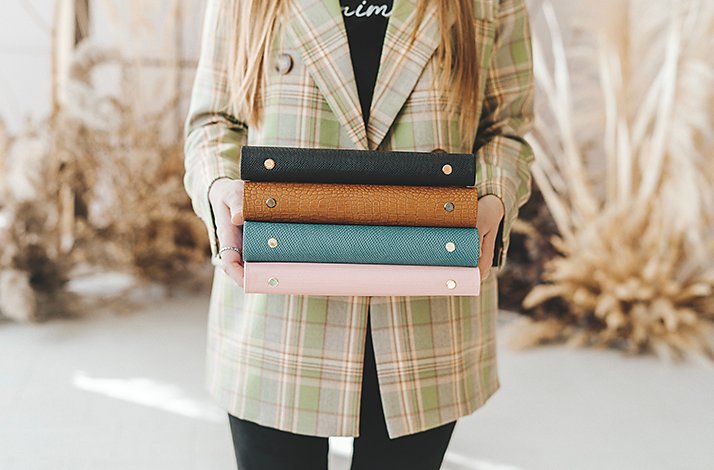 Try a catalogue-only sale.
Encourage customers to read the catalogue by including special sales and promo codes that can be used online. This is an excellent way to build brand loyalty. 
Spice it up.
Explore out-of-the-box ways to play on your theme. For example, a cutout in the cover that reveals product photos inside can draw people into your catalogue's journey. Regardless of the flair you choose, make sure all of your product descriptions fit the theme. So, if you've got a fall catalogue, make sure that your copy feels sufficiently pumpkin-spiced after readers are intrigued by the jack-o'-lantern cutout on the cover. Catalogue design examples on Behance can help stoke the fire of creative design inspiration. 
Streamline catalogue design.
When you have set your creative direction and decided your content, it's time to get to work. Depending on the number of pages and design ideas you select, you may need different tools:

When it comes to layout and catalogue arrangement, whether you're an experienced hand or a beginner, apps like Adobe InDesign provide the flexibility and power to create anything for publication. Start your work with page design templates and tutorials or dive in and create a new catalogue design from scratch. 
Keep your team and any collaborators in sync so you can share mockups, relay notes and comments and work on your catalogue design project when inspiration strikes. Adobe Creative Cloud for teams allows easy sharing and collaboration.
Edit and refine images to help pull your catalogue's theme together. Retouching, colour correction and masking tools get you into the right creative space and are available in apps like Adobe Photoshop. 
Compelling imagery and enticing fonts can be crucial to make your catalogue attract eyes and keep your customers' attention. Dive into the creative libraries on Adobe Fonts and Adobe Stock to track down options for beautiful text and images to amplify any type of catalogue design. 
Hone and showcase your brand direction and you'll end up with an amazing catalogue. Get out there and start building.
More topics you might be interested in…
Choose your Creative Cloud for teams plan.
All plans include the Admin Console for easy licence management, 24/7 tech support, unlimited job postings on Adobe Talent and 1 TB of storage.
€33.49/mo per licence (excl. VAT)

Your choice of one Adobe creative app such as Photoshop, Illustrator, lnDesign or Acrobat Pro.*

Get 20+ Adobe creative apps including Photoshop, Illustrator, InDesign, Adobe Express, XD and more.

* Acrobat Pro, Lightroom and InCopy single apps come with 100 GB storage.