The best music video editing apps.
Whether you want to make a montage for social media or a high-quality HD video worthy of Vevo, Adobe Premiere Rush and Premiere Pro have all you need to turn video clips into music videos.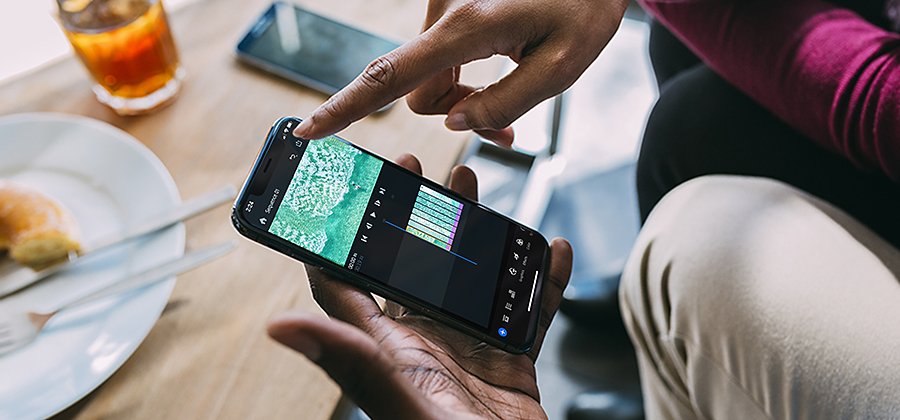 Make music videos with Adobe's video editing tools.
A music video can be as simple as a slideshow set to your own music, which you share with your friends. Or it can be as complex as a short film shot in Ultra High-Definition for one of your favorite artists, viewed by millions on music apps like YouTube Music. With their audio and video editing capabilities, Premiere Pro and Premiere Rush are the best video editing apps to handle either scenario — and everything in between.

Adobe Premiere Pro is the industry standard for professional video editors and moviemakers. Access all the tools you need to make a music video on your desktop with Premiere Pro, and keep your projects synced to the cloud.
With Premiere Rush, you can edit your projects on the go. Or simply use it to create videos from the camera roll of your mobile device and post them directly to social platforms like YouTube or TikTok.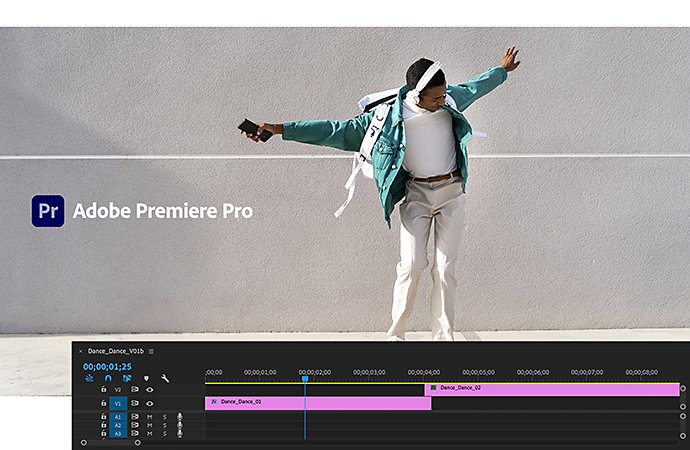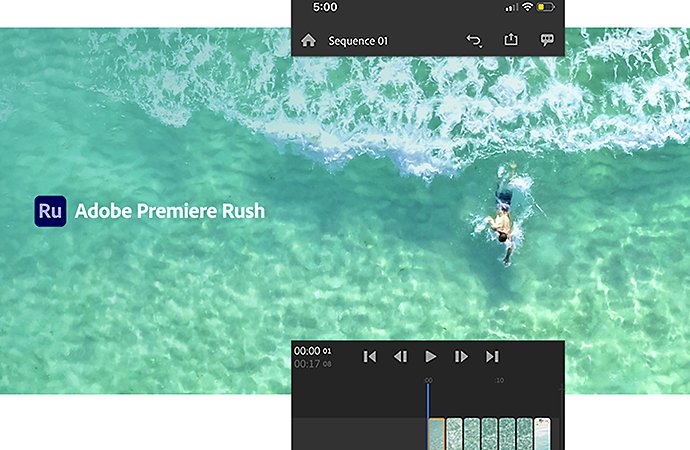 The basics of music video creation.
With Premiere Pro or Premiere Rush, you can easily stitch together multiple video and audio clips to create a simple music video.

1. Gather your shots:
Record video clips that fit the mood of the music. To make it easy to stitch together multiple shots of a singer while remaining in sync, record them as they lip-sync the entire song in each setting.
2. Adjust them on the timeline:
Upload your video tracks and align them on the timeline so the song is in sync. Cut between tracks as you wish.
3. Add filters and transitions:
Adjust the position of your clips and add color filters. Add graphics on top of your clips, like titles, and transitions between your clips, like dissolves.
4. Drop in your music track:
Add the song from your music library as its own track. Add extra sound effects or opening or closing dialogue as separate soundtracks. Adjust the volume levels on each track.
5. Save and share:
Export your new music video to share with the world.

Make music videos on your mobile device.
Premiere Rush is one of the best apps for quick video projects, like YouTube videos or content for social media. This mobile video maker is available on iOS devices (iPhone and iPad) as well as in the Google Play Store on Android devices. The ​free version allows you to make unlimited edits and exports on mobile and up to three exports on desktop before you're required to pay.

Create from anywhere.
Edit video content wherever you are. Save projects to the cloud to easily open them in Premiere Pro for more advanced edits. Compile clips from the library on your device or use the in-app camera to record new footage on the fly.
Work with up to four video tracks.
Fine-tune your video: Quickly cut clips, duplicate them, and manipulate their size, shape, and speed. Add filters or manually adjust exposure, contrast, highlights, shadows, and more. Then choose from thousands of graphic overlays and title templates from Adobe Stock.
Edit up to three audio tracks.
Add audio tracks, like the MP3 of your song and any dialogue or other sound effects (Premiere Rush has a built-in library of sound effects) you wish to include. Work with up to three separate tracks to individually adjust the volume and effects on each sound clip.
Add transitions to your audio tracks to help them fade in and fade out. Premiere Rush can also distinguish between music, dialogue, and ambient noise, with advanced features to tailor audio even further.
Export directly to social media.
Adjust your aspect ratio to fit different platforms and check the Auto Reframe option to keep the subject of your video centered as the shape of the frame changes. Export your finished projects directly to YouTube, Facebook, Instagram, Behance, or TikTok.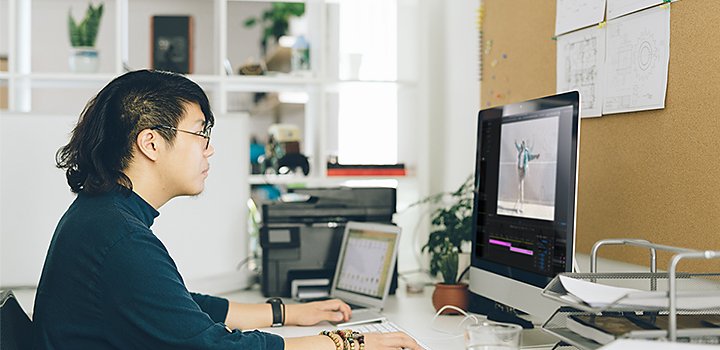 Create pro-level music videos on desktop.
Premiere Pro is a powerful and advanced video editing app for desktop and is available for Mac and PC devices. Make more complex music video projects with all the tools of a professional video editor.

Edit with unlimited video clips.
With Premiere Pro, you can work with an unlimited number of video tracks and up to 16 audio tracks. This enables you to achieve complex layers of both visuals and sound.
Access advanced video effects.
Premiere Pro provides a wealth of visual effects you can apply to video clips, so you can get as creative as you like with your footage. Add mosaics, twirls, and blur, and customize your video transitions. Work with unique titles and graphics. And perfect the hue of your clips or achieve cinematic color grading with the Lumetri Color panel.
Sync audio and video timing.
Use the Merge Clips function to sync audio and video clips that share the same sounds but were recorded at different times. And try the multi-camera editing workflow to sync the timing of video clips shot from different angles.
Achieve nuanced audio edits.
Distinguish between music, dialogue, sound effects, and ambient noise, and edit multiple parameters for each type of sound. Add audio transitions, and put extra emphasis on important sound effects for a dramatic effect.
Practice with this music video tutorial.
Discover how to master music video skills like audio synchronization between many clips, multi-camera sequences, and markers that allow you to edit the video to the beat of the song.
Music video editing FAQs.
Can you separate the audio from a video clip?

Yes. In both Premiere Pro and Premiere Rush, you can reveal the audio track of a video file and separate it into its own audio channel. You can then mute, edit, delete, or export the track on its own.
Can you create a slow-motion video clip?
It's easy to slow down or speed up clips in Premiere Rush and Premiere Pro. But if someone lip-syncs in the clip, a change in the speed of the video will make mouth movements fall out of step with the audio on playback. Keep speed changes to clips that don't feature mouth movements or plan ahead with creative workarounds. Perhaps your singer lip-syncs to a version of the song that's been sped up, and then the clip is slowed down to normal speed in post to match the actual audio track. 
Do more with Adobe Premiere Pro.
Make visually stunning videos virtually anywhere — for film, TV, and web.
You might also be interested in…
Learn how to create a shot list that guides the crew through all of the day's camera setups.
Get Adobe Premiere Pro
Create flawless productions with the industry-leading video editing software.
7 days free, then NIS 74.00/mo.