Green screen and rotoscoping software for professional-quality composite footage.
Easily bring the power of green screen footage to your next project. Whether you're combining several takes into one composite, adding a colorful background image to a headshot, combining several takes, or creating special effects with different assets, powerful and responsive tools help bring your vision to life. Luma key and chroma key effects found in Adobe Premiere Pro and After Effects, plus rotoscoping and other advanced compositing techniques in After Effects take your videos to the next level.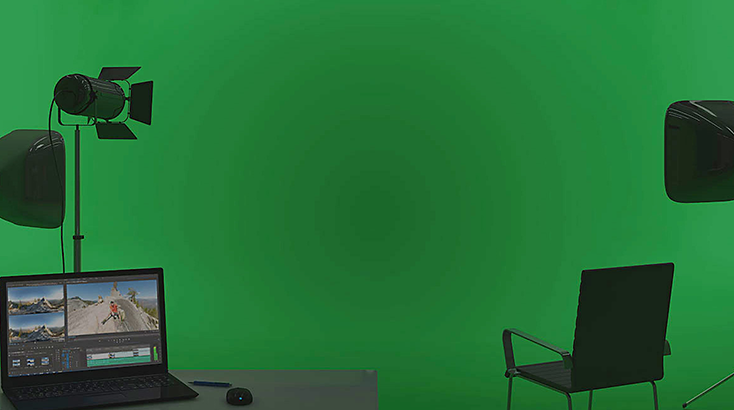 From home movies to YouTube videos to feature-length films, Adobe Creative Cloud has you covered.
Quick green screens with versatile keying controls.
Choose any color for your chroma key and use powerful adjustments to isolate and blend footage. Several distinct keying methods offer robust solutions to your green screen challenges.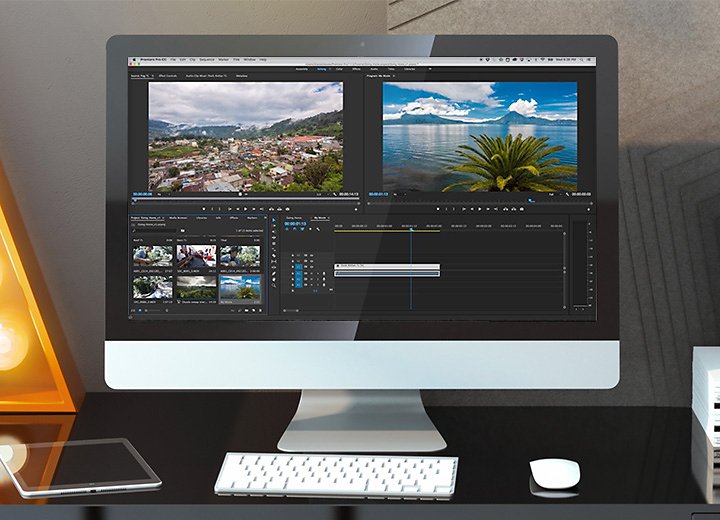 Compositing green screen has never been more versatile.
Get a comprehensive set of tools and settings for effective chroma key and other effects.

Choose a plan ›
Premiere Pro & After Effects add more to your blended shots.
Add your assets
Import your clips and images. Both Premiere Pro and After Effects handle different file types and codecs so you can get right to work.
Choose a key
Select chroma key or luma key. Chroma key uses a color to remove your background; luma key uses darkness to isolate your subject.
Adjust your settings
Adapt your settings to perfect your green screen effect. Different footage requires different settings, so play around until your key looks right.
Add your background
Superimpose your key onto a backdrop. If it looks good, you're done; if not, adjusting brightness, contrast and color can improve the effect.
HDR video
Make precise adjustments to your HDR video footage with high dynamic range controls to show off rich details.
Multicamera editing
Cut between different camera angles to quickly assemble a sequence. Native multicam support makes complicated sequences easy to cut.
Easy color control in the Lumetri Color panel
Adjust color and light with integrated tools that apply everything from simple color corrections to complex Lumetri Looks using intuitive sliders and controls.
Advanced VFX for green screen software.
Work with professional compositing power on your desktop. Composite like a pro with powerful VFX tools.

The first choice for keying and rotoscoping.
Chroma, luma and difference keys deliver powerful light and color effects. It's everything you need for natural green screen video.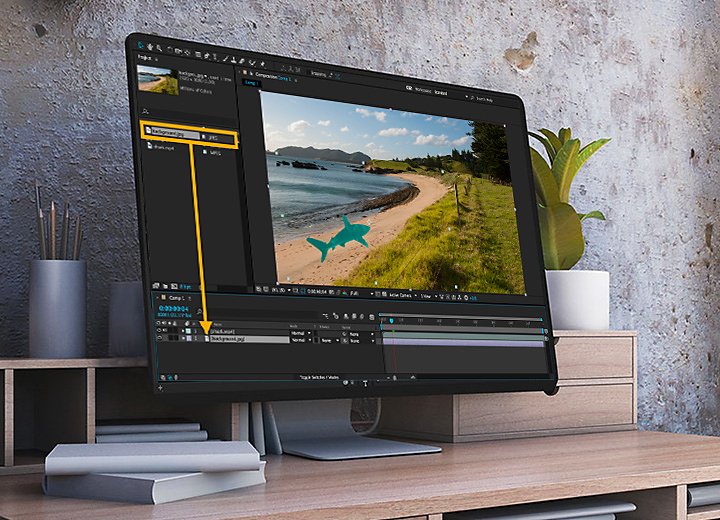 After Effects excels in post-production, compositing, and more.
Isolate your subject
Use chroma, luma or difference keys to separate your subject from the solid color background. Rotoscoping, which isolates an object from its background, will clean up more difficult clips.
Combine layers
Add backgrounds or other isolated footage to create your composite shot. Flexible controls allow you to combine multiple subjects in the same composite.
Apply lighting and color effects
Adjust color and exposure and add keylights to create a seamless composition. Advanced green screen tools let you create natural-looking footage for your project.
Save and export
Export your work in a convenient format or share with another Creative Cloud app through Adobe Dynamic Link.
VR environment
Work natively in a VR 3D environment. Edit, apply video effects, and create composites in immersive 360 projects.
Adobe Stock video integration
Search and license stock footage for your composites and animations with easy access to millions of images and clips.
Compare tools to work with green screens.

Whether you're looking for simple or advanced software for your video, our feature-rich apps will meet your needs.

| | | |
| --- | --- | --- |
| | | |
| | | |
| | | |
| | | |
| | | |
| | | |
| Editing of Motion Graphics templates | | |
| | | |
| | | |
| | | |
| | | |
| | | |
Take green screens to the next level with Creative Cloud.
New features are being added all the time. A growing catalog of comprehensive tutorials means both beginners and experienced users can learn new green screen background skills and more.
Boost your flow

Watch the Abby Priest agency use advanced chroma keying features to create astounding paint splatters in After Effects.
Learn more ›
Combine several takes with compositing

Get the best of each performance by combining takes into one shot. Mask and blend for a seamless take with the split-screen compositing effect.
Fix faulty green screens

Recover bad footage. Use the advanced controls of After Effects to control spills, mask unevenly lit backgrounds and fix compression errors.
Advanced video editing and cutting tools for every project on Windows, macOS, Android, and iOS.

From powerful desktop applications to nimble apps for mobile devices, Creative Cloud gives you every video production tool you need to create films, videos, web content, and animated graphics. There are membership plans tailored to individuals and businesses, plus deep discounts for students and educators.