Captivate your audience with stylish, professional presentations.
Design effective slide decks that help you make a lasting impression with Adobe InDesign. 
Tell a visual story to create engaging presentations.
Create dazzling pitch decks, business presentations, and summaries of research findings, or share ideas with a slide deck. But even the best presentation software is only as good as the slideshow you design with it — and a weak deck can undermine even a great presenter — so keep these principles in mind as you build your presentation.

Stick to a visual theme.
A cohesive look with consistent typography and a simple color scheme will help your audience stay focused on the content of your slides.
Keep it simple.
Avoid cluttering your deck with endless charts, tables, or bullet points too small for everyone to read. Allow for plenty of white space on each slide so crucial information stands out.
Find the right tools for every job.
Pie charts are great for demonstrating percentages. Vertical bar charts show changes over time better than horizontal bar charts, which are best for comparing quantities. Try an infographic to help your audience visualize your data.
Incorporate video, audio, or animations.
Get people to pay more attention with animated presentations that feature video, audio, and elegant transitions to break up static slides.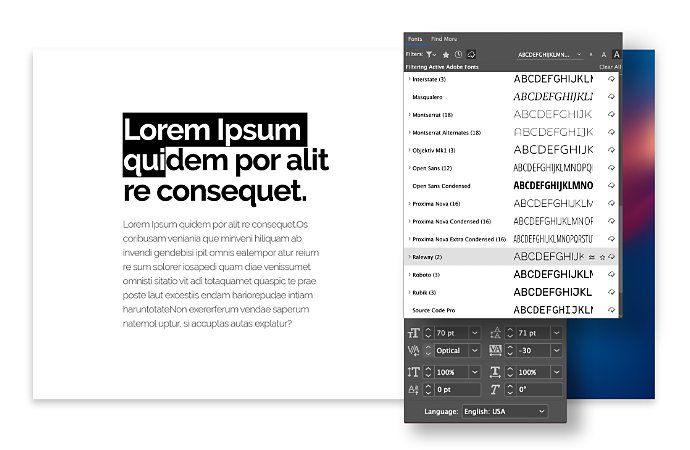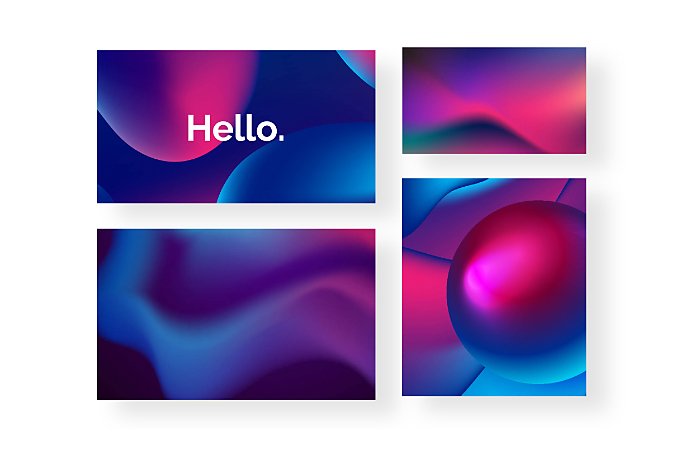 Do more with tools from Adobe Creative Cloud.
Access other Creative Cloud tools that make InDesign an even more effective presentation maker.
Choose unique fonts.
Pick from over 17,000 high-quality fonts from Adobe Fonts to make your information organized and easy to read. User-friendly font styles make slides simpler to digest.
Start with Adobe Stock.
Find inspiration with Stock assets. Use Stock photos for stunning background images or transitional slides, and use Stock to find a presentation template as a basis for your custom design.
How to design a presentation from scratch.
With some creativity, and these simple steps, you can create a custom presentation with InDesign.
Find the right page size.
Whether you're presenting a keynote on a massive screen or creating for mobile devices, start by selecting the dimensions you'll use for your presentation.
Choose your background.
Pick a striking background image that works with text overlay. The deck's title can also become part of the background. 
Create paragraph styles. 
Create no more than three text styles so you can keep the title font, body font, and footnote font consistent throughout the presentation. Set paragraph styles to change font and size with a click of a button.
Set up master pages. 
Create a few master pages to help ensure your presentation looks professional and well designed. Add image and text frames to the master pages so you can drop your content in later without having to overthink the layout.  
Add images and text.
Drag and drop Photoshop (PSD) files, PDFs, Illustrator (AI) files, JPEGs, PNGs, or GIFs into the image frames. To add text, just copy and paste text files or select the Type tool from the toolbar and type directly into the text frame.
Add page numbers.
Insert page numbers to keep you and your audience on the same page. InDesign can automatically number the slides. 

Add finishing touches.
From movies and sound clips to hyperlinks, cross references, and page transitions, you've got plenty of interactive options to make your story more compelling.

Export your slide deck.
The final step is to export your presentation in a format that can be projected or distributed in any presentation program. Exporting as Adobe PDF (Interactive) lets you play or click through interactive content in real time during the presentation. 
Discover more presentation design skills.
Explore these tutorials to start mastering design tools and techniques to help you create beautiful presentations with InDesign.

Create stylish layouts.
Learn how to design slide layouts with text and graphics that will effectively deliver information and impress your audience in projected or online presentations.
Keep it organized.
Enhance your slideshows with tables that clearly display information and can be adjusted to different sizes with ease.
Make it interactive.
Bring animated videos, hyperlinks, slide transitions, and more into your slideshow with interactive presentations in PDF format.
Find the plan that's right for you.