Get all the learning resources you need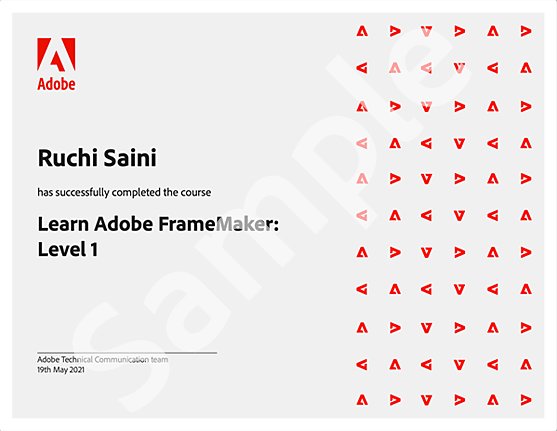 Online training for Adobe Technical Communication products
Get instant access to high-quality, on-demand training courses for your favorite tools like Adobe FrameMaker and Adobe RoboHelp, developed by leading industry experts.
What makes these courses unique?
FREE for a limited period only (Regular price $99.99/user/year)
Updated frequently to cover latest releases
Developed by leading industry experts in partnership with Adobe    
On-demand availability 
Self-paced video tutorials
Online assessment upon course completion  
Instant completion certificate issued by Adobe (See sample beside)
Hassle-free, one-click sign up process with Adobe ID
Introduction to Adobe FrameMaker
Boost performance and productivity while creating rich, immersive content with an all-new 64-bit FrameMaker.
Migrate from Word to Adobe FrameMaker
Overcome the challenges you face while working on Word by smoothly importing your documents into FrameMaker.
Adobe FrameMaker for XML/DITA authoring
Harness the powerful, easy-to-use XML/DITA authoring workspace designed for beginners and experts alike.
Adobe FrameMaker launch webinar
Intelligent. Modern. Superfast. See what's new in the latest release of Adobe FrameMaker.
Adobe RoboHelp launch webinar
Deliver exceptional Help, policy and knowledgebase content. See what's new in Adobe RoboHelp.
Insights from Adobe Technical Communication Survey 2020 
Explore key trends shaping the Technical Communication industry
Findings from Adobe Technical Communication Survey 2020
Hear what your industry peers have shared with us in our biannual industry research survey.
Enterprise Migration to FrameMaker from Microsoft Word for Technical Documentation
Understand the requisites for a successful migration from Word to the tool that meets an enterprises' authoring and publishing needs

FrameMaker vs Microsoft Word - For Technical Documentation
Determine the best match for your technical documentation workflows through this detailed comparison guide.