Types of content management systems (CMS)

Organisations today need to handle huge volumes of content across multiple platforms and mediums - sometimes as many as thousand topics per day. With content-driven experiences becoming increasingly popular, it is more important than ever to efficiently and effectively manage it all consistently across channels. That is where a robust CMS comes in, serving as a one-stop solution for content teams to seamlessly author, collaborate, review, translate, publish and more.

What is a CMS?

A CMS is a software or application that helps users create, edit, collaborate, publish and track content with little to no coding knowledge required. It is designed to make handling and modifying large amounts of content by multiple people easier through workflows that hide complex tasks under a more friendly graphical user interface (GUI). Indexing, search and retrieval, format management, revision control and management are core functions present in almost all popular CMSs.
Types of content management systems

Understanding the different types of CMS available is the first step to figuring out what will be most suited to meet the needs of the organisation. While the term has blurred over time to refer to many kinds of platforms, most systems will fall under the following types: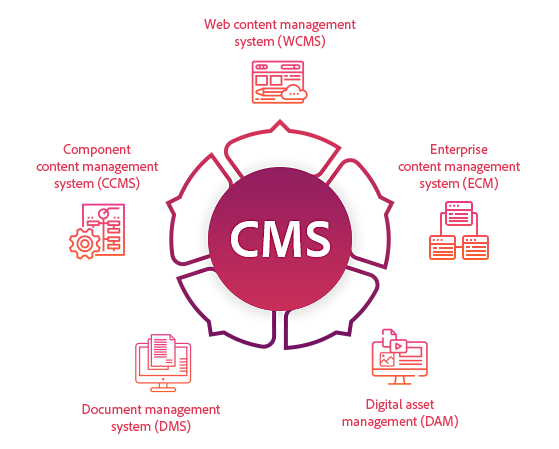 Web content management system (WCM or WCMS)

A WCMS is a software content management system specifically for web content. Some salient features are:

It simplifies website authoring, collaboration and administration through tools that help users with little knowledge of web programming or mark-up languages create and manage website content
The platform enables collaboration, providing users the ability to manage documents and output for editing and participation by multiple people.
A content repository or a database is used to store page content, metadata and other information assets the system needs
The web content management system often uses server-side caching to improve performance when content is not changed often but visits happen frequently
Administration is typically done through a browser-based interface
Enterprise content management system (ECM)

An ECM system extends the concept of content management by adding a timeline for each content item and enforcing processes for its creation, approval and distribution. An ECM usually features:

A secure repository for managed items, analogue or digital
One (or more) methods for importing and managing new items and several presentation methods to make items available for use
Digital rights management (DRM) capabilities for content
Customisable content management workflows based on the processes and procedures of the enterprise for which it is created
Digital asset management (DAM)

A DAM is a repository that facilitates the creation, management, organisation, production and distribution of digital assets. While the term digital asset was traditionally used to refer to media files (audio recordings, photos and videos) it has expanded to encompass a variety of digital formats (fonts, logos, documents etc.). A good DAM:

Makes assets easily available to users by providing a searchable index that supports retrieval of assets by their content and/or metadata. The cataloguing function is usually part of the ingestion process for new assets
Manages digital assets through the entire lifecycle, which may include various states such as creation, approval, live, archived and deletion
Also serves as a version control system that will store earlier versions of a digital asset and allow those to be downloaded or reverted
Electronic document management system (DMS or EDM)

An EDM system is used to receive, track, manage and store documents. Early systems were developed to deal with paper documents, which included not only printed and published documents, but also photographs, prints etc. This then evolved to manage electronic documents. Today, most EDM systems:

Can manage any type of file format and encompass electronic documents, collaboration tools, security, workflow and auditing capabilities
Store documents in their native file format (Microsoft Word or Excel, PDF)
Have the ability store content in the form of HTML, allowing the software to act like a search engine so users can find what they are looking for faster
Component content management system (CCMS)

A CCMS manages content at a granular level (component) rather than at the document level. A typical CCMS features the following:

Each component represents a single topic, concept or asset (for example an image, table, product description, a procedure). Components can be as large as a chapter or as small as a definition or even a word
Components in multiple content assemblies (content types) can be viewed as components or as traditional documents
A CCMS tracks not only versions of topics and graphics but relationships among topics, graphics, maps, publications and deliverables
It facilitates the export of assets by integrating a multiformat publishing engine
Benefits of a CCMS include greater consistency and accuracy, reduced maintenance, translation and delivery costs and better traceability
See how your organisation can benefit from Explore Adobe's enterprise-class CCMS

XML Documentation for Adobe Experience Manager is a CCMS built for technical documentation, IT and marketing teams. Scale content creation minimise content management risks and deliver omnichannel experiences for product documentation, policies and procedures and long-form marketing content.

Let's talk about what we can do for your business.
Let's talk about what we can do
for your business.
Reach us via phone: ++1 408 536 1144
(Mon to Fri, 9 AM - 6 PM ET)
Reach us via phone: ++1 408 536 1144
(Mon to Fri, 9 AM - 6 PM ET)