Discover all that you can do
Use structured content management and AI capabilities to author, manage, deliver personalised and consistent experiences for product documentation, policies and procedures, long-form marketing content and more. Here's how the solution can help to achieve that.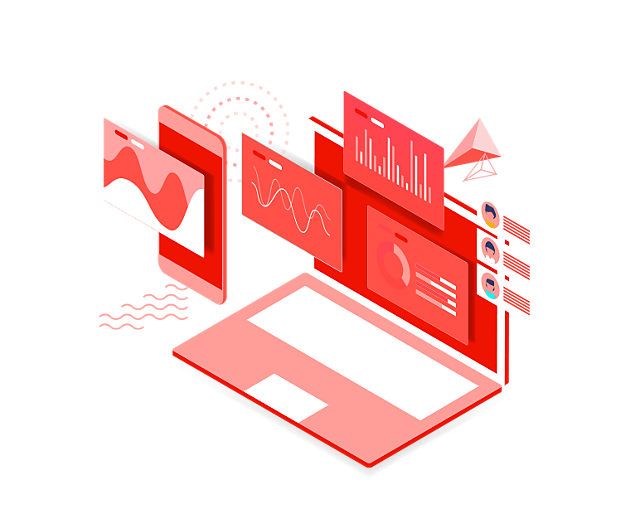 Web-based content creation
Hit the ground running with the easy-to-use WYSIWYG web editor to create granular, presentation-agnostic, variant-free content. Migrate content from Word, XHTML, IDML and more, to DITA with the out-of-the-box ingestion framework.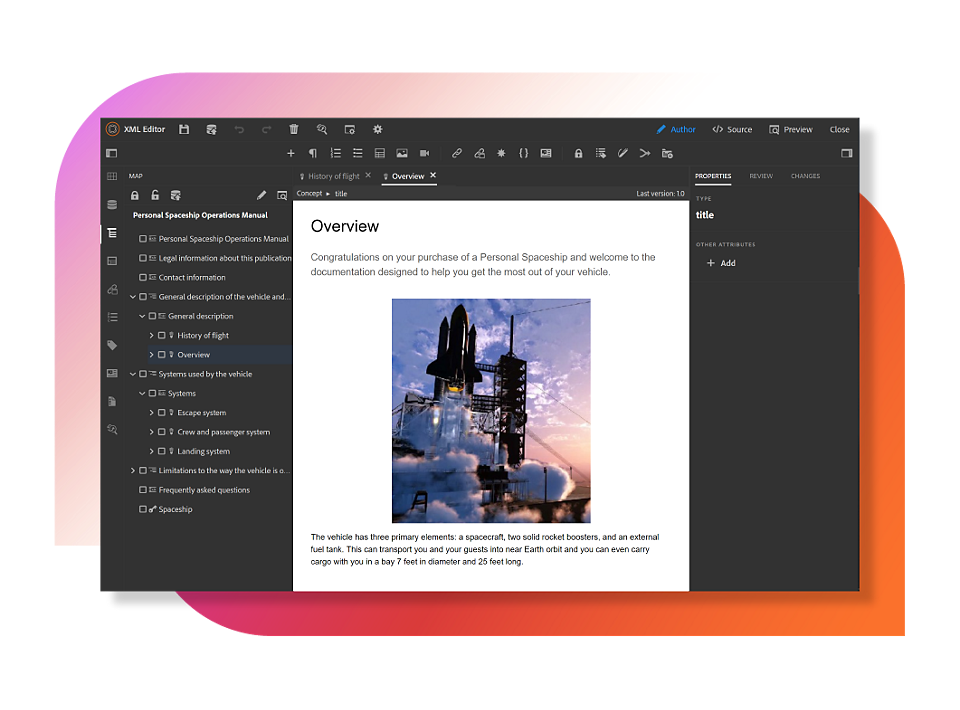 Migrate existing content to DITA from formats like Word, XHTML, IDML, custom XML, unstructured FrameMaker and more, with automated conversion and validation. Customise the process to meet your conversion needs with minimal configuration or extensive REST-based APIs.
Create granular, presentation-agnostic, variant-free content with an easy-to-use web editor that is directly accessible from Experience Manager's main navigation menu.
Easily author DITA content for DITA 1.3, 1.2, 1.1, LwDITA and any specialisations. Multiple authoring modes makes it easy for subject matter experts and casual contributors to author even without XML or DITA programming skills.
Author the map faster with simple drag-and-drop capabilities. Quickly find and insert content using search and filters. Take actions on multiple topics at one go with bulk check-in and check-out. Automatically refresh topic title references within a map. Author topics in the context of the publication with document view. Preview the entire publication using the map level preview.
Manage all digital assets, like AI, PSD, EPS, SVG, raster images, MP4 etc., within the same repository. Reduce the effort for updating assets with automated creation of different resolution renditions. Connect it with Adobe Creative Cloud for file sharing and syncing.
Integrate with leading translation vendors using built-in connectors that automate translation workflows. Reduce time and costs with detailed dashboards that identify untranslated and out-of-sync content. Quickly filter content that needs translation using advanced techniques like baseline and date stamps.
Keep track of where content is reuse with powerful link and dependency management. Move, rename or translate content while automatically keeping forward and backward references intact. Warn users when they delete content being reuse elsewhere.
Personalise the end-user content experience by using advanced tag management capabilities to build your own tag libraries. Find relevant content with faceted search functionality. Bulk tag content within the context of a map.
Easily manage multiple publication versions and look up older versions within the same hierarchy and baselines using capabilities like version comments and history, version preview, version compare, version diff and merge, version labelling and branching.
Enjoy deep integration with FrameMaker and access version management, search and review capabilities from within FrameMaker itself.
Connect to the Oxygen XML Editor to author off-line and publish directly to the web. Browse and search, export or import map, mark a folder as favourite for faster access, check-out edits and check-in files using the connector.
Automate the entire workflow—content ingestion, post-processing, publishing and archiving—using REST APIs. The APIs allow integration of any off-line DITA editor or existing content repository and enable labelling of topics, maps and use of baselines for publishing.
Handle document management use cases at scale with bulk import and move capabilities. Easily publish large number of documents in bulk to end-user facing websites at one go.
Monitor content health using detailed reports that list broken links and references and the review status of all topics. Ensure publishing readiness by performing comprehensive sanity checks. Track adherence to reuse guidelines with the content reuse report.
Structured content management
Leverage best-in-class content management capabilities like advanced content reuse, version management, reference management, search and metadata tags management, translation workflows and content health reports to assume complete control of your content.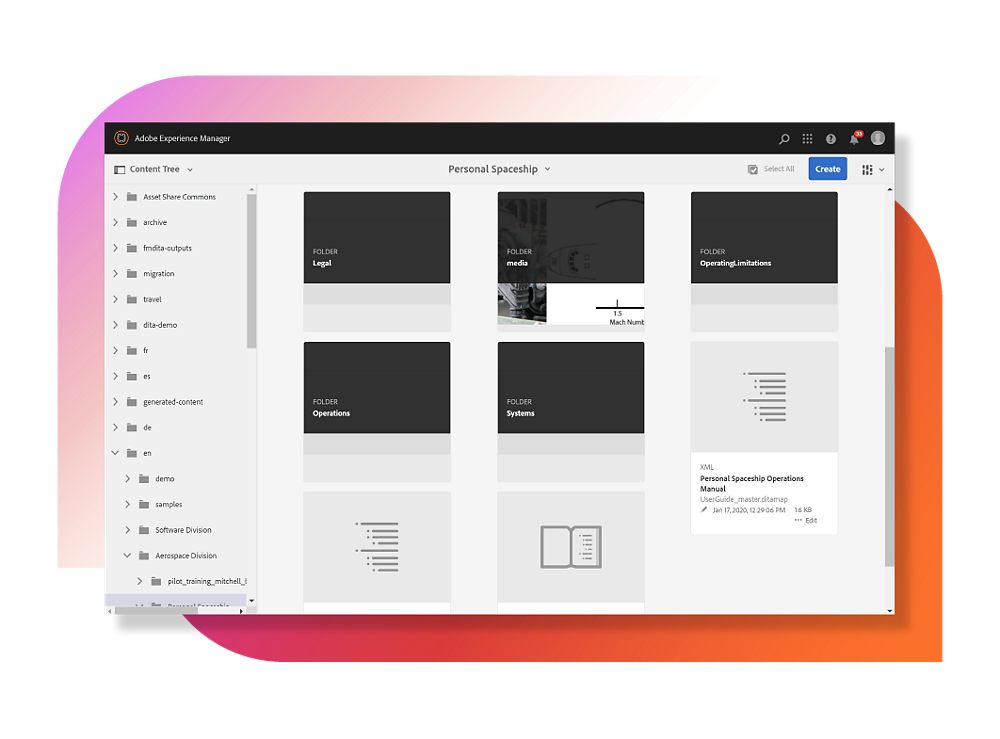 Use artificial intelligence and machine learning — powered by Adobe Sensei — to add intrinsic intelligence to content which helps in superfast delivery and easier content discovery by customers.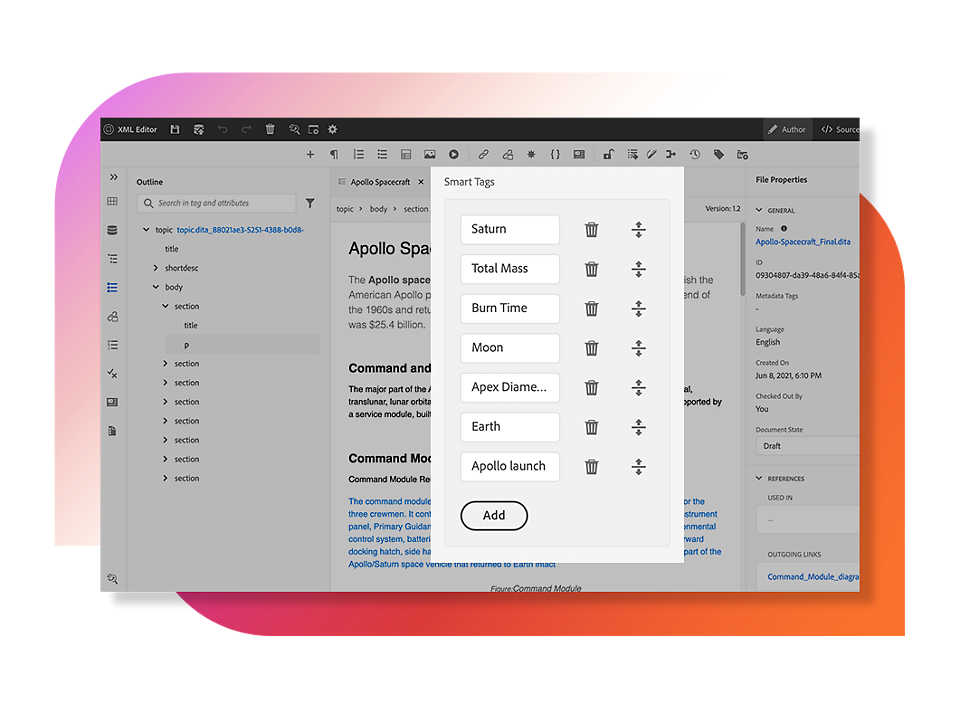 Auto tag your documents using AI powered by Adobe Sensei, which automatically identifies and extracts relevant metadata keywords from the text and significantly improves content discovery by customers.
Eliminate tedious editing jobs with smart crop, an automated process that detects the focal point of an image or video and automatically crops to it using AI powered by Adobe Sensei.
Allow multiple authors and reviewers to simultaneously review same or different versions of a topic or publication. View topics one by one or as a whole publication and review even unassigned topics. Provide inline review with content insertion, deletion, highlighting and commenting. Attach reference documents accessible to authors/other reviewers while reviewing the individual topics or publication. Import review comments with a single click and track changes to accept or reject suggestions easily.
Collaborate with team members using projects, workflows and tasks. Use projects to track progress and assign different roles to team members. Ensure compliance with business processes by automating the delegation of tasks with completely customisable workflows.
Preserve the context of the original topic while allowing multiple users to collaborate and make changes on the same topic—which can then be accepted or rejected by the original author. Easily preview the original topic or the changed topic with the marked-up content.
Track the progress of ongoing review tasks and access the history/audit trail of past tasks. Get metrics such as a reviewer level status of topics reviewed, number of comments made and last accessed time. Task initiators can modify task details or reassign topics.
Web-based review and collaboration
Save time and effort through a web-based review workflow. Allow multiple authors and reviewers to collaborate simultaneously in real time even when operating remotely. Use projects to assign roles and track progress through admin dashboards.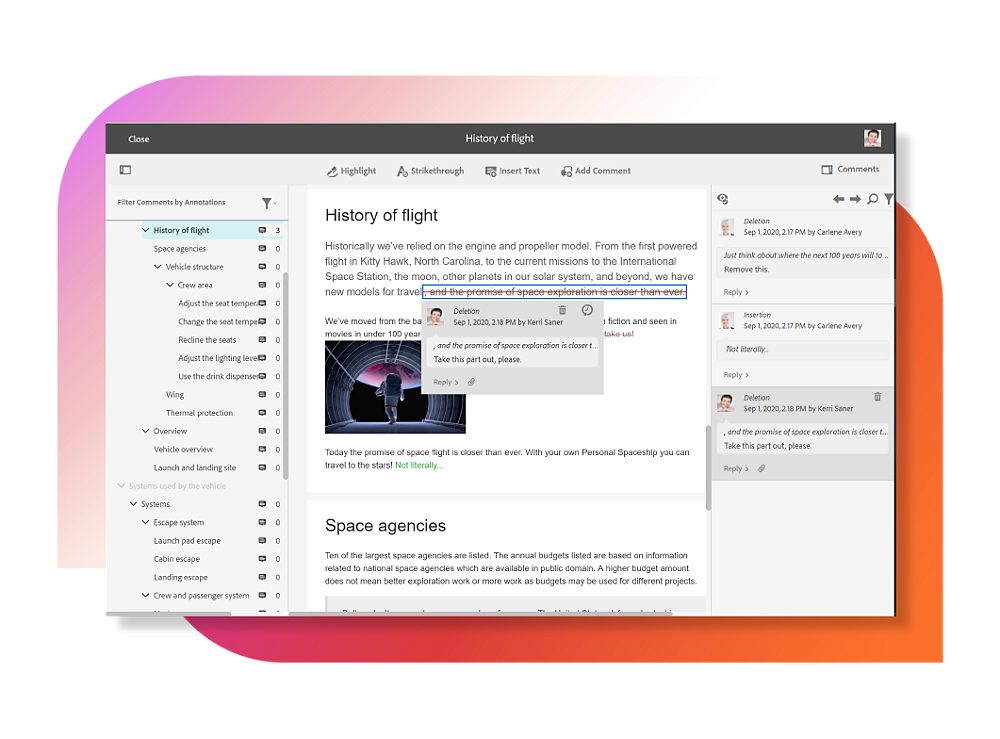 Omnichannel content experiences
Accelerate content velocity across touchpoints by easily delivering content to Adobe Experience Manager Sites, mobile apps, knowledge bases, CRM platforms, IoT Apps, chatbots, PDF, HTML5, EPUB, KINDLE and more.
Accelerate content velocity by directly publishing DITA content to Experience Manager Sites as dynamically updated pages, with minimum dependence on IT and without any intermediate conversion to HTML.
Make content accessible across devices with easy publishing to Experience Manager Sites, Responsive HTML5, Mobile App, PDF, EPUB, Kindle and more. Deliver highly relevant experiences by customising output. Implement a unified content strategy by delivering technical content alongside marketing content on Experience Manager for a consistent pre- and post-purchase customer experience.
Easily manage large volumes of content and frequent publishing needs through batch and scheduled publishing. Use baseline or conditional publishing to manage documentation across product versions or different target audiences. Make quick content updates with the ability to publish topics incrementally within a publication.
Integrate with other publishing solutions using out-of-the-box APIs to export DITA content along with DTDs. Automate publishing tasks with post output generation workflow integrations.
Make content easily accessible across channels using REST APIs for headless use cases. Query content across websites, support portals, mobile apps, knowledge bases, CRM platforms, IoT Apps, chatbots and more from a single source based on taxonomy, classification and semantics.
Let's talk about what we can do for your business.
Let's talk about what we can do
for your business.
Reach us via phone: ++1 408 536 1144
(Mon to Fri, 9 AM - 6 PM ET)
Reach us via phone: ++1 408 536 1144
(Mon to Fri, 9 AM - 6 PM ET)