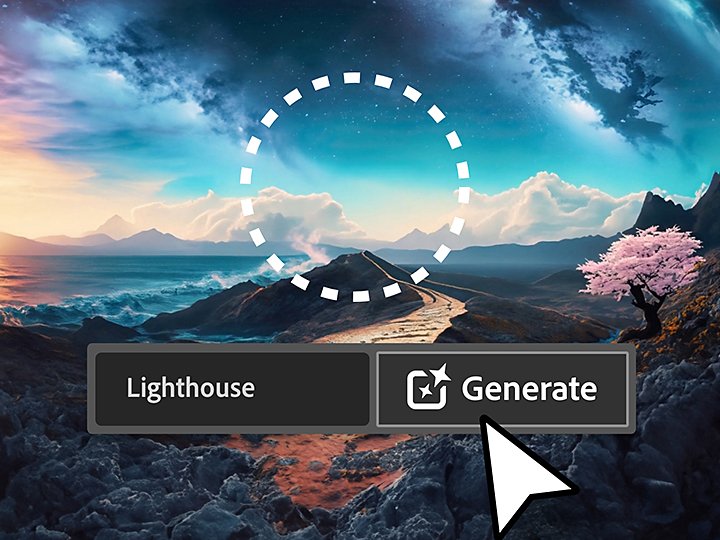 Tap into the power of AI photo editing.
Realize your dreams faster than ever with Generative Fill and Generative Expand in Photoshop. Powered by Adobe Firefly.
Work faster with less workflow with AI in Photoshop.
Explore the innovative tools powered by Firefly that make it easier to create anything you can imagine in fewer steps.
Subject selection in a single click.
Isolate the main element of a photo with less work thanks to Select Subject. Go to Select > Subject and Photoshop automatically selects and adds your main subject on its own layer.
Better backgrounds, better images.
Add a background you like better to any photo. In the Quick Actions panel, click Remove Background, then drag and drop a new backdrop onto your canvas.
Refine hair selections with a lot less work.
Capture every strand or curl without feeling like pulling out your own. Try the Refine Hair button in the Select and Mask workspace and let AI remove some hairy work from your day.
Edit out elements quickly.
Select, remove, and replace parts of any photo with Content-Aware Fill. Powered by AI, simply select and refine any element and Content-Aware Fill will swap it out with a seamless replacement.
More AI-powered Photoshop tools.
There are many more tools in Photoshop that make work faster and easier with the power of AI. Here are a few:
Remove Tool: Replace unwanted areas in your image with similar content by simply brushing over what you want to remove.
Curvature Pen Tool: Draw straight lines and smooth curves intuitively, then easily modify them.
Match Font: Find matches for fonts you love in your images or photos.
Preserve Details 2.0: Resize images without introducing distortions to important details and textures.
Sky Replacement: Change the sky in your image in a few clicks and Photoshop will automatically mask and blend the replacement.
Object Selection tool and Refine Edge: Create precise selections and masks with ease.
Neural Filters: Reduce larger workflows to just a few clicks with a library of filters powered by machine learning.
Discover more about AI, Photoshop, and Firefly.
Explore all you can do with Photoshop.
Edit pics, add color, erase unwanted stuff, make boring backgrounds exciting, and much more.
Explore generative AI right in your browser with Generative Fill, Text to image, and Text effect models.