Make visually stunning videos anywhere with Creative Cloud tools for video editors.
Edit footage on mobile or desktop. Add graphics, effects, transitions and high-quality audio. Create compelling content with motion graphics and compositing techniques. Export your finished video for social media or 4K film releases. Take your video footage further for film, TV and online viewing with industry-leading video editing software and apps.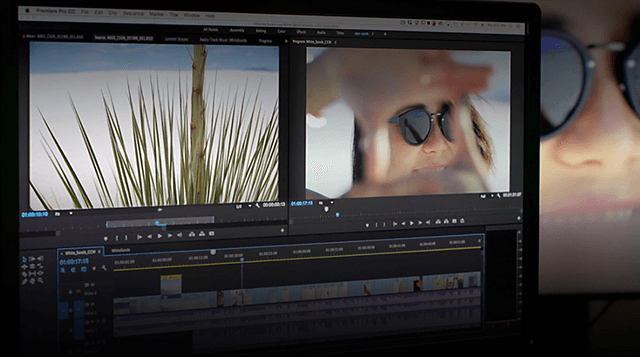 From home films to YouTube videos to feature-length films, Adobe Creative Cloud has you covered.
Shoot, edit and share online videos. Fast and easy.
Premiere Rush is the all-new, all-in-one video editor that makes editing and sharing online videos fast and easy. It works on all your devices, it's simple to use and it'll transform the way you create. Whether you're into video editing for YouTube or any other online video channel, Premiere Rush makes going from shoot to showtime easier than ever — from anywhere.

Learn more | Start now for free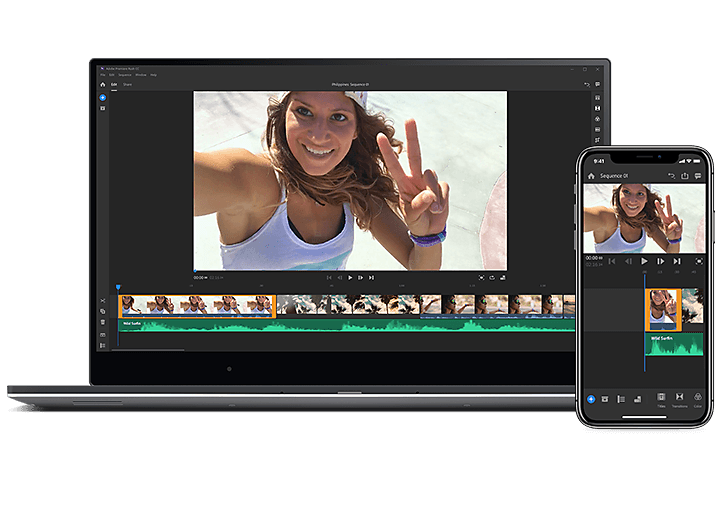 Available cross-device
Edit on your phone, tablet, Mac or PC — wherever. Your edits are automatically synced so you always have access to your latest versions.
Easy editing
With an intuitive interface, interactive tutorials and creative flexibility as you progress, Rush makes editing for social media a snap.
Share to social
Share directly to social media sites like YouTube, Facebook, Instagram and more — even publish to multiple sites at once.
Built-in camera (on mobile)
Capture pro-quality videos and photos from right inside the app with built-in camera functionality.
Colour adjustment
Choose presets or create customised filters with simple sliders to adjust tint, exposure and more.
Motion graphics templates
Choose from a selection of built-in templates—or access more from Adobe Stock—for titles and animated titles that you can customise by changing text, font, colour and size.
Create professional videos for film, TV and web.
Full featured and flexible, Adobe Premiere Pro is the best video editing software to handle footage for web, TV and feature productions. Trim, edit, apply transitions and effects, adjust colour and add titles and graphics.
Easily edit videos from start to finish.

For everything from motion pictures to videos for the web, Premiere Pro is the industry-leading choice for professional-quality desktop video editing.
Premiere Pro does more for video editors.
Import clips
Add video, audio and graphics without worrying about formats. Premiere Pro will handle the details.
Edit video on the timeline
Trim clips, crop video and rearrange scenes. Intuitive controls let you get exactly the look, sound and feel you want.
Add effects
A wide range of drag-and-drop effects and transitions cover every contingency. Many  can be animated for a professional touch.
Export and share
Dozens of presets for video output, from HD to YouTube or mobile, make it very easy to share your story. With a few clicks, export your video optimised for social media, video sharing, TV or cinema.
Colour correction
Adjust the colour in your footage and apply distinctive colour gradients. Give a professional touch to your videos.
Dynamic audio
Use powerful tools to remove background noise, improve clarity and enhance soundtracks. Dazzle your audience with professional sound.
Professional video editing
Get the perfect chroma key (greenscreen) effects, apply track transitions, use multicam editing, create a demo reel and much more. Premiere Pro is packed with tools to edit VR and 360 videos.
Take video editing to the next level with motion graphics and visual effects.
The creative's first choice for designing visuals, Adobe After Effects excels at producing stunning graphics and eye-catching effects.
Bring your videos to life.

The next step in visual production, After Effects is the most powerful and easy-to-use app for animated graphics, compositing and effects design.

Make it look spectacular with After Effects.
Add and organise videos
Import a wide range of media files to the video editor. Moving-image files, still-image files, still-image sequences and audio files combine seamlessly in your project.
Create, arrange and compose layers
Bring multiple assets together to create a finished scene. A clear interface allows you to remove backgrounds, isolate objects and combine layers to build stylish compositions.
Add animations and effects
Create animated titles and add 3D text, intros and credit rolls. A comprehensive collection of effects helps you to set anything in motion using keyframes, including logos, shapes and cartoons. Add sound for really amazing results.
Render and export your videos
Create the best video file for your audience. Use the Render Queue to produce a high-resolution video file or a compressed film to play on the web or for DVD and Blu-ray.
Master title design
Create dynamic and animated text to give your project the professional touch.
Repair and enhance video
Fix and stabilise shaky video footage, correct exposure and edit video colour to get a cinematic look.
Edit like a VFX pro
Build 3D worlds, apply immersive effects, fix faulty greenscreen footage and add expert special effects.
Easily create videos online.
Beautiful slideshows, moving stories, presentations, ads and invites are simple to produce with Adobe Express Video, a free online video editor and storyteller. You're minutes away from realising the video of your dreams.
Tell your story in minutes.

Get everything you need to produce quick and compelling videos. It's the first choice to tell your story on web, mobile and more.
Learn more about Spark Video.
Pick a template or start from scratch
Promote your business online, launch an idea, support a cause, share your travels or follow your imagination.
Add graphics and visual themes
Combine images, video clips, icons or text. Search for free photos or icons right in the app or use your own images and video clips.
Add some audio
Record narration or use music clips. You can add your own music and voiceovers or search for the best free music to add the right touch.
Share everywhere
Share your Spark Video directly from the app to the platform of your choice, email the link or download it as an mp4.
Professional themes
Select from a variety of layouts, colours and fonts to build your branding. Then customise with text and photos that fit your needs.
Wherever you want
Share your videos via social media or email and quickly reach your audience.
Mobile apps for video editing.
Inspiration can hit anywhere. With apps for your phone or tablet, you can pursue your creative vision wherever you are.
Create and share online videos — anywhere.
 

The all-new, fast, flexible and easy way to create and share online videos from anywhere. Premiere Rush works on all your devices and your edits are automatically synced to the cloud, so your latest work is always at your fingertips.
Spark Video templates make storytelling a breeze. In a few minutes you can combine videos, images, text and music for presentations, social media or web sharing. It's the fastest and easiest way to create compelling short videos. Now everyone can tell their story with video.
Compare video editing features.
Whether you're looking for a simple or advanced video editor, our feature-rich apps will meet your needs.
| | | | | |
| --- | --- | --- | --- | --- |
| | | | | |
| | | | | |
| | | | | |
| | | | | |
| | | | | |
| | | | | |
| | | | | |
| | | | | |
| | | | | |
| | | | | |
| | | | | |
| | | | | |
| | | | | |
| | | | | |
| | | | | |
| | | | | |
| | | | | |
| | | | | |
Learn what you can create with Creative Cloud video editing tools.
Whether you are just starting out or sharpening your skills, there's an app for you. Our comprehensive how-to tutorials will help you to learn the basics or master the newest features in no time.
Create and edit videos on the go

Discover how Premiere Rush makes it easy to create and share videos for YouTube, Facebook and other social channels from anywhere.
Learn five editing basics in Premiere Pro

Create a video in minutes. Add clips, create a sequence, make a title, adjust your audio and export your completed video in five easy steps.
Try adding special effects to video  

Make an UFO fly by a cityscape. Use compositing features in After Effects to combine motion graphics and video for an otherworldly experience.
Whether you need a Windows video editor or you work on macOS, Android or iOS, Adobe Creative Cloud apps are perfect for your video projects.

Premiere Pro, After Effects and the web and mobile video apps are all part of Creative Cloud, with membership plans for individuals and businesses. There's also a low-cost option for students and teachers.
Quick and easy video edits.
Make scroll-stopping videos with Adobe Adobe Express. It's fast and easy to create your perfect edit.