How to make a TikTok video.
Hop on the latest trend or make up your own with a TikTok video. Learn how to create videos that have viral potential with insights from pro creators.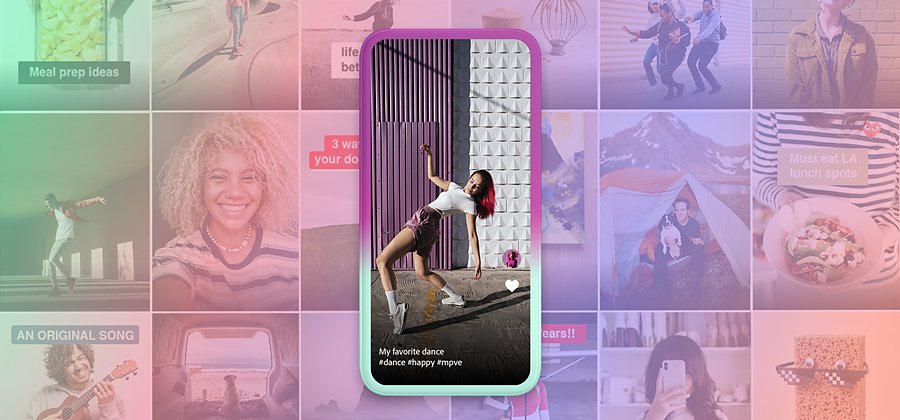 Step into the world of TikTok.
TikTok is a social media platform built on fast-paced, attention-grabbing video content where the only requirement is to entertain. Everything from funny tales to live music, life hacks, restaurant recommendations, and inspirational stories are all thrown together in one non-stop scroll. Whether you want to make a lo-fi meme video or film a polished production, there's a niche for everyone on TikTok. 
TikTok 101: Attention is everything.
While they are somewhat similar to YouTube videos, TikToks are much shorter and faster-paced. "The most important thing you need to do is capture somebody's attention within the first two to three seconds. And then have content that's compelling enough to get viewers to finish the video," says creator Robert Cole.
The easiest thing a viewer can do on TikTok is swipe away to the next video. So if you want more views or to build your platform, your video should instantly capture your viewers' attention — and keep them coming back for more.
Don't drag it out. A TikTok is a short video, with an emphasis on the "short." "Completed watch time and rewatching are some of the biggest factors in how well a video does with the algorithm," says Cole. "People think likes are a big factor, but likes are actually the least important factor. Watch time is number one, and the number of shares and comments are right behind that."
The maximum length is 60 seconds, which for TikTok standards is basically a movie. "My videos tend to fall between the 20- to 45-second range, and a 45-second video is really long," says creator Danny Tumia. Get to the point quickly, and trim any nonessential clips. The longer your video is, the harder it is to retain viewers, so if you use the full 60 seconds, make sure you've got something that can make it worth the watch.
Tips for planning your video.
So you've got an idea for a video that will capture that all-important viewer attention. Now it's time to plan how you'll execute your vision. While some videos are completely spontaneous, others will need you to spend at least a little time mapping them out.
Plan it out.
Sketch out your idea, a process otherwise known as storyboarding. If you're doing a dance, this phase could include practicing the choreography. If you're telling a story, it could mean writing a loose script, rehearsing your narration, or planning what kind of shots you'll need. Because your video could be anything from sketch comedy to a musical performance, this stage will look different for every TikTok user.
Find your niche.
Whatever you do, be authentic. "Don't force it," says Tumia. "Your video has to feel organic. The question I get a lot is, 'How do you get so big on TikTok?' The answer is I started making these jump scare videos that nobody else was doing, and that became my niche." 
Find out what your niche is, but don't expect that it will be immediately apparent. It's going to take time, and it will most likely evolve as you start making more videos. "Find something that somebody else is doing that's working and put your own twist on it, or find something that nobody's doing and put it out there," says Cole. "If you just try to make content that everybody else is making, you're going to have a hard time being noticed. You have to set yourself apart."
What if I don't know what I want to do yet?
If you don't know what you want to make yet, that's okay. The great thing about TikTok is that there are so many creative, unique videos out there to be inspired by. One way you can start is to pick one you like and challenge yourself to make a similar video, but give it your own flavor. If you go this route, always be sure to credit the original creator for their part in your video.
Filming your TikTok.
You have two options when it comes to how you film your video. You can film, edit, and post directly in the TikTok app, or you can shoot clips on your own and compile them using another video editing app. Many creators like to go the latter route because it gives them more flexibility to edit videos after shooting, whereas if you film directly in TikTok, you have to publish it as is. 
Get good light.
Lighting is a big factor in determining your video's instant appeal. If a video is poorly lit or hard to see, chances are people will swipe away immediately. Good lighting shows that you put thought into your video, and it makes it easy for viewers to want to stick around and see what happens. Use natural light if you've got it, or if you're filming indoors, use a ring light to get bright, even, flattering light that will illuminate your face.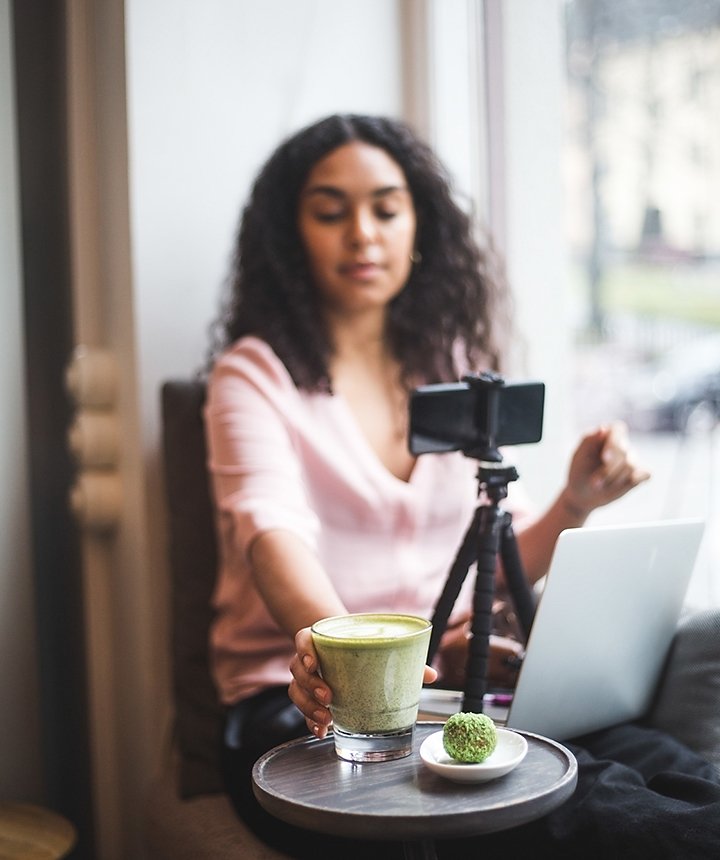 Overshoot rather than undershoot.
There's nothing worse than getting back from filming and realizing you didn't get the shot you needed. Take a few extra minutes while you're on location to do a couple of different takes or try different angles — it could save you hours of reshooting in the long run. It's always better to have options than to be stuck with something you don't love.
Strike while the inspiration's fresh.
"When I get inspired, I immediately go and do it while it's fresh," says Cole. For some videos, the longer process of planning will pay off big time, but for others, their simple and spontaneous nature gives them their appeal. "I just use my iPhone camera and film vertically," says Tumia. "When I see something I want to film, I crank it out right then and there."
Best practices to keep your videos buzzing.
Keep an eye on what's hot.
Do the latest dances or joke formats — you can even combine your video with someone else's via features like duets and stitches. These are just a few ways you can leverage some of the trendiness from already popular TikToks.
Add hashtags.
Tagging your video will make it more easily discoverable. Take a look at your Discover page to see which hashtags are hot at the moment.
Use captions for narration.
This makes your video more accessible and easier to watch in situations where the viewer may not be able to turn up the volume.
Listen to your followers.
Over time you'll be able to see what kind of content performs better than others. Take this knowledge and pivot your direction to match with what your followers want to see. Comments are a great way to get feedback and find out what people want more of.
Trends travel at the speed of sound.
Adding audio to your videos for TikTok is essential, whether you license free background music, record a voice-over, or add sound effects. It adds texture and depth to your overall story.
Use sounds to go viral.
Sound is also one of the biggest ways trends circulate on TikTok. Many popular videos are simply original footage with a viral audio clip dubbed over them. If you find an audio clip you like on TikTok, use that same sound and your video will be searchable under the videos made with that sound. Or better yet, come up with your own original sound and go viral when others start to use it in their videos.
"If I need to add music to one of my TikToks, I'll find a video with the song I want, download that video, and import it to my project. Then I unlink the sound, delete their video, and then I'm left with just the track," says Cole.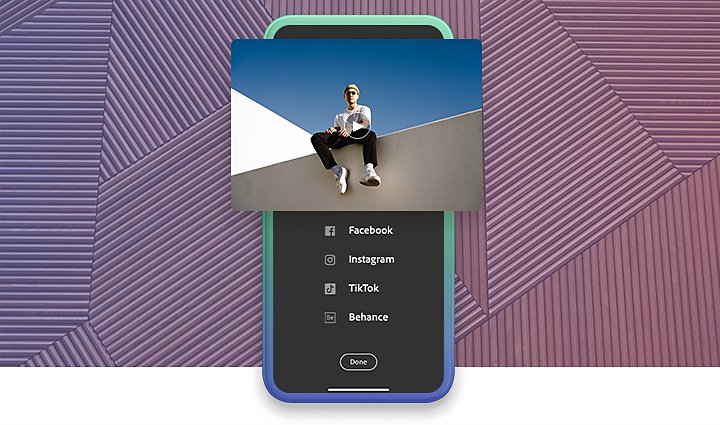 How to make a TikTok with Adobe Premiere Rush.

With Premiere Rush you can shoot, edit, and share TikToks from wherever you are, right from your phone. Download the Premiere Rush app for free from the iOS or Android device app store to get started.
1. Tap the plus (+) button at the bottom of the home screen to get the Create New Project menu.
2. Select Add Media to choose which type of content you want to add to this project. Or choose Take Video or Photo to film right in the app.
3. Choose your clips and sequence them in the project timeline. 
4. Trim clips to your desired length.
5. Add audio like sound effects or voice-overs.
6. Apply special effects, transitions, filters, stickers, and more.
7. Resize your video to fit the aspect ratio for TikTok if you need to (9:16 is the most popular).
8. Export directly to TikTok or the social network of your choice.
To go even deeper, learn basic video editing skills in Premiere Rush with these step-by-step tutorials.
How to make a TikTok in the app.
To create your own video in the TikTok video maker, tap the plus (+) button in the bottom center of the home screen.
Along the top of the screen you can tap Sounds to search and add a sound to your video.
On the right side of the screen, you'll see a variety of special effects you can add to your video, such as:
Speed: You can go all the way from 3x speed to 0.3x slow motion.
Beauty: Toggle Beauty mode on and off. This filter smoothes out your face.
Filters: Choose a filter from the Portrait, Landscape, Food, or Vibe category to give your video a stylized look.
Timer: The timer lets you set a countdown before the camera starts recording.
Flash: Toggle the flash on and off.
Along the bottom of the screen, you'll see a special effects panel. Scroll through these to apply different graphics in categories such as Green Screen or Interactive. Tap the red record button in the center to start recording, or tap the Upload thumbnail on the right-hand side to add media from your camera roll. Here you can also choose the 15-second video length or 60-second length, as well as choose from motion graphic templates to apply to a set of photos.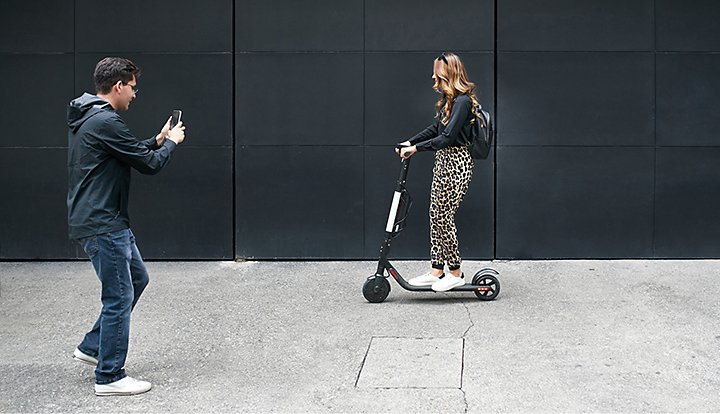 Tackle your next TikTok.

TikTok is a massive platform with lots of voices competing for attention, but don't let that stop you from doing your own thing. "Try not to overthink it," says Tumia. "Just let the idea come naturally. If it seems fun, just do it and see what happens."
If your goal isn't to become a TikTok influencer with a checkmark by your name, that's totally fine. In fact, that frees you to use TikTok however you want rather than how the statistics or trends on your TikTok account dictate. Whatever your goals are for your TikTok, put fun first. If you have fun making it, the audience will have fun watching it. And when it comes down to it, that's what makes TikTok tick.
You might also be interested in…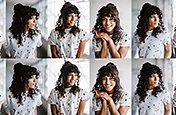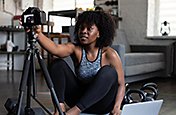 Learn how to become a successful YouTuber, build your following, and get paid for your content.