Discover why design teams are switching from InVision to XD for a faster and easier UI/UX design workflow.
No more syncing between apps.
Use XD to brainstorm, wireframe, create mockups and high-fidelity user interface (UI) designs, make interactive prototypes, share your work, get feedback and hand off to developers — all in a single platform that's part of Adobe Creative Cloud. To do all of this with InVision, you need to use and pay for licences to multiple UI design and prototyping tools like Sketch or InVision Studio. XD also works across Windows and Mac and new features roll out on a regular basis to help improve and accelerate your design process.
Create experiences of all types.
InVision lets you prototype for desktop and mobile, but XD takes prototyping even further by letting you create rich experience designs for websites, desktop apps, mobile apps, voice interfaces, games and more. You can work with actual design components and artboards instead of simply dragging hotspots onto static images and use component states and actions like Auto-Animate to easily enhance your prototypes with motion and animation.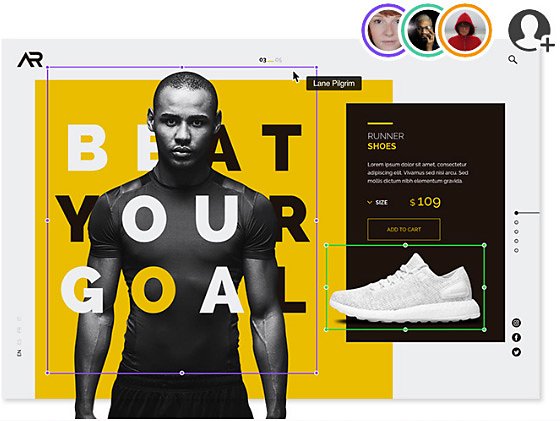 Collaborate more efficiently.
XD helps your team work faster together with real-time Coediting and version control. Plus, there's no need to use separate UI design tools and management apps to build and maintain design systems. Your team can simply create and share design systems via cloud documents that are always at your fingertips or import your Sketch files and Sketch Libraries. Design systems update automatically and allow everyone to override changes as needed.
Ready to switch from InVision?
Get step-by-step help from our experts to make the switch to XD.
Features for the future of UI/UX design.
Coediting
Work together with your team in real time in the same document whether they use Mac or Windows. No more duplicating efforts or maintaining multiple design files.
Components and states
Create design elements to reuse throughout a design or across different projects and then create variations of those components for different scenarios, like hover, on and off and selected.

Design systems
Create and maintain a design system to help everyone work faster and maintain brand consistency across experiences. Design systems in XD put more creative control in the hands of designers and allow for easy updates and overrides as needed.
Auto-Animate
Bring motion and animation to your prototypes to create smooth transitions and micro-interactions.
Sharing
XD brings sharing right into the product. Share ideas with teammates. Get feedback from stakeholders. Share specs, assets and sample code with developers. Record videos and export to PDF. And more.

Adobe Creative Cloud integration
Bring all your creative work together in one place and extend your workflow across different apps. XD integrates seamlessly with apps and services like Adobe Photoshop, After Effects, Illustrator and Adobe Fonts.
Extend the power of XD with integrations and plugins.