Adobe Content Server 6.5 (ACS) helps you securely distribute and monetize your eBooks and PDF content. Offer great ease-of-use as the books your customers purchase, appear automatically across all their eBook readers. Open new markets with flexible business models for subscription and text book distribution. As ACS supports open, industry-standard formats publishers remain free to set and pursue their own business models, experimenting and innovating as they choose.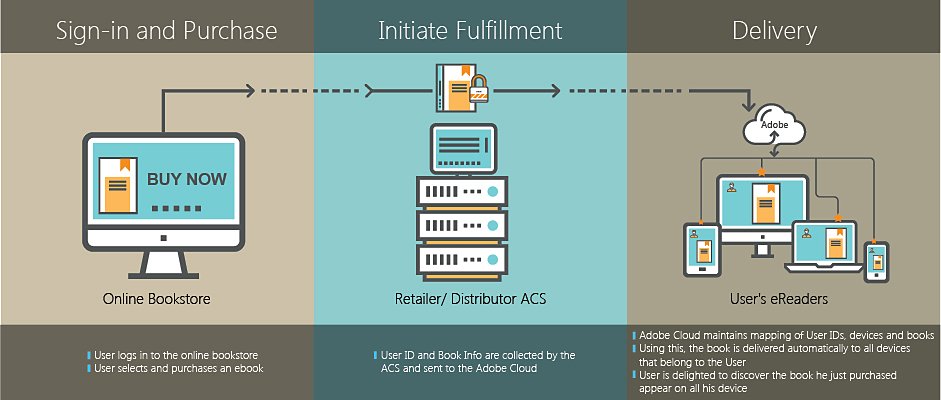 Features of the Content Server
Seamless fulfilment of books across devices
Offer great ease-of-use as the books your customers purchase, appear automatically across all their eBook readers.
Resource Level DRM for Better Protection

Distributors can choose to enforce a stronger DRM on specific books. When this flag is set, the book can be opened only by readers based on RMSDK 10.0 or above.
School Model

Allow schools to access books in their own devices through distributor's content management platform. Students can access books on their own device or pooled school devices.
Bulk Fulfillment (Preloaded books)

Enable distributors to pre-load and license DRM books for distribution in a school/district using multiple devices. Minimize operational overheads for schools by preloading books on devices. Multiple downloads of the same book onto the device or student login will not be required.
Publish in industry standard file formats

Sell or lend rights-protected eBooks in PDF, EPUB or EPUB3, a reflowing industry-standard format for digital eBooks.
Choose the EPUB reader version

Now choose to render an EPUB file using the EPUB 2 or the new EPUB 3 rendering engine.
Provide Custom ID options

Let your customers use their store credentials to authorize their reading app, shop, and access previously purchased books.
Subscription-based pricing

Charge your distributors a different rate for subscription resources such as journals or periodicals. Enable this feature by generating a subscription id to be used while packaging. Billing system pulls out transactions categorized as subscriptions to apply differential billing rates.
Geo based pricing

Avail reduced transaction fee with differential pricing in emerging Geos. While packaging, use the new parameter to indicate differential pricing along with the location ISO code.
Expiration of permissions for lending content

Make eBooks available for a specified length of time. Return the content to the lender at the end of the specified period.
Smooth integration

Add Adobe Content Server 6.5 to your existing content management and fulfillment solutions with ease.
---
Want to know more? Let's talk.
Get in touch with a specialist
Talk to the community

Get in touch with a specialist
Talk to the community