Make it happen with Adobe Perks.
Travel the world, learn a new skill, grab the latest tech, or achieve your fitness goals. It's easy to get there with the new benefits that come with your Adobe membership!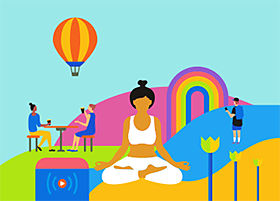 Now your Adobe membership comes with much more.
Fuel your lifestyle, passions and goals with valuable offers on holidays, cameras, laptops, learning, and much more. Explore what's possible with Adobe Perks - a new benefit added to your Adobe membership.
---
2 months access to Upskillist
Get two months free access to the Upskillist Learning Platform and choose from a range of online courses in design, tech, business and management to grow your business or enhance your career. Courses are self-paced and include certificate of completion.

Up to 25% off with Logitech MX
Find the Logitech MX tool that fits best with your creative workflow. Discover our exclusive offer and create at the speed of thought.

Upgrade your tech for less with an exclusive 10% saving when you shop direct with HP.

From snapping the perfect image to high-quality photo printing, get an exclusive discount on all your creative technology.​
Become an Adobe member to get these and even more great perks.

Become an Adobe member to get these and even more great perks.

From a single app to All Apps, we have the perfect plan for you.
Frequently Asked Questions
Adobe Perks is a platform providing offers and discounts supplied by third-party providers to Adobe customers who have an active paid subscription on any Adobe Creative Cloud and/or Document Cloud offering.

Please make sure you are an individual paying Adobe customer and are using your Adobe credentials to log-in. If both of the above are correct you will have access to the portal and offers. If you are within your 7-day trial, you will have to wait for your first payment to be taken in order to have access. Please see T&Cs for further detail.
https://www.adobe.com/uk/offer-terms/adobe-perks-offer-terms.html
Click on the respective offer you would like to redeem and you will be directed to a third party landing page where you will be able to redeem the offer. If you require more information on the respective offer, please refer to the partner T&Cs. 

You will need to get in touch with the third party. Contact details will be available on their website.

Yes – as an Adobe paying customer you can redeem as many offers on the portal as you like.