Explore night photography with Liam Man.

Liam Man is a photographer and YouTuber based in London, UK. Internationally recognized for his imaginative use of techniques like light painting and cinemagraphs, Liam has worked with brands such as Hyundai Jackery, and Columbia.
Illuminate an urban shot and add mystique with a touch of fog.
Increase Exposure to brighten the image and reveal detail, and then refine contrast by increasing Highlights and reducing Shadows.
Create a moody scene with Color Grading and use sliders to change the tone of shadows and control the intensity.
Pump up the mood with a touch of fog — soften contrast and details with Dehaze to give your scene a dramatic effect.
Paint over the streetlights with the Brush tool, and then decrease Highlights to preserve details in bright spots and adjust Dehaze for a soft glow.
---
Create cinematic light and colour.
Turn a night scene from dim to dynamic.

Correct light and colour.
Brighten the dark areas without losing details in the lighter areas with adjustments to Exposure and Highlights. Use the Temperature slider to correct orange casts from city lights.
Enhance individual colours with Color Mix and use the Saturation slider to adjust the intensity of any hue.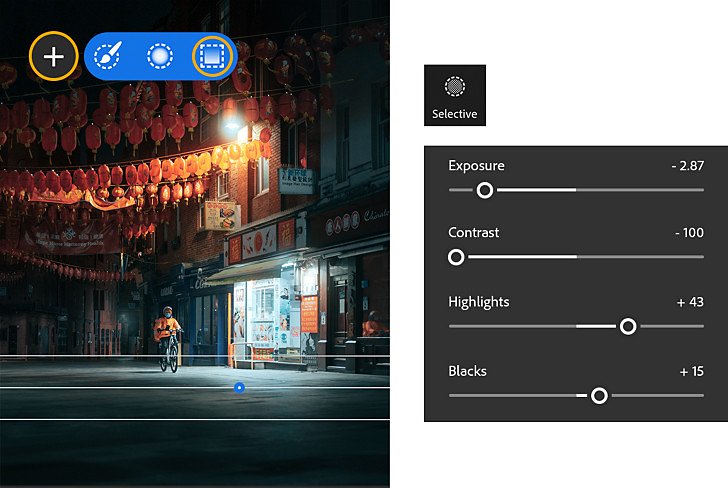 Create a focal point using a Linear gradient and then decrease Exposure and Contrast while increasing Highlights and Blacks to darken and control contrast in a specific area.
Lower Dehaze to soften details and shadows.
See what makes two images better than one.
Open an image in Photoshop on your desktop. Then drag a second photo of the same scene (but with different details) into the file as a second layer.
Blend the two layers using Lighten for the top layer to reveal the layer below.
Add a mask to the same layer, and then set the Brush tool to black and brush to hide areas of the image. Brush with white to reveal anything previously hidden. You can learn more about how to use layer masks to combine images here.
Intensify using a Hue/Saturation adjustment layer — right-click on the new layer and choose Create Clipping Mask so the adjustments only affect the layer directly below. Then use the Hue and Saturation sliders to change colours.
---
Remove distractions to make a great shot even better.
Correct perspective with a quick adjustment — tap the Crop tool and rotate the image to perfect your composition.
Remove minor distractions.
Use the Spot Healing Brush to erase blemishes and small objects. Simply zoom in to the spot to retouch and scrub over the area to remove what you don't want.
Remove objects from complex areas with the Clone Stamp tool. Tap and hold to define a source point that matches the area you want to clean up, and then scrub over the object you want to remove.
Get rid of larger distractions with the Clone Stamp — define a source point and scrub over an object to remove. Repeat as needed to fully patch up the area.
Explore night photography tutorials
For each new scene or subject, get new tricks to make your shots stand out.
Find the Photography plan that's right for you.
Lightroom (1TB)
US$9.99/mo
Lightroom on desktop and mobile with other Creative Cloud services. Learn more
---
Photography (20GB)
US$9.99/mo
Lightroom on desktop and mobile, Lightroom Classic, and Photoshop on desktop and iPad. Learn more
---
Lightroom on desktop and mobile, Lightroom Classic, and Photoshop on desktop and iPad. Learn more

Photography (1TB)
US$19.99/mo
Lightroom on desktop and mobile, Lightroom Classic, and Photoshop on desktop and iPad.  Learn more
---