Design attractive restaurant menus.
Whether your eatery serves customers that dine in or order take-out, see how Adobe InDesign makes menu design efficient and easy with these helpful features.
Get everything you need in a restaurant menu maker with InDesign.
Showcase what your business has to offer by making your own menus with the help of professional menu templates, thousands of fonts, and optimized layout tools. InDesign gives you more control than online menu makers to create easy-to-print PDFs or digital menus.
Use templates made by professional designers.
Try out different high-quality menu styles with less heavy lifting. Choose from customizable Adobe Stock templates made by professional graphic designers.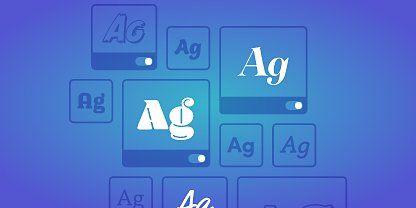 Choose from 17,000 unique fonts.
Use typography to elevate your menu design. The perfect font can help uphold your brand style and make your menu stand out from all the others.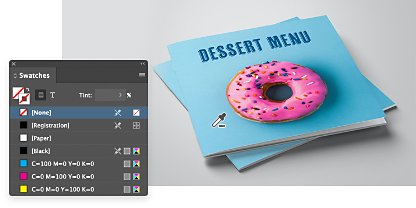 Adjust colors quickly using the Swatches tool.
Instead of selecting each individual element, save time by using the Swatches tool to change every instance of a particular color, all at the same time.
Change sizes or orientation with Adjust Layout.
Adapt your menu to a different size or layout for printing. Use Adjust Layout to translate your design to a new measurement without changing every element by hand. 
Access world-class design tools and resources in the app.
Create single-page or multipage restaurant menu designs no matter your level of skill. There are tutorials and Adobe Stock content that will help you get the job done.
Follow helpful tutorials and step-by-steps.
Search for templates, tutorials, and how-tos all at once from the search bar on the InDesign home screen.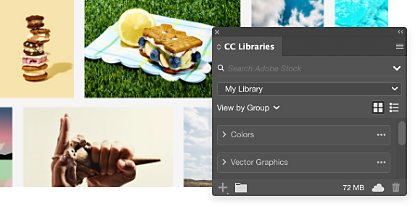 Find stock photos right within the app.
Integration with Adobe Stock means you can browse and license stock images without leaving InDesign.
Create a restaurant menu from start to finish.
Building menus for eateries can be a complex process, but designing custom menus that look good can be simple.
Choose it:
Find a menu template that fits your restaurant's brand.
Fill it:
Replace filler content with your menu items and edit text frames and fonts.
Decorate it:
Drop images like your own logo or stock photos into the image frames.
Adjust it:
Orient your images within their frames manually or use Content-Aware Fit.
Color it:
Use Swatches to select and replace recurring colors throughout your menu. 
Save it:
Fine-tune sizing with Adjust Layout, if necessary. Then export for printing or online use.
Dive into menu design with these tutorials.
Discover what's possible in InDesign and get acquainted with the workspace. Then explore how to arrange images and text on your menu.
Find the plan that's right for you.