Add motion tracking to any video.
Track the movement of an object in a video. Learn how to use After Effects to pin a graphical element to the object so the element moves smoothly with the camera.

Make graphics that move with your video.
Create dynamic graphics that enhance your existing footage. With motion tracking, you can create text, logos or graphics that smoothly follow the motion of cars, people, environmental effects or even the camera itself.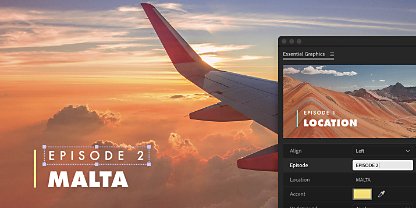 Add text that moves.
Make song lyrics appear behind a singer, key points appear with a speaker or subtitles that break the fourth wall.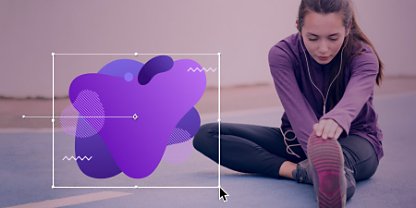 Give footage a graphical feel.
Use motion tracking to add graphical effects to real-world footage. Add graphical overlays, show details and include cartoon effects in live action.
Turn clip art into visual effects.
Transform emojis and common symbols into vfx that tell a story. Add smiley faces, dollar signs, word bubbles and more to live video.
Insert motion graphics into video.
Match moving objects with moving graphics. Create bar graphs that fill in as vehicles move or pie charts with a fill-in rotation effect.
Take full control with 3D motion tracking.
Control text on the X, Y and Z axes. After Effects supports moving 3D objects or adding depth to other motion tracking effects. Control movement with a single-point tracker, two-point tracking or customised tracking points that let you determine how graphical assets move.
Control every detail.
Exercise fine-grain control over tracking data, keyframes and how your motion tracking assets appear on the timeline.
 
Easily use existing assets.
After Effects works seamlessly with other Creative Cloud apps like Adobe Stock, InDesign and Photoshop. Easily bring in assets from other projects and portfolios.
How to add motion tracking elements to video in After Effects.
Enhance video with motion tracking graphics or text in these five steps.
Add it:
Import the asset or type the text you want to add to your footage.
Place it:
Position your graphic or text within the video and on the appropriate layer.
Start it:
Go to Window › Tracker and move the playhead to where you want to begin tracking.
Track it:
Click Track Motion from the Tracker Panel and select the track points on the text or graphic.
Move it:
Click Edit Target in the Tracker Menu, select the layer you want the graphics or text to track and click OK.
Dive into motion tracking with these tutorials.
Get more details on how to add motion tracking to clips and how to optimise footage to make tracking pop even more.
Find the plan that's right for you.
Creative Cloud All Apps

US$60,94/mo
Get After Effects and the entire collection of creative apps.
Learn more
---