STEP files are commonly used in computer-aided design (CAD) and 3D printing to contain three-dimensional model data for a wide variety of design tasks. Learn the history and uses of STEP files and explore their pros and cons in this handy guide.
What you'll learn.
What is a STEP file?
 
History of the STEP file
 
How to use a STEP file
 
Pros and cons of STEP files
 
How to open a STEP file
 
How to create and edit a STEP file


STEP files: frequently asked questions

What is a STEP file?
STEP stands for Standard for the Exchange of Product Data and is also known as ISO 10303. As a common file format used for 3D modelling and printing, these files are an ISO standard exchange format. This means that STEP files can read and save the complete body of a 3D model — not just the basic geometries — which is necessary for high levels of accuracy.
All their 3D model data saves as text that various CAD systems can interpret. STEP files make it easy to create, share and edit 3D models across many different programmes and software in a standardised format.
STEP files go by several different names, including:
ISO 10303
 
STP File
 
P21-File
 
STEP Physical File
History of the STEP file.
The ISO (International Organisation for Standardisation) has a technical committee on automation systems and integration, also known as TC 184. This committee first developed the STEP image format in the mid-1980s to make sharing files across different software programs easier by providing a standardised format for work on 3D models and designs. 
In 1988, the ISO received the basis for STEP, but it wasn't until 1994 that the first edition came into use. The second and third editions were released in 2002 and 2016, respectively.
Along with improving cross-platform compatibility, STEP files hold all the detail and body of a 3D model with unparalleled precision. Some earlier file formats only held the basic geometries, which made sharing, opening and editing less accurate.
How to use a STEP file.
STEP files are standard in the world of 3D design — including architecture, manufacturing and printing — for a few specific reasons, including:
Sharing 3D models.
The purpose of STEP files is to make sharing files containing 3D data a lot easier. These file formats are commonly used to review or print 3D models. STEP's ability to contain the complete 3D model rather than just the geometries, plus its ability to work with different CAD systems, makes sharing simple. 
Editing 3D models.
A STEP file saves all 3D components as one and can be used to make design edits. Most CAD programmes read and edit STEP files, enhancing cross-platform design and collaboration. This is a big advantage that STEP files have over STL files, which are also common in 3D printing.
Pros and cons of STEP files.
Before you start using this file format, there are various STEP advantages and disadvantages to consider.
Advantages of AI files.
STEPS are compatible with CAD tools and software, which makes them easy to share and edit.
 
STEPS are precise, using a mathematical representation of curves known as NURBS to store data accurately. They can also read and save complete 3D models.
 
You can customise a STEP file. It's easy to share with others to edit or save to another computer as a backup option.
Disadvantages of STEP files.
For architectural design purposes, STEP files don't contain the material or texture data required to make them identifiable by CAD software.
 
There is no lighting or camera information stored in a STEP. With FBX and USDZ files, you can represent camera and lighting set-up.  
 
The STEP format is complex — similar to a software programming language. This means it may take a lot of time and work to create a STEP file. 
How to open a STEP file.
There are various software and CAD programmes that you can use to import and open a STEP file. To open a STEP:
Find the STEP file on your computer or device.
 
Double click or right-click and select File > Open.
 
Your file will open with the associated STEP reading software already installed, like Adobe Acrobat.
If the STEP doesn't open, you might need to first install or open the relevant CAD or STEP file reading software. After installation, just go to File > Open and select the file you want to open.
You can open STEP files in both Adobe Acrobat 9 Pro Extended and Adobe 3D Reviewer. 
How to create and edit a STEP file.
To create and save a STEP file, follow these steps:
Create a new file using your CAD programme or software of choice.
 
Edit your file. 
 
Use the file extension .step or .stp depending on the available options. 


To edit a STEP, use Adobe Acrobat:
Open Adobe Acrobat and your STEP file.
 
Click the Edit tool in the right-hand panel.
 
Use the editing tools to make your desired changes.
 
Save your file.
STEP files: frequently asked questions.
What are the best uses of STEP files?
STEP files are intended for creating, editing and sharing 3D model designs across various CAD programmes. They're a standardised file format, which makes sharing designs a lot easier. Although most commonly used in architecture, mechanical and manufacturing design, anyone in any industry can create a STEP file.
Is STEP a CAD file?
Yes, STEP is a CAD file format. Designed to be widely used across many types of CAD programmes and software, a STEP file (also known as ISO 10303) is a uniform CAD file.
Are STP and STEP files the same?
STP and STEP are both the same file format. The file extensions .stp and .step are interchangeable and both meet ISO 10303 standards. If you need to create a STEP or STP file, either extension will work — but your options may depend on the software or program you use.
Can I print a STEP file?
You can print a STEP once you've converted it into an STL file. This will create a 3D printable file format that you can process and deliver to a 3D printer.
How do I convert a STEP file to STL?
The easiest way to convert a STEP file to an STL file is to open it in the CAD software or program you used to create the STEP file and export it as an STL file.
Learn more about similar file types to STEP Files.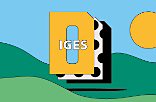 IGES files
Find out about a file type meant for moving 2D and 3D designs between CAD programmes.
Compare STEP Files with other file types.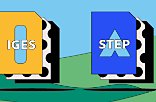 IGES vs. STEP
Discover the best option for your 3D designs.
Consigue Adobe Illustrator
Puedes crear atractivos gráficos vectoriales e ilustraciones.
7 días gratis, luego Ar$ 3.878,46 /mes.