DXF ist ein CAD-Dateiformat, das von Autodesk für den Austausch von Zeichendaten und textbasierten Formaten zwischen verschiedenen CAD-Programmen entwickelt wurde. Finde heraus, wie du eine DXF-Datei erstellen und einsetzen kannst und welche Vor- und Nachteile dieses Format hat.
Inhalt.
Geschichtlicher Hintergrund
 
Wie verwende ich eine DXF-Datei?
 
Was sind die Vor- und Nachteile von DXF?
 
Wie öffne ich eine DXF-Datei?
 
Wie erstelle und bearbeite ich eine DXF-Datei?
 
Häufig gestellte Fragen zu DXF-Dateien


Was ist eine DXF-Datei?
DXF steht für Drawing Exchange Format oder Drawing Interchange Format. Es ist ein Vektorformat, das viele Ingenieure, Architekten und Planer für 2D- und 3D-Zeichnungen verwenden.
DXF-Dateien werden von verschiedenen 3D-Programmen unterstützt. Hauptsächlich wird das Format für den Austausch von Entwürfen zwischen unterschiedlichen CAD-Programmen eingesetzt. 
DXF files use the .DXF extension and are completely open-source, so users can access AutoCAD files without using Autodesk programs. This makes them different from other file formats used in CAD file sharing, such as DWG files.
History of the DXF file.
Launched by Autodesk in 1982, the open-source DXF vector file enabled designers to share drawings across CAD applications. The concept met with a lot of success, allowing DXF files to quickly establish themselves as the go-to format for exchanging designs.
Autodesk also released the closed-source DWG vector file, created for specific usage in AutoCAD, in 1982. DXF was designed so developers could exchange files from other programs with AutoCAD.
A popular file format for almost half a century, DXFs were released shortly before mainstream file types such as GIFs and JPEGs — and long before Google's WebPs. 
How to use a DXF file.
DXF files are free to use and ideal for collaborating on product designs. You can use them to:
Share designs.
The DXF format allows collaborators across different disciplines to work together on the same design or project. For example, a drafter and an architect, using separate CAD applications, can share their progress in one DXF file.
Precision.
DXF files are known for their accuracy. When you use DXF files for CNC machining or printing, you're guaranteed a precise outcome — whether or not they've been converted. Unlike a raster file, when you scale a vector file, you don't lose any quality. But, you can't print DXF files in 3D, so you'll need to convert them to a STL format first.
Discover more vector file types
Pros and cons of DXF files.
Discover the many advantages and disadvantages of DXF files before committing to using this format.
Advantages of DXF files.
DXF is open format, so anyone can access DXF files completely free of charge. Autodesk updates the specifications with each new version.
 
Regardless of the different CAD programs collaborators use, everyone can work together on the same version of a design when they use a DXF file.
 
A DXF file can be scaled with precision and has up to a 16-bit floating-point, which delivers an impressive scale of detail. 
Disadvantages of DXF files.
While DXF files are generally small, they store information as plain text, which can make the transfer of your design or model take longer. 


The DXF format doesn't support application-specific CAD elements. For example, the file won't recognize if you're working with dynamic blocks. 
 
While you can work with 3D elements in DXF, it only fully supports 2D objects.
How to open a DXF file.
When opening a DXF file, you'll have the option of converting it to another file type, such as a PDF, DWG, or SVG.
If you stick to the DXF format, there are free file viewers available. Autodesk Viewer is a great option for Windows. Apps such as Adobe Illustrator, AutoCAD, and eDrawings are also available for use on both Windows and Mac computers. 
To open a DXF file with Autodesk: click File, select Open, and then choose DXF or .dxf in the file format drop-down. Click Open on the file you want to view.
How to create and edit a DXF file.
Follow these simple steps to create DXF files in Adobe Illustrator:
Load Adobe Illustrator and select Open.
 
Choose and click on the drawing you're converting to DXF.
 
Click Open, then select File and Export.
 
In the dialog box, click the drop-down menu, then Save as Type.
 
Select AutoCAD Interchange File (*.DXF) and click Save.
To edit your new DXF file:
Open Adobe Illustrator.
 
Drag and drop your DXF file into Illustrator.
 
Click Original File Size on the Artwork Scale pop-up.
 
The file will open and you're free to edit.
DXF files: frequently asked questions.
How do I download DXF files?
You can download DXF files using drawing applications such as Adobe Illustrator. Just click on the application menu, click File and Save As, then select DXF format in the file type dialog box to export. 
Which files can be converted to DXF?
The DXF format lets you convert several different file types, including PDF, DWG, SVG, and specialized files such as CNC (computer numerical control). You can also convert raster image files like GIFs, JPEGs, and PNGs.
Is a DXF file 2D or 3D?
The DXF format is made for most CAD programs,  supporting both 2D and 3D drawings and models. 
Is DXF a vector file type?
Yes, DXF is a vector file type. That means that designers can amend single components contained in a whole image when they use CAD software. Vector files like DXF and Autodesk's DWG make it possible to edit colors and shapes in ways that aren't possible in raster files.
Can I convert a DXF file to a PDF?
DXF files can be converted to PDFs using Adobe Acrobat. The simple five-step process can be followed in our comprehensive how to convert a DXF to a PDF guide. 
Learn more about similar file types to DXFs.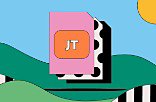 JT files
Explore this 3D model format that's used mainly for visualizing products.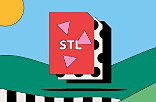 Learn about STL, a file format that's used for 3D printing and storing information about 3D models.
Hole dir Adobe Illustrator.
Gestalte Vektorgrafiken und Illustrationen.
7 Tage kostenlos, danach 26,21 € pro Monat.