JPEGs and PDFs are two of the most popular file formats for saving and sharing content. But when it comes to displaying images and documents, each format has its strengths and weaknesses. Let's take a deeper look at the JPEG and PDF's specific functions so you can make the right decision about which one will work better for you.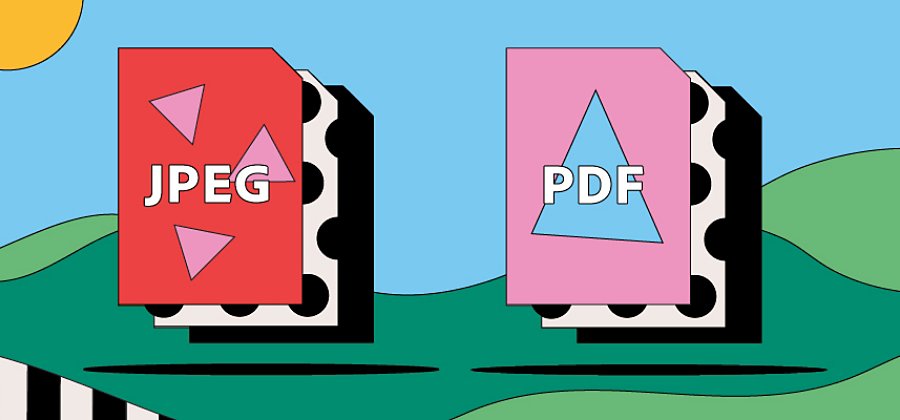 What you'll learn.
What is a JPEG file?
 
What is a PDF file?
 
What is the difference between JPEG and PDF files?
 
JPEG vs. PDF files: frequently asked questions.
What is a JPEG file?
JPEG stands for Joint Photographic Experts Group. The JPEG file type is one of the world's most widely used image file formats. Able to compress impressive detail into a shareable file size, JPEGs are most helpful in storing and sharing digital images. They're ideal for social, email and blog content.
What is a PDF file?
A PDF (Portable Document Format) can display a wide range of documents — from bank statements to presentations to images and more. Its main strength is that it's a universal format — meaning that a PDF's content will always display consistently across any device. For this reason, printers prefer it because it keeps all page components intact and retains image quality when enlarged.
What is the difference between JPEG and PDF files?
While you can use both JPEGs and PDFs to store and share data such as images and text, there are some fundamental differences between the two formats. Make the most of these file types by learning how to use them most effectively.
Compression.
The primary use of JPEGs is for images, whereas PDFs can handle all sorts of text and image-based documents. Because JPEGs compress image data, its file sizes tend to be relatively small. This means that it's a convenient way to share digital images over the web and email. But JPEGs use lossy compression, which means that each time you save your file, you lose a little bit of image data, which can affect quality. 
Therefore, the multi-purpose PDF may well be your preferred file type for images because it offers a compression function, plus it won't damage the original quality of the file you're sharing. However, you may find PDFs difficult to integrate into a webpage if that's its primary purpose.
Editability.
The main advantage of PDF is that it preserves the layout of the content while leaving different parts of the document open to editing (with Acrobat Pro). Conversely, JPEGs can't be separated into components because they compress all content into a single layer.
This means that out of the two formats, a PDF is the only one that lets users copy selected text they need to use elsewhere. But if you want to embed an image within a different document, the JPEG may be your preferred file type.
Storage.
Due to the relatively small size of JPEGs, you might find them preferable to PDFs because they're likely to take up less space on your hard-drive, portable disc or cloud. However, PDF files can be more reliable to store documents and images. With a Document Cloud subscription, you can easily upload, manage and share files via the cloud from your computer or mobile devices.
JPEG vs. PDF files: frequently asked questions.
Which has better quality — JPEG or PDF?
PDFs will often be higher quality than JPEGs. This is because JPEGs compress images, leading to a loss in quality that you can't regain. Visuals saved as PDF are of very high-quality and even customisable, making them the file format of choice for printers.
Are PDFs bigger than JPEGs?
PDFs are usually larger than JPEGs because they can display rich media (that is, video, audio, animation and other interactive experiences) as opposed to JPEGs, which usually contain a single image. Another reason why JPEGs will be a smaller size than PDFs is because its lossy format offers a higher compression rate than PDF in the trade-off for quality.
Can I convert PDF to JPEG or JPEG to PDF?
There are several ways to convert between PDF and JPEG formats. The most convenient method is to visit the Adobe Acrobat website to convert PDF to JPEG for free. You can convert a JPEG to PDF in the JPEG file by first selecting File, then Save As and finally, choosing .pdf in the list of available file formats under the down-arrow.
Can I post a PDF on Facebook?
Posting a PDF to Facebook is easiest when you link to the document (if it's hosted elsewhere). Upload your PDF to a website or document repository, then link to it via Facebook. You can also upload PDFs to a Facebook page by first clicking About, then More Info, then Add Menu and uploading the document — whether or not it's a menu.
How do I digitally sign a JPEG?
You can add drawings and text to JPEGs by clicking the Draw tool via the Edit menu and re-saving the file. A more legitimate way of signing a JPEG would be to print the file, sign it physically and scan the document to digitise it.
JPEGs are not the most appropriate file types for signing documents — and many recipients of digital signatures will likely not accept them. For this reason, it's a better idea to sign PDF documents.
Compare JPEGs and PDFs with other file types.
PDF vs. PNG
Find out which file format is better for storing and sharing visual content.
Find the plan that's right for you.

Plan de Lightroom
Edita, organiza, almacena y comparte fotos desde cualquier lugar.
7 días gratis, luego Col$ 37.652 /mes.
Fotografía
Hazte con Lightroom, Lightroom Classic, Photoshop y 20 GB de espacio en la nube. 7 días gratis, luego Col$ 48.956 /mes.