Helping our customers support sustainability.
Our products empower customers to express their creativity, manage document processes, deliver great customer experiences — and conserve natural resources. Adobe Creative Cloud, Document Cloud, and Experience Cloud help eliminate the environmental impacts associated with physical software manufacturing, packaging, and distribution. And that's just the start.
Reducing environmental impacts with creative workflows and digital design.
Adobe Creative Cloud enables creative teams to collaborate virtually across geographies, reducing the need for business travel. Our 3D design and immersive technologies allow designers to replace costly photoshoots and physical samples with photorealistic 3D designs and augmented reality experiences, further reducing carbon footprints. And organizations like Conservation International are using Creative Cloud to tell powerful visual stories about climate change that drive awareness and action.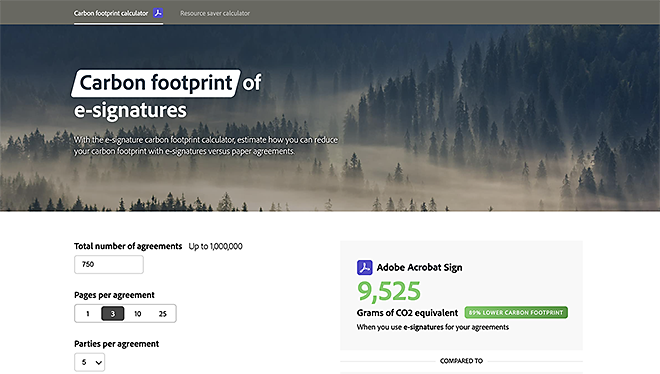 Eliminating waste with cloud-based document solutions.
Adobe Document Cloud reduces the waste and inefficiency associated with traditional paper-based document processes. Our Carbon Footprint Calculator and Resource Saver Calculator estimate the environmental savings that come with using Adobe Acrobat and Acrobat Sign.
For example, NatWest Group annually processes 1.3M electronic signatures, which has saved over 9M sheets of paper, 960k gallons of water, and 336k pounds of wood.
Try the Adobe Resource Saver Calculator and estimate your impact here.
Making businesses more sustainable with digital experience management.
Adobe Experience Cloud helps businesses create experiences that engage customers via digital channels, reducing the need for paper communications and business travel that can harm the environment.
---