DWG and DXF files are both image  vector files — a specific image type built around geometry and ratios which don't pixelate. Designers tend to use DWG strictly for  drawing, and DXF for sharing their designs. So, which is best for your work?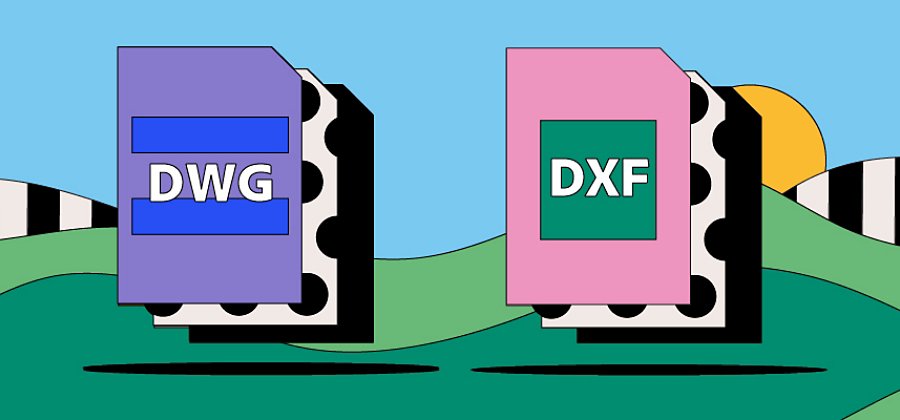 What you'll learn.
What is a DWG file?
DWG was  originally created to store 2D and 3D images. A versatile file type, it was also built around compact binary code, which makes it easy to store and move. 
What is a DXF file?
DXF was another  creation from around the same time as DWG files. The DXF name describes its purpose — Drawing Exchange Format. It was designed  as a bridge to connect  to dozens and even hundreds of computer-aided drawing (CAD) and drafting programs. 
What is the difference between DWG and DXF files?
Both DWG and DXF files are industry standards for those who use CAD programs in design. Both files store the same type of data and have a similar level of quality — though they do this through very different styles of coding. 
The vector images and objects they hold also differ, and thus their file sizes do too. Overall, accessibility and compatibility are the biggest differences, though it is worth noting that this is by design. For example, DXF files are open source and you can use them on a range of third-party applications. On the other hand, you can only use DWG files with certain programs.
The value of vectors.
Ratios, geometry and equations are the building blocks of vector graphics. This means that no matter how much you expand or shrink them, their proportions remain the same. On the other hand, raster images comprise grids of pixels which can quickly blur and stretch out of scale.
Both DWG and DXF files are vector formats. The images they store contain elements like lines, arrows, arcs, circles, advanced curves, polygons and text. You can easily edit, adjust, add and remove individual elements.
File structure and size.
DWG files are more compact than DXF files, and can also store a greater variety of files. DWG files use the zeroes and ones of binary code, while DXF files use text-based coding (ASCII). Binary code is more compact and DWG files tend to be about 25% smaller. Effectively, you can store four in the same space as three DXF files.
In DXF vector drawings every element is 'spelled out.' This makes them larger, but also easier to translate with other programs. Some DXF files — especially those with many layers — can be hundreds of megabytes in size. You should either split these apart, compress them, or both. 
DWG is more diverse.
DWG files can handle a full range of drawing types. 3D geometry is an important part of what DWG files do. DXF files mostly handle 2D vector images, especially in early versions of the format. DXFs may also face color limitations. DXF files are also unlikely to support special functions and features — they're stripped down, by design, to make them more flexible and compatible and easy to share. 
DXF is for sharing.
If you would like to share a DWG vector rendering or drawing, it's a good idea to convert to DXF. They were made for transferring 2D images to other CAD viewing and editing programs. DXF files are all about compatibility. They're also useful for professionals who use multiple programs on one project. You can even overlay some DXF images to other file types.
DWG vs. DXF: frequently asked questions.
How do I convert DXF to DWG?
It's easy to convert your DXF file to DWG. Follow these simple steps.
Open your AutoCAD program.


Select File>Open and choose your DWF file.


Select File>Save As.


Select DWG from the File Types dropdown.
How do I open a DWG file in PDF?
To open a DWG file as a PDF, you'll need to convert it first.

Open Adobe Acrobat.
 
Select Tools > Create PDF.
 
Choose Single File > Select a File.
 
Upload your DWG.
 
Click Create to convert your DWG to PDF.
 
Save your new PDF file.
Where are DWG and DXF files most frequently used?
Again, there are billions of drawings and both files are CAD standards. Among the industries which use them are architecture, city-planning, engineering, product design, manufacturing and video game design.
What program will open a DXF file?
Compare DWG and DXF files to other file types.
Get Adobe Illustrator
Create beautiful vector art and illustrations.
7 days free, then US$20.99/mo.