Adobe Premiere Pro vs. Premiere Rush: Which app is best for your video? 
Whether you want to edit on an iPhone or a Windows desktop, explore the differences between these two video editors to find the right choice for your next project.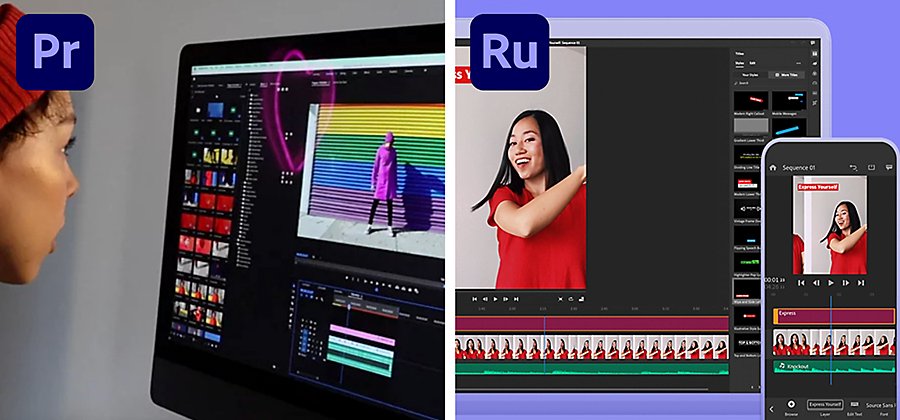 Discover which workflow works for you.
Whether you're cutting together some vacation videos or making a feature film, the right video editing software can make your life a lot easier. Both Adobe Premiere Rush and Premiere Pro are powerful video editing tools that can give your final product the polish and sheen of a professional video.
Premiere Rush is included for free with Premiere Pro, and you can use both programs to cut together video files, create transitions, and add music and audio to your project. They both have functionalities to add and customize graphics, create titles from templates, and perform color correction on your movie.
But depending on your skill level and your project's needs, one of these video editors might be a better choice than the other.
When to use Adobe Premiere Pro.
Premiere Pro is the industry standard for professional video editors. Hollywood blockbusters like Deadpool and Gone Girl were edited using Premiere Pro, which has a wide variety of advanced toolsets that can bring any creative vision to life.
When you need professional features.
Premiere Pro offers a more complex workflow that you can use to fine-tune every moment of your movie, from color grading to sound mixing and everything in between.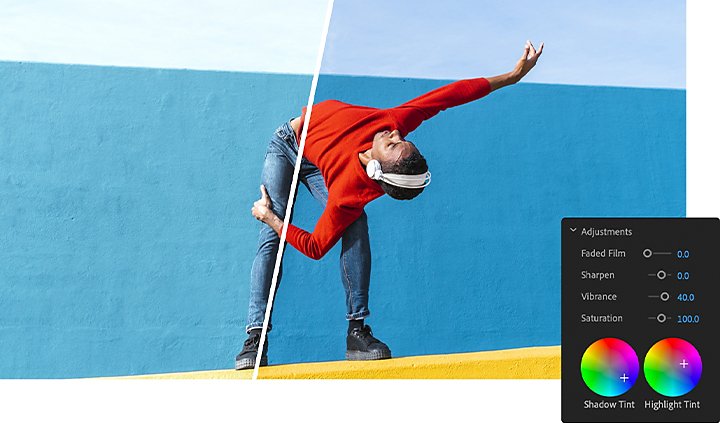 When you're adding visual effects.

Let your imagination run wild with tools to add multiple effects layers, replace a green screen with an alien planet, add visual effects from a library of presets, or create your own with keyframed animations.
When you're working with other Adobe Creative Cloud apps.
Complete cross-platform compatibility with Creative Cloud unlocks unlimited opportunities. Seamlessly import motion graphics from Adobe After Effects, or use Adobe Photoshop to edit individual frames of your movie. 
When to use Adobe Premiere Rush.
Premiere Rush is the video editing app for newcomers and casual users. With a simple and intuitive set of video editing tools and built-in tutorials, this all-in-one app makes it easy to learn the ropes and get started editing a video project right away. But despite its ease of use, Premiere Rush features a deep toolset for more experienced video editors.
When you're on the go.
The mobile version of Premiere Rush has all the same features as the desktop app, optimized for your touchscreen. If you're a social media content creator, you can shoot a video on your mobile device and then use Premiere Rush to edit the clips together, add transitions and other effects, and upload the finished product directly to social media, all from a single app.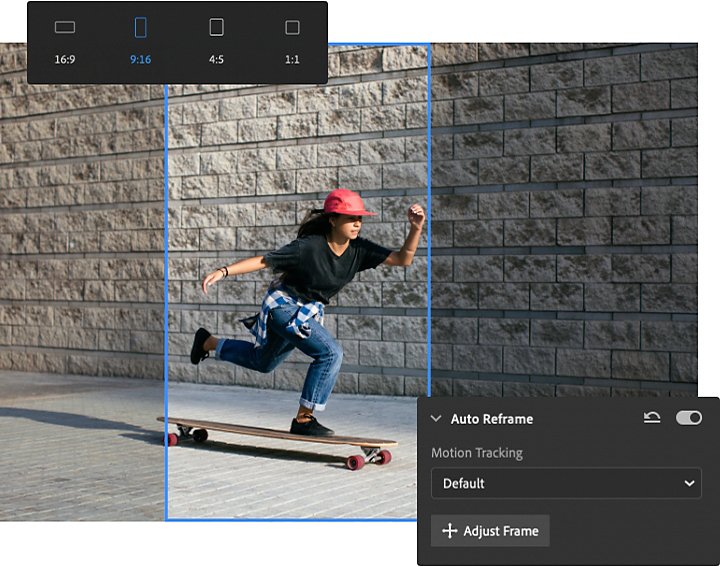 When you need to reframe your video.
The Auto Reframe tool in Premiere Rush uses machine learning and artificial intelligence to understand what's in a shot and automatically keep it in the frame — even when you change the aspect ratio.
When you're making a rough cut.
The streamlined workflow of Premiere Rush makes it easy to quickly arrange your video clips into a preliminary cut of your movie. Then you can save that edit to cloud storage and open it later in Premiere Pro to make more precise changes.
Whether you're a filmmaker, a YouTuber, or just looking for a way to edit videos, Premiere Rush and Premiere Pro both give you the power to create something that shines. 
Make visually stunning videos virtually anywhere — for film, TV, and web.
Get Adobe Premiere Pro
Create flawless productions with the industry-leading video editing software.
7 days free, then US$20.99/mo.