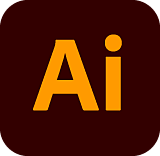 Create beautiful vector art and illustrations on desktop and iPad.
What can you do with Illustrator?
Get the industry-standard vector graphics app to create logos, icons, drawings, typography and illustrations for print, web, video and mobile.
Create, edit and combine simple shapes 
Design logos and draw vector graphics 
Add effects to make your art pop 
Add impact with professional typography 
Jump-start your creative projects with a variety of templates from Adobe Stock
Design packaging with the 3D Revolve effect
Mock up a website design with the best type tools
Trace and recolor imported photos to turn them into works of art 
Create up to a thousand artboards on your canvas
Add images and artistic effects
Frequently asked questions
Is Illustrator available without a membership? 
No, Illustrator and the latest versions of Creative Cloud apps are available only with a membership plan.
Are all Illustrator updates included in the membership? 
Yes, with Illustrator, you have access to all the latest updates and releases the moment they're available.
What's the difference between the annual and month-to-month plans? 
The annual plan requires a one-year commitment and is our best value. It comes with a 14-day money back guarantee. If you cancel after that, you'll be charged a 50% fee for the remaining months. The month-to-month plan gives you the flexibility to stop and restart your membership without a cancellation fee.
Are the applications install on my computer or are they cloud based? 
Your Creative Cloud desktop applications — including Illustrator — are install locally on your computer. You don't need an ongoing Internet connection to use them. You only need to connect to the Internet once every 99 days to validate your membership.
Can I use the software on more than one computer?
Yes, you can install and run Creative Cloud desktop apps on two computers, such as a home and work computer. (Mac, PC or one of each.)
Membership and cancellation terms
Service begins as soon as your payment is processed. You'll be charged the annual rate stated at the time of purchase as one lump sum, plus applicable taxes. Your contract will renew automatically on your annual renewal date until you cancel. Renewal rates are subject to change, but we'll always notify you beforehand. If you cancel within 14 days of your order, you'll be fully refunded. If you cancel after 14 days, your payment will be nonrefundable and your service will continue until the end of your contracted term. Cancellations can be made any time by visiting your Manage Account page or by contacting Customer Support.
Adobe, the Adobe logo, Creative Cloud and Illustrator are either registered trademarks or trademarks of Adobe in the United States and/or other countries. All other trademarks are the property of their respective owners.