Remove background noise from your next video clip.
Practice your audio editing skills with the industry standard in video editing software. Discover how to reduce or remove unwanted background noise from your video clip with Adobe Premiere Pro.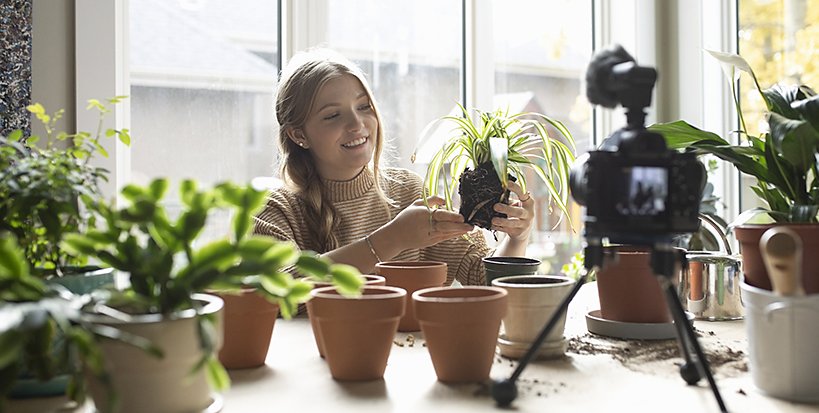 Clean up your audio with studio-quality edits.
Explore how powerful features in Adobe Premiere Pro let you reduce background noise and reverb, adjust audio levels with a few clicks and create presets that can be applied to multiple clips at once. Get the benefits of the audio editing booth right in your video editor for faster, easier workflows.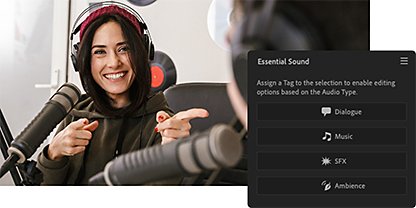 Remove background noise from clips.
The Essential Sound panel has all the tools you need to adjust and enhance challenging audio. Assign your audio files to four different categories (Dialogue, Music, Sound Effects or Ambiance) and use the Repair panel's tickboxes and sliders to sharpen your sound quality with features like Reduce Noise and advanced options like DeNoise.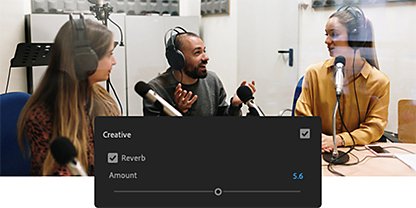 Reverb can provide a sense of depth and space for the listener, but don't let it overpower dialogue in a video podcast or a voiceover. With the Reduce Reverb tool, adjust how much of the effect shows up in your clip and keep the focus on what's being said.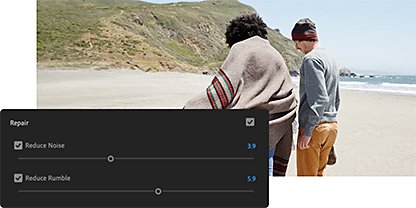 Advanced controls in the Premiere Pro Audio workspace give you the power to take complete control of noise reduction. Change the intensity of audio effects effortlessly with options like the Amount slider.

Adjust the volume of an audio track or make all your track levels consistent in a flash. Smart options like Audio Gain and Normalise Mix Track help keep all your clip's sounds tight.
Take audio in your video files to the next level.
Whether you're an experienced audio editor or a beginner, create stunning sound quality for your next video project with these additional tools and features.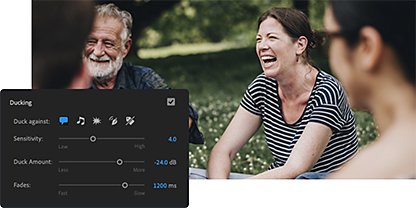 Lower volume with Auto Ducking.
Work smarter, not harder, with Auto Ducking. Automatically reduce the volume of your background music when a voiceover or dialogue is detected through the power of machine learning and Adobe Sensei.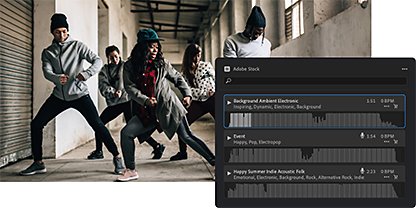 Browse and preview millions of royalty-free audio tracks from Adobe Stock right in the app. Seamless integration means you can incorporate audio without leaving your creative zone (and your editing timeline).

How to remove background noise from your clips.
Control WAVs, MOVs and other audio files with this tutorial on noise removal for background sounds.
Open it:
Open Premiere Pro and then click Window › Effects.
DeNoise it:
Choose a selected clip or clips, then double-click Audio Effects › Noise Reduction/Restoration › DeNoise.
Reduce it:
Select Edit to open Effect Controls. From there you can shift the Reduction knob until it reads -10db (all clips start at the value of zero).
Preview it:
Click Play to listen to the audio effect in action.
Try your hand at noise removal with these tips and tricks.
Get familiar with these common techniques to bolster the foundation of your audio editing skills. Build off of that experience with more advanced methods of noise reduction.
Premiere Pro Single App
HK$158.00/mo
Includes 100 GB of cloud storage, Adobe Fonts and Adobe Portfolio. Learn more
---
Students and teachers
HK$148.00/mo
Save over 60% on 20+ Creative Cloud apps — includes Premiere Pro. Learn more
---
Business
HK$268.00/mo per licence
Get Premiere Pro and all the Creative Cloud apps plus exclusive business features. Learn more
---