3Ds files are proprietary to Autodesk 3D Studio, a 3D software application from Autodesk. One of the application's oldest file types, 3Ds stores information on 3D graphics that are accessible on any device. Find out more about the 3Ds image format, its common uses and more.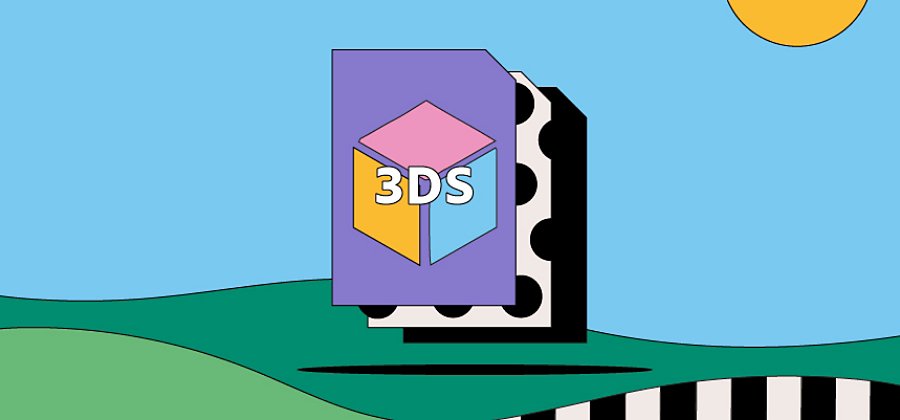 What you'll learn.
History of the 3Ds file
 
How to use a 3Ds file
 
Pros and cons of 3Ds files
 
How to open a 3Ds file
 
How to create and edit a 3Ds file
 
3Ds files: frequently asked questions


What is a 3Ds file?
The 3Ds file extension is short for 3D Studio. It's a product of the Autodesk 3D Studio software, which stores information about 3D vector graphics. This includes mesh data, material attributes, camera and lighting information and more.
3Ds is a binary-based file format, which means it's restricted to descriptors rather than the actual image itself, but it does give you fast file retrieval when sharing.
History of the 3Ds file.
The .3ds file extension has existed since 1990 when it was the format of choice for the oldest Autodesk 3D Studio releases on DOS. Despite platform limitations, 3Ds was renowned for its image quality and detail.
In 1996, the .max file extension replaced .3ds in Autodesk 3D Studio. Despite this, 3Ds files remain widely used for 3D imaging thanks to their small file sizes. The file format still uses binary code via chunks of data that allow programmes to skip over anything they don't recognise without crashing the rest of the display.
How to use a 3Ds file.
Having powered 3D animations since the early 1990s, the 3Ds file format continues to be used for several different purposes, including:
Importing and exporting.
You can use 3Ds files to transfer 3D models between different software applications. Each file retains only the essential parts of the data that deal with geometry, texture and lighting — which means you can easily recreate images on other computers running similar software.
Resource catalogues.
Try using 3Ds files to store project assets together in one place. Their small file size is what makes them such a handy addition to an animator's toolbox.
Discover more vector file types
Pros and cons of 3Ds files.
As with any file type, there are upsides and downsides to using 3Ds files. Here's what you should consider before using them: 
Advantages of 3Ds files.
3Ds files can store information on even the most complex shapes and designs using chunks of binary code rather than text. This makes them lightweight and easy to share.
 
Even though the .max file extension has superseded the 3Ds format, most versions of Autodesk still support it, as well as other 3D design software.
 
It's an industry standard. As one of the oldest file types capable of storing 3D graphic information, 3Ds files are commonly used for switching between different proprietary formats.
Disadvantages of 3Ds files.
The 3Ds file type doesn't support directional light sources, which may be problematic for 3D sculptors looking to create realistic images. 


Because 3Ds files first ran on DOS, they come with an 8-character file name limit. This can be difficult to work with if you're iterating on versions of the same model with only slight changes. 
 
Compared to newer file types like MAX or PRJ, 3Ds saves relatively little information about a 3D object.
How to open a 3Ds file.
You can open 3Ds files on a wide number of supported programmes for both Windows and macOS. Just search for the file name and double-click on it, then choose the programme you want to use from the list of options supplied by your computer.
Unlike many other image file types, you can't open a 3Ds file in your web browser.
How to create and edit a 3Ds file.
Follow these simple steps to create a 3Ds file with Adobe Photoshop:
Create a new image file in Photoshop and click Save As. .
 
Select 3Ds from the Format menu in the dialogue box. 
 
Save your new 3Ds file to a location of your choice.
3Ds files: frequently asked questions.
What is a chunk in 3Ds files?
A chunk is the name for a small block of data stored within a 3Ds file. Chunks, which consist of an identifier and the length of the data, as well as the data itself, are what make up a 3Ds file. This is useful because any application going through the data can skip what it doesn't recognise and open the rest — saving your software from crashing.
Can Photoshop open 3Ds files?
You can use Photoshop to open 3Ds files, as well as other 3D formats including DAE (Collada), OBJ, U3D and KMZ (Google Earth). Just choose File > Open and select the file. To add a 3D file as a layer in an open file, choose 3D > New Layer From 3D File and then select the 3D file. The new layer reflects the dimensions of the open file and presents the 3D model over a transparent background.
Do I need Autodesk to open 3Ds files?
There are a few programmes that also support the 3Ds file format, such as Photoshop. Note that the 3Ds format can't render full scenes, but newer formats like MAX and PRJ can. 
Learn more about similar file types to 3Ds.
Get Adobe Illustrator
Create beautiful vector art and illustrations.
7 days free, then €26.86/mo.