When you create a three-dimensional model with SketchUp, you save your work as a SKP file. The SKP format can contain different elements such as textures, shades and wireframes. Learn more about how SKPs work, as well as their pros and cons.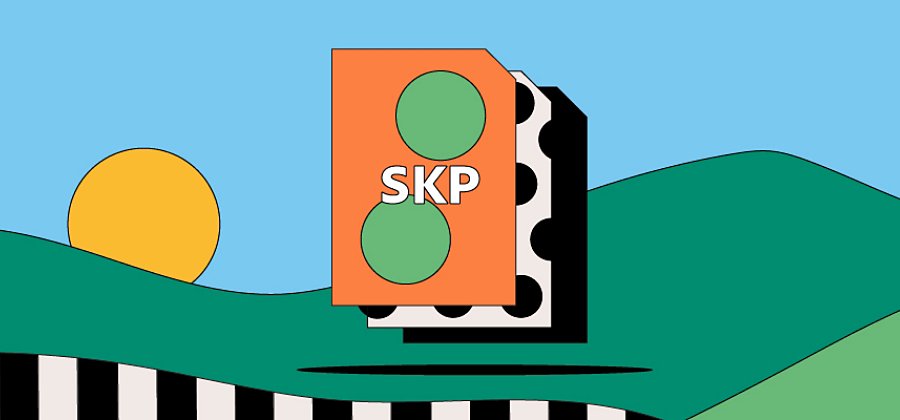 What you'll learn.
What is an SKP file?
 
History of the SKP file
 
How to use a SKP file
 
Pros and cons of SKP files
 
How to open an SKP file
 
How to create and edit an SKP file
 
SKP files: frequently asked questions
What is an SKP file?
SKP is the proprietary file type for SketchUp design software. This easily accessible programme allows designers to put together advanced 3D models such as architectural graphics. Video games and furniture designs are among the other things you can create.
A SKP file can contain an entire 3D model or smaller elements of a much bigger design, like a door or a chair. You can then import these bite-size elements into multiple designs.
You can spot a SKP file by simply looking out for documents with the .SKP extension.
History of the SKP file.
US start-up, @Last Software, developed the SKP format and launched it in 2000. Search engine giant, Google, subsequently acquired it in 2006, followed by Trimble Navigation in 2012.
The SketchUp programme and SKP images have become more advanced over time, offering different versions of the software depending on the designer's experience level. A free, web-only version is available for beginners. There's also a premium Pro version for desktop — although this comes with a fee.
How to use a SKP file.
You can use the SKP file format to store a range of 2D and 3D designs. Key uses include:
Architectural models.
SketchUp's 3D modelling capabilities make it ideal for detailed architectural plans. But the programme's reach stretches a long way — into sectors as varied as video games, interior design and landscaping. 
3D printing.
SKP files support 3D printing, allowing designers to bring their models to life in a physical form. SketchUp also offers a 3D Warehouse, a free model library where you can find and add standard parts to your designs.
Discover more vector file types
Pros and cons of SKP files.
Take a moment to review some of the SKP advantages and disadvantages before drawing up a design in this format.
Advantages of SKP files.
SketchUp caters to both beginners and professionals — with different plans and prices based upon the designer's experience level and project needs.
It should be easy to create an SKP file, so long as you've signed up for SketchUp. The programme offers a straightforward, intuitive interface and is generally quick to learn.
SKP files automatically back up, allowing you to recover an image if it becomes corrupted.
Disadvantages of SKP files.
While a free edition of SketchUp is available to beginners, you'll need to pay for a premium version of the software.
The SKP file format is specifically designed for use with SketchUp, meaning it may not be compatible with other types of software you use.
As a vector file, SKP images are designed to be used for graphics and illustrations more than digital photos. Raster files tend to be better for storing and displaying photographs.
How to open an SKP file.
You'll need access to SketchUp when opening an SKP file. You can buy and download a desktop version for a Windows computer or Mac. Open the saved file folder and right-click on it. You should then have the option to open it in SketchUp.
If you opt for the free version, you can also view SKP files in a browser — but you'll need to sign up with Trimble first. 
How to create and edit an SKP file.
Follow the steps below to create and edit an SKP image in the web version of SketchUp. 
Click the icon marked Open Model/Preferences.
 
Select the New Model option.
 
Choose a template based on your measurement preferences (metres or feet and inches, for example). 
 
Your new model will then open, ready for you to begin work.
SKP files: frequently asked questions.
Can I open a SKP file on my mobile phone?

You should be able to open an SKP image on a compatible mobile device. You'll first need to sign up for the free version of SketchUp. Then, ensure that you have its Viewer app installed to view 3D models.
Can SKP files store 2D documents?

The SKP file format can store both 2D and 3D images. The SketchUp programme isn't all about 3D modelling — you can create 2D documents showing plans, building details and elevations, too.
Which industries use the SKP format?
SKP files and the SketchUp programme are standard in the architecture industry. However, Trimble also highlights the commercial interior, construction, wood-working and urban planning sectors as other areas that regularly use its software.
What does the SketchUp 3D Warehouse involve?
The 3D Warehouse offers an extensive library of three-dimensional models. It gives you the chance to download models created by other users and import them into your own designs. You can also share your models with others by adding them to the 3D Warehouse.
Learn more about similar file types to SKPs.
Get Adobe Illustrator
Create beautiful vector art and illustrations.
7 days free, then €26.86/mo.