How to convert audio files quickly and easily.
Converting audio file formats is a common task for any producer or engineer. This is how to understand different types of audio files and how to convert them.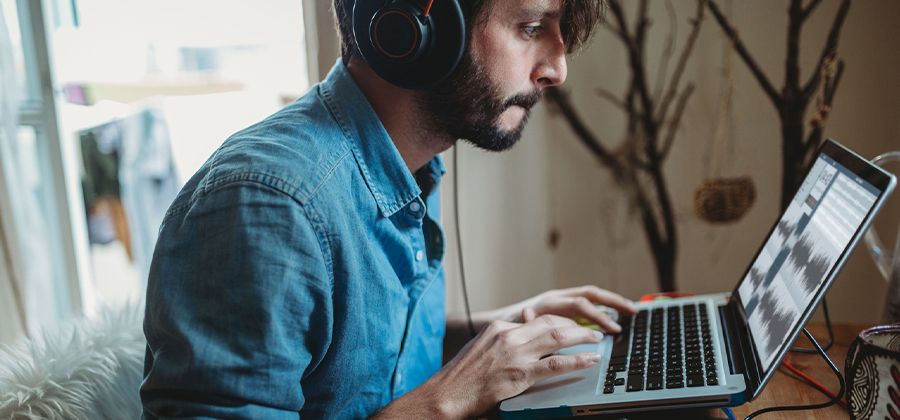 Which type of audio file do you need to convert?
The process of changing one type of audio file to another is known as audio conversion. It's a necessary part of making sure audio is playable and useful in different contexts because different audio file formats have different uses. The audio files a producer or engineer works with aren't the same as the files you download to your hard-drive. The audio files used by music streaming services like Spotify are a different format, as well. 
Types of audio files.
There are three major types of audio files. Each type is useful in different circumstances.
Uncompressed audio formats are generally the audio tracks you get when recording. These files are very large and contain all of the information picked up by studio equipment. These formats are good for archival and editing purposes, but their large file size makes them impractical for other uses. Uncompressed audio files include WAV, AIFF, DSD, RAW and PCM.
To make audio files smaller to save space for archival, distribution or playback purposes, you should compress them. Compressed lossless files eliminate some redundant information within the file structure, making the file smaller but still ensuring that it retains all of the information. These files are often used in sound mixing and engineering. Compressed lossless files include FLAC, ALAC, APE and VOC.
Compressed lossy files eliminate some digital information that is not entirely necessary to deliver sound. They have the vast majority of the original data, but not all of it, which is where the lossy name comes from. These files are useful for downloading and streaming because they are relatively small. Most music files are some kind of compressed lossy format. Compressed lossy formats include AAC, WMA, Ogg Vorbis and MP3 files.
If you're creating a file to be used on a Mac or Windows desktop, you can get away with a lossless file. However, if you're working on a project that's going to be streamed onto an iPhone, a lossy file is going to offer a better user experience.
How to use Adobe Audition as an audio converter.
Audio conversion in Audition is simple, whether you're converting a single file or an entire batch of them. Adobe supports a variety of file types, ranging from high-fidelity, high-quality audio to low-fidelity audio files most associated with alert sounds and ringtones.
How to convert a single file.
Click File Export or Save As.
Choose the file type that you want to convert the file to.

Choose a new name and location for the file.
How to convert a batch of files.
Open a batch processing window.
Drag all the files you want to convert into the batch processing window.
Choose how the files will be named and where they will be stored.
Best practices for converting audio files.
In general, audio conversion is useful for turning large files into smaller files. Compressed files can be converted to uncompressed lossless files or compressed lossy files fairly easily. However, converting compressed lossy files into uncompressed files will not make those files more complex or unlock hidden information. It will just put the same information into a different format.
Because of that, it's generally a good idea to keep original files for archival purposes. If compressed files are lost, an uncompressed file can create a new one. However, if uncompressed files are lost, that information is gone forever. As long as you keep uncompressed files, you can always convert files into another format as needs arise. This is good practice when working with recorded audio or when you extract audio from video files — always have a backup. 
You might also be interested in…
Lossy or lossless? Compressed or uncompressed? Find the audio format that fits your needs.
Get Adobe Audition.
Create, mix and design sound effects with the industry's best digital audio editing software.
7 days free, then €26.86/mo.