Edit videos faster with artificial intelligence in Adobe Premiere Pro.
AI tools — like those powered by Adobe Sensei — have made video editing more efficient. Discover some of the best AI-powered features in Premiere Pro.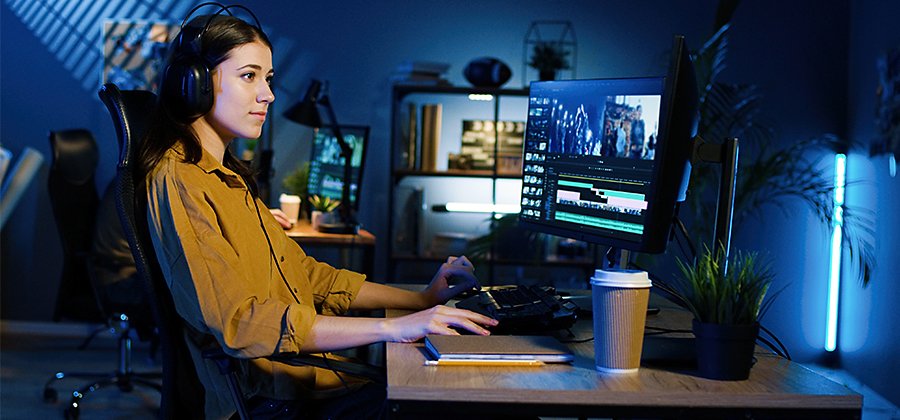 A whole new world for video editors.
AI (artificial intelligence) is changing the game for film and video creation — making it faster and easier to organize clips and craft perfect edits. Whether you work on short social videos or feature-length films, AI functionality will shave time off your editing process and open the door to new creative possibilities. Adobe Sensei is AI and machine learning technology that brings an amazing level of automation to previously time-consuming tasks across every Adobe application.
AI tools in Adobe video editing software give you expert results fast, from editing colors and blending audio tracks to crafting seamless interview clips and adjusting video content for any aspect ratio. Spend less time on tedious tasks, like adjusting keyframes, changing color levels, making cuts, and organizing clips — and spend more time getting inspired and telling a story with stunning video projects. 
AI-powered ​video editing tools in Premiere Pro.
Instantly match the colors in two different video clips in your sequence with Color Match. This helps eliminate discrepancies between the colors in different shots of the same scene. Choose your clip to edit and a reference clip, and then open the Lumetri Color panel. If your clips include people, enable Face Detection so the app knows to pay special attention to skin tones. Finally, tap Apply Match. You can tweak the automatic adjustments if needed.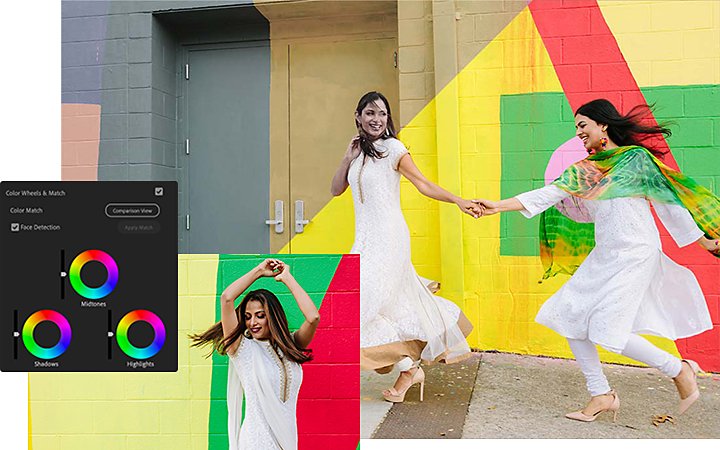 Morph Cut
Interviews and talking head videos often require many jump cuts to clean up awkward pauses in dialogue. These can make the interview look choppy and unnatural. Instead, go to Video Transitions in the Effects panel and select and place the Morph Cut transition over cuts like this to add visual continuity and make the clips flow seamlessly into one another. An advanced combination of face tracking and optical flow interpolation come together for a high-quality video that looks like one smooth take.
When you need to create a new edit of a longer video, separating it back into the original shorter clips is the first step. Finding the scene transitions and placing these cuts manually can be tedious, but with Scene Edit Detection, Premiere Pro will automatically cut your scenes for you. Right-click a clip on your timeline, select Scene Edit Detection, and choose whether you'd like to add cuts, create a new bin of sub-clips, or place clip markers at each cut point.
Auto Reframe
To change horizontal 16:9 video footage into a tall 9:16 aspect ratio can require time-consuming keyframe motion edits in order to keep moving subjects visible. Auto Reframe solves this by instantly identifying the focal point of action in your shots and keeping it visible as you change aspect ratios. This is especially handy if you've created a wide video but want to post a clip of it on social media platforms formatted for square or tall aspect ratios, like TikTok or Instagram.
Try Auto Reframe in five easy steps.
Automatically reframe videos for different social media channels. To reframe your entire sequence in Premiere Pro:
Choose Sequence › Auto Reframe Sequence. Then select the sequence in the Project panel.
 
Choose your new aspect ratio.
 
Fine-tune the effect by choosing a Motion Preset. Default works for most footage, Slower Motion is best when there's little to no camera movement in your clip, and Faster Motion is ideal for footage with a lot of movement.
 
To keep any motion adjustments you made before reframing, apply Clip Nesting.
 
Click Create. Premiere Pro will make a duplicate sequence in the new ratio and save it in the Auto Reframe Sequences folder in the root of the Project panel.
You can also reframe just one clip in a sequence by going to Video Effects › Transform and dragging the Auto Reframe effect onto the clip you want to change.       
Discover more AI tools for video and audio.
Whether you're a video maker by hobby or a film editor by trade, these additional AI-powered features for perfecting your work will have you making more polished pieces in less time. 
Remove objects from videos.
Head to adobe After Effects to use Content-Aware Fill and quickly remove unwanted objects from your video. This feature, powered by Adobe Sensei, analyzes surrounding frames and replaces the removed pixels with seamless content. Then easily import the clips you edit into Premiere Pro to add to your video project.
Remix music to match video length.
By using Adobe Audition from within Premiere Pro, you can remix or stretch music to increase its length. No more manually duplicating and cutting music so it's the right duration. Select your audio track in Premiere Pro and choose Edit › Edit in Adobe Audition › Sequence. There, you can either remix your track or make speed adjustments.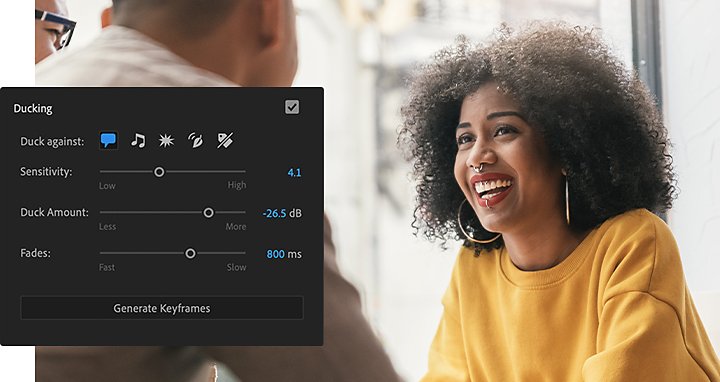 Blend music and dialogue.
Automatic audio ducking lowers the volume of music in your video while dialogue is happening. This boosts the dynamic experience of your video — the audience can enjoy background music while also understanding the words being spoken. Learn to auto duck your sequence with the steps in this tutorial.
Explore every AI possibility.
Adobe Sensei brings the power of AI into all areas of Adobe Creative Cloud — from video editing and audio effects to photo transformation, animation, and stock imagery searches. Get the full rundown of AI-powered features accessible right now in Creative Cloud and learn how your workflow can be transformed.
Save yourself time as you customize your video projects with the help of tools powered by Adobe Sensei in Premiere Pro, no matter what your creative vision is.
Do more with Adobe Premiere Pro.
Make visually stunning videos virtually anywhere — for film, TV, and web.
You might also be interested in…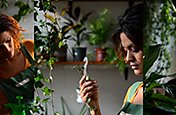 Get Adobe Premiere Pro
Create flawless productions with the industry-leading video editing software.
7 days free, then ₹1,675.60/mo.