Ingenieure, Architekten, Designer und Zulieferer verwenden das DWG-Dateiformat für technische Zeichnung und Modellierung in AutoCAD von Autodesk. Viele von ihnen schwören auf DWG aufgrund seines standardisierten Ansatzes für Architektur- und Ingenieursprojekte. Hier erfährst du mehr über die Verwendung von DWG-Dateien.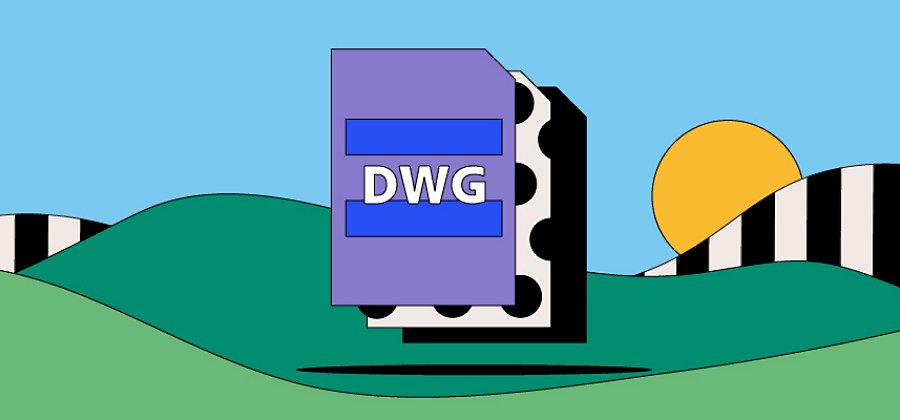 Inhalt.
Was ist eine DWG-Datei?
 
Geschichtlicher Hintergrund
 
Wofür werden DWG-Dateien verwendet?
 
Was sind die Vor- und Nachteile von DWG?
 
Wie öffne ich eine DWG-Datei?
 
Wie erstelle und bearbeite ich eine DWG-Datei?
 
Häufig gestellte Fragen zu DWG-Dateien
Was ist eine DWG-Datei?
DWG ist ein CAD-Format (Computer-Aided-Design). Das ursprüngliche Zeichenformat (erkennbar an der Abkürzung DWG für "drawing") enthält heute zwei- und dreidimensionale Vektorgrafiken und wird in der Regel von technischen Zeichnern, Architekten und Ingenieuren für die Entwurfserstellung verwendet.
Die folgenden Dateiformate gehören ebenfalls zum DWG-Format:
Dieses "offene, aber proprietäre" Format dient als Grundgerüst für neue Projekte in unterschiedlichsten Branchen. Es ermöglicht einen Detaillierungsgrad, der für Architekten und Ingenieure bei der Visualisierung ihrer Ideen unverzichtbar ist. DWG-Dateien lassen sich in zahlreichen Programmen öffnen, unter anderem in Adobe Creative Cloud-Produkten wie Illustrator.
Geschichtlicher Hintergrund.
DWG wurde in den späten 1970er Jahren als natives Dateiformat für das Interact CAD-Paket eingeführt. Als Computer in Konstruktion, Planung und Design Einzug hielten, lizenzierte Autodesk 1982 das DWG-Format für sein erstes AutoCAD-Release.
Die fortlaufende Weiterentwicklung der Hardware schuf völlig neue Möglichkeiten für Konstrukteure, Planer und Architekten. DWG wurde zur leeren Leinwand für Ideen, die die Welt verändern sollten. Inzwischen sind zahlreiche CAD-Programme auf dem Markt verfügbar, und DWG ist auch für die breite Masse zugänglich geworden. 
What are DWG files used for?
The primary use for DWG files is drawing specialist blueprints and designs spanning a variety of industries. From engineers poring over the latest design specs for a new project to architects and town planners creating public spaces, a whole range of professionals rely on DWG files to bring designs into reality.
You'll need specialized CAD software to open a DWG file. Once you do, you're likely to find complex layers of detailed technical specs along with drawings and diagrams. 
DWG files contain both vector images and metadata to support the designations of those vector images. This gives the author the ability to fully flesh out their own 2D and 3D ideas on the screen, rather than relying on off-book information to support their work.
Pros and cons of DWG files.
DWG may be the go-to for graphics when putting together new engineering or architecture projects, but there are also a few drawbacks.
Advantages of DWG files.
AutoDesk is the industry standard software provider for technical drawings and blueprints, so DWG files work seamlessly with their products — no file conversion necessary.
 
The binary makeup of a DWG file makes it a smaller file by far than its leading rival DXF, which uses plain text. This makes it much more suitable for sharing with colleagues and saving on storage space.
 
The real beauty of the DWG is its ability to map 2D and 3D images together, so the two versions are always compatible at different stages of design.
Disadvantages of DWG files.
Though AutoDesk is the software of choice for industry professionals, DWG has limited capability. DXF is a more widely supported file on other CAD packages, which means collaboration between agencies and their clients tends to happen in DXF form.
 
The DWG format has changed a lot over time. This means more than one version of the file extension currently exists, which can be confusing. Plus, older software may not recognize newer features built into later versions of DWG, making entire files potentially unusable. 
 
DWGs can't be opened or accessed by anything other than CAD software without converting first. Again, this can be problematic when it comes to collaboration.
How to open a DWG file.
If you don't need to make edits, you can use a DWG viewer to open the files. With the right software on your computer, you shouldn't have any trouble viewing your DWGs.
Here's how you can open a DWG with Adobe Illustrator on desktop:
Right-click on the image file on your desktop or file explorer window. (On Mac, press the Command button and click the mouse.)
 
Scroll down to Open With, then scroll right to view the list of programs that can open a DWG file.
How to create and edit a DWG file.
As mentioned, you need one of the CAD programs to create and edit a DWG file from scratch. However, if you're using Adobe Illustrator, you can create a file and export it to DWG so it can be opened using CAD software.
Just follow these steps:
From the File menu, select Open.
 
Locate the file you want to open using the file explorer window.
 
Click to open the file.
To export it as a DWG file, do the following:
Choose File, then Export.
 
Select a location for the file and enter a filename.
 
Select the DWG format from the Save As Type (Windows) or Format (macOS) pop‑up menu.
 
Click Save (Windows) or Export (macOS).
Remember, you may experience issues with versioning – so make sure your recipient can open the file.
DWG files: frequently asked questions.
What does DWG stand for?

The term DWG is a shortened version of the word drawing – a reference to the action associated with the file type.
Can I view DWG files on mobile?
Yes. There are many mobile apps available that allow you to open DWGs on the go – enabling users to edit and share the file remotely.
Is DWG open source?
Unlike other CAD files, which are free for anyone to use, DWG is a proprietary AutoDesk format. Authorized use of the DWG format is subject to permission by AutoDesk.
Is DWG a 3D format?
Back in the early days of DWG, computers could barely handle 2D graphics, let alone 3D. But as the hardware improved, the DWG format became much more capable of handling robust displays, including 3D graphics — now a standard of the file format.
What is metadata in DWG?
In software files, metadata includes information and instructions to help the software (and the user) find out more about how the file is formatted. In DWG, this applies to the relationship between 2D and 3D versions, as well as other metatags.
DWG is the native file format for Autodesk's AutoCAD® software and is a trademark of Autodesk, Inc.
Learn about similar file types to DWGs.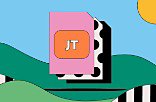 JT files
Another 3D object visualization format, JT was developed for data sharing and collaboration.
Compare DWGs with other file types.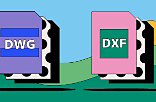 Welches Format ist am besten für Zusammenarbeit geeignet, und spielt Größe eine Rolle? Hier erfährst du alles, was du für die Auswahl des passenden Dateiformats wissen musst.
Hole dir Adobe Illustrator.
Gestalte Vektorgrafiken und Illustrationen.
7 Tage kostenlos, danach 25,33 € pro Monat.