Meet the complete logo design tool.
Create a professional logo design that makes your mark with Adobe Illustrator. Packed with the features you need to tackle any new logo you can imagine, this logo maker frees you up to follow your design inspiration.
Design the customised logo of your dreams.
Take your logo idea from the cocktail serviette to a business card with the most versatile vector graphics design software on the market. Discover how Illustrator gives you the flexibility and drawing tools to design logos that make an impression.
Shape your logo creation.
Manipulate and combine geometric shapes with precision. Using the Pathfinder and Shapebuilder tools, make a logo that's a unique and memorable part of your brand identity.
Not sure where to begin? Select your perfect logo starting point from a library of fonts — ranging from fun to professional — and then create something entirely your own.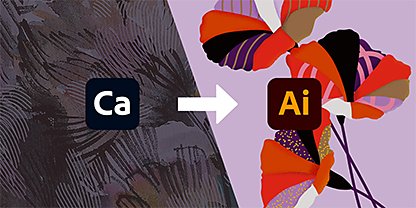 Take your concepts from physical to digital with ease. Scan drawings and sketches using Adobe Capture to kick off your logo design — a feature only available with Illustrator.
No matter the medium, make a logo that pops. Design in Pantone or CMYK, so your colour schemes stay true wherever you work, even with complex colour separation.
Flexible tools at your fingertips.
When an idea strikes, you want to roll quickly from inception to your graphic design process so you can share your work. With Adobe Stock assets and integrated fonts, Illustrator helps you seamlessly bring your creative vision to life.
The right font and style can make or break your logo. Preview and activate over 16,000 fonts with Adobe Font Integrations, without ever leaving the Illustrator app.
Don't start from scratch.
Jump-start your project with a wide selection of Stock logo templates and vector logo objects to free up time as you customise and refine your design.
Begin with the basics and you can become a logo creator in a few straightforward steps. 
---
Start by creating a new project in Illustrator.
---
Use shapes to create unique artwork.
---
Enhance your typography by adding and modifying text.
---
Add and then hone your logo's colour.
---
Save and export your logo to go live or get feedback.
---
Learn from the logo masters.
Get the help you to need to produce a distinct high-resolution logo. Begin with the Illustrator video tutorials and graduate to crafting customised designs and logos featuring your company name
Check out free logo design templates.
Craft a memorable logo for your brand, business or personal use with templates for Illustrator.