Stand out with a professional resume.
Design a resume that showcases your professional experience — with a design that's uniquely yours — in Adobe InDesign. Use a clean layout, fresh colours and beautiful type to help you to land your dream job.
Create a distinctive resume to stand out from the crowd.
Finding the perfect, creative resume template can be hard. InDesign can help you to create a customised layout that sets you apart from other job seekers.

Start with the content.
Resume writing is an art on its own and a good resume needs to be well written before it can be well designed. It's easy to get carried away and include too much information. Start with action verbs and write concisely about your work history using bullet points.
Sketch out a couple of layout options.
Once you have the content down, it's time to try out a few layout options, like two columns versus three. You can sketch out a few resume samples on paper before creating them in InDesign. Once you are ready, set up your InDesign document and use grids to ensure perfect alignment.
Choose a font and set a maximum of three character or paragraph styles.
The right font is an important part of the design, so experiment with a few and see what you like. Set character and paragraph styles to make easy changes later. Don't go overboard on the amount of font selections, to ensure your resume is legible and user friendly for hiring managers.
Populate the text and add simple graphic elements.
Go the extra mile by designing a customised logo or graphic for your resume in Adobe Illustrator and import it to InDesign. Use bold colours to highlight certain elements in your resume to draw attention.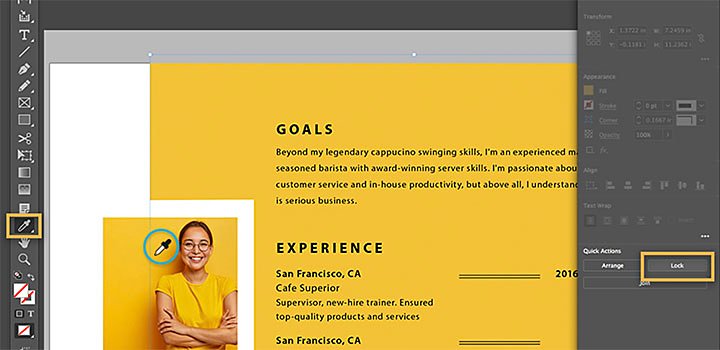 Take advantage of these tools from Adobe Creative Cloud.
Get access to tools that you can use to make your resume look like it was created by a professional graphic designer.
Find the right font.
Choose from over 17,000 high-quality Adobe Fonts to make your information organised and digestible. Easy-to-read font styles make a good resume great.
Make it sparkle with Adobe Stock.
With Stock assets, you can quickly find inspiration. Use a Stock image as a header graphic or use Stock to find a resume template that's ideal for showcasing your work experience.
How to design a resume.
With some creativity and these simple steps, learn to create a customised resume with InDesign to help you to get that new job.
Write it:
Write your resume content.
Sketch it:
Sketch a few different layout options by hand to see which one works best with the content.
Create it:
Set up your document and divide the content into columns using grids.
Tweak it:
Experiment with different fonts and colours to make sure it looks clean and professional.
Share it:
Print it out, export it in PDF format or publish it online to tell your story.
Explore resume design tutorials.
Check out these online resume-building resources and create something that will wow recruiters and potential employers.

Discover resume design basics.
Begin with a resume example and learn how to design a professional resume that will aid any job application.
Go digital with an interactive resume.
Build upon the classic resume format with an interactive online version that showcases your skills, creativity and experience.
Find the plan that's right for you.