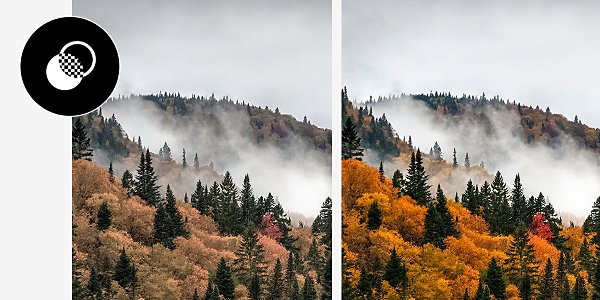 PHOTOSHOP lightroom FEATURES
Spice up your fall photos with Adobe Photoshop Lightroom presets.
Crisp and fresh presets can help amplify the glory of the fall season. Discover how you can give your photos an autumnal spritz with fall Lightroom presets.
Elevate your seasonal photoshoot.
From the oranges of pumpkin patches to the reds and yellows of the changing leaves, fall is a season exploding with distinctive colors. Lightroom presets are like adjustable filters that you can apply to your photos in Lightroom and Lightroom mobile. With these filters, you can make the right autumn color — whether it's matte, sepia, or pastel — stand out in any photograph.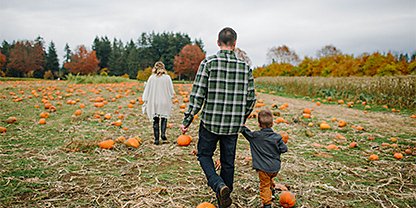 The right vibrance for autumn photos.
If you're creating a photobook, collage, or portfolio, fall presets allow you to add rich autumn tones to all your photographs to bring a seasonally warm tone to the entire project.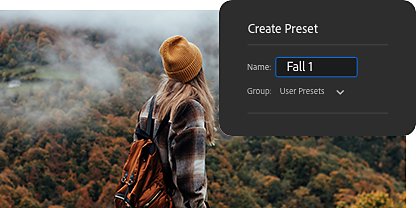 Share and import new presets.
If you've created a signature filter or look, you can export it easily to share with other photographers. Importing is just as quick, and there are hundreds of preset collections available online.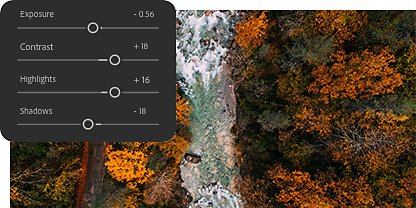 Easy to apply and customize.
Presets are quick to apply to your photo editing process and can be customized to your liking with easy-to-use sliders. Spice up your fall photos in seconds.
Lightroom is available on desktop, web, and mobile, so you can edit your seasonal photos with mobile Lightroom presets wherever you find yourself.
Great fall presets in Lightroom.
Lightroom offers numerous presets to help make your fall colors pop — all can be found under the Yours tab.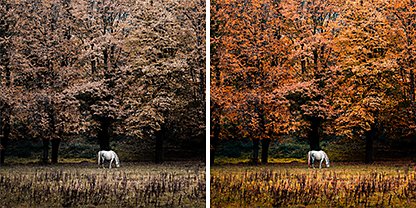 Bring out the stark contrast of a fall scene in all its glory and brightness with this preset.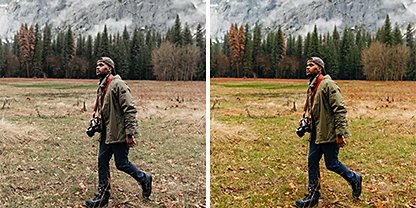 Focus on balancing the entire image with this preset, which applies minimal changes to hue and saturation, but enhances the light and shadow of your photo.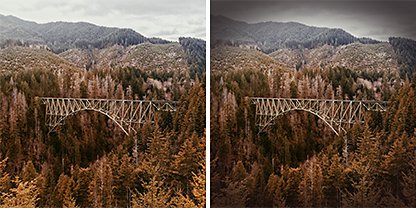 Basics › Vignetting › Medium
A vignette provides a small amount of framing to a fall photo, which can draw more attention to your subject.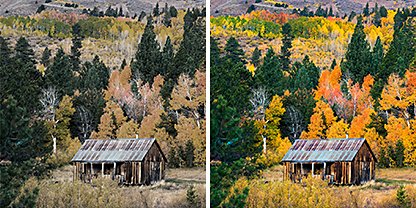 Basics › Curve › Cross Process
This preset allows you to adjust the tonal range and contrast of an image to tap into interesting color shifts.
How to use and create your own fall presets.
A fall scene with a high-quality preset is just four steps away.
---
With your photo selected in Lightroom, select the Edit icon and click Presets.
---
Choose the right preset for your photo. Hover over them to get a preview.
---
Once you've selected a preset, you can customize the sliders to modify the effects of the preset to make it your own.
---
Save your photo, or if you want to return it to its original state, select the Revert to Original command.
---
Lightroom tutorials for your photographs.
Learn how presets work and also how you can give your photos the enhancement they deserve with Lightroom.