How to rotate an image in Adobe Photoshop.
Rotating an image can mean a lot more than simply turning it sideways. Discover different ways to improve your photos with a change in image perspective.
Sometimes you can make a great photo even better by adjusting the rotation. Try changing an image from portrait to landscape by turning it 90 degrees clockwise or counterclockwise. Or, for an even bigger change, flip your photo 180 degrees to get a mirror image. Whether you want to make a slight rotation or change the perspective entirely, there's a way to do it in Photoshop.
Rotate an image in 2 steps.
---
1. With your image open in Photoshop, go to Image > Image Rotation.
---
2. Select from the image rotation options — 90 degrees clockwise, 90 degrees counterclockwise, or 180 degrees.
---
To choose a different number of degrees you'd like to rotate your image in Photoshop, follow the steps above, but choose Arbitrary... in the Image Rotation menu. Type in the exact number of degrees, choose clockwise or counterclockwise, and click OK.
---
Experiment with different rotation tools.
There are several ways to rotate images in Photoshop, each with specific features to help you get the look you're going for. Test all of them out to see what works best for you.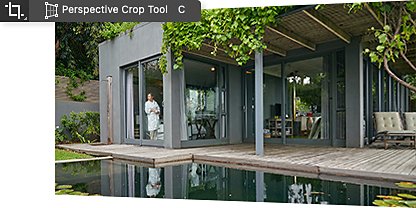 Tilt an image with the Perspective Crop tool.
To adjust an image's angle, hold down the Crop tool and choose Perspective Crop Tool from the toolbar. Use your cursor to place the borders of the bounding box around the area you'd like to shift.
Use the Transform and Free Transform tools.
When you want to rotate an image and make other kinds of transformations at the same time, look no further than the Free Transform tool. Or you can go to Edit > Transform to choose the exact transformation you want to make, like Scale, Skew, Distort, Warp, and more.
Move a whole photo with the Rotate View tool.
Use the Rotate View tool to turn an entire image sideways, at an angle, or upside down. Move the subject, background, and all individual layers simultaneously with one easy step.
Create a mirrored look with Image Rotate.
To create a mirror image or flip a canvas upside down, rotate an image 180 degrees on its horizontal or vertical axis with the Image Rotate command.
Rotate more than your tires.
Once you know how to rotate in Photoshop, you'll have an essential skill you can use to quickly improve all your photos. Check out these tutorials to learn more about how to flip, tilt, and rotate images.
Find the Creative Cloud plan that's right for you.
Adobe Photoshop Single App
​
Get Photoshop on desktop and iPad as part of Creative Cloud.
Learn more
   US$15.99/mo ​
Cyber Monday: Save over 70% on Creative Cloud All Apps. First year only. Ends Dec 3.
See terms | Learn more