Discover how transparent backgrounds can help your photos and designs stand out.
Get rid of the things you don't want in your backgrounds so your subjects can really shine. Explore how Adobe Photoshop — with a little help from Al — can automatically isolate any subject from a distracting background. Or use DIY features to make any background transparent so you can replace it with a new background of your choice.
Improve focus with background removal.
In product photography and graphic design, it's often necessary to remove a distracting background from your shots in order to put the focus where it belongs — on your main subject. With image editing tools, you can actually make backgrounds disappear completely. You can also make a white background transparent in Photoshop so you can isolate your subject or place it over a different background. (This works for backgrounds of any color.) This can help you better showcase a shoe, model, or even your own logo or artwork.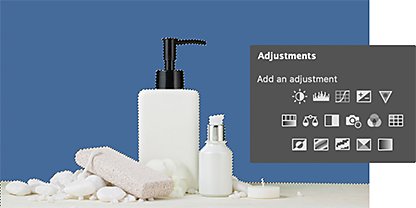 Detect backgrounds and subjects with a little help from artificial intelligence. Adobe Sensei-powered tools automatically remove backgrounds in the Layers panel. Adjustable sliders let you control elements like contrast, edge smoothness, and obscurity.
Showcase your style and boost brand identity by using transparent backgrounds. You can pop your newly isolated subjects, branding, logos, and more onto website headers, email signatures, ads, and more with ease.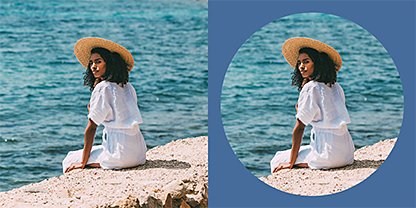 Use mask layers to hide and reveal selected portions of your background — nondestructively. (That means without deleting any pixels, so you get as many do-overs as you need.) Expand your selection area (the portion of an image defined for editing) or remove unwanted background in order to further refine the image.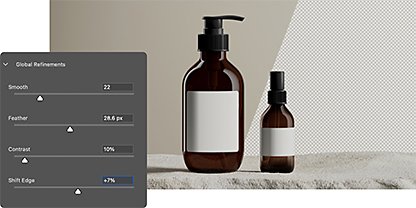 Tap into global refinement sliders to smooth and feather the edges of your image. This improves image contrast and sharpness to ensure that the details of your subject aren't lost as you make the background transparent.
Different tools for different jobs.
If your image is especially busy or complicated, add extra editing control with precision tools designed to be as exacting as your selection demands.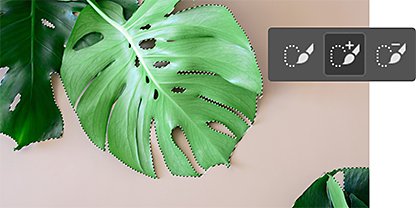 Get close to the edge with the Quick Selection tool.
Quickly "paint" a selection with a fully customizable round brush tip. As you drag, the selection expands and automatically locates defined edges for easier editing.
Transform your image with the Magic Wand.
Make a solid color background transparent with one click of this wand. Just click on any part of an image and all other pixels of the same color in the image will be selected. Then you can either mask or hide those areas.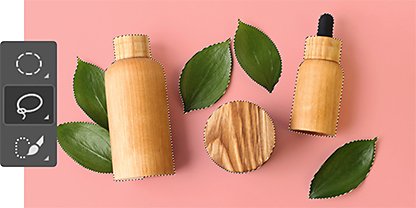 Round up your edges with the Lasso.
Use your mouse or stylus to make selection borders with a freehand drawing. No need to worry about accuracy — you can easily add and subtract from the selections to clean up problem areas.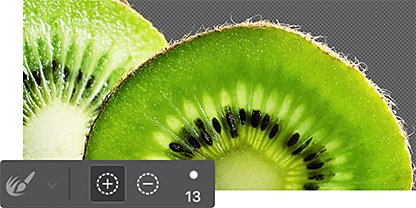 Zero in with the Refine Edge tool.
Use Refine Edge to fine-tune rough or smooth edges of selections you made with the various selection tools. For detailed photos with complex edges, the Refine Brush Edge allows you to brush over certain areas to tell Photoshop where to improve the edge.
How to make a background transparent in Photoshop.
Follow this step-by-step guide to isolate your subjects as you create a transparent background in Photoshop. Or make your background disappear entirely with AI-powered tools like Remove Background.
---
Upload or drag and drop your image file into Photoshop, and then click › Window › Layers.

---
Press Control+A (on a PC) or Command+A (on a Mac) to select the entire image, then Control/Command+C to make a copy of the original image, and finally Control/Command+V to paste it on a new layer. 

---
In the Layers palette that appears on the right side of your image, click the eye icon to hide the background layer.

---
In the Properties panel, click Quick Actions › Remove Background.

---
After Adobe Sensei analyzes the image and removes the background, save as a PSD (Photoshop) or PNG file to retain the transparency.
 
Tip: You can take a sneak peek at the layer mask by holding down Alt on Windows or Option on Mac and clicking the layer's thumbnail.
---
Discover more tools to up your edits.
Expand your image editing horizons with these helpful Photoshop tutorials.