Make the most of media replacement with MOGRTs.
Motion Graphics Templates, or MOGRTs, let you quickly and easily add professional animations, transitions, and video effects to your project.
Make a splash with media replacement.
With MOGRTs, you don't need to be a pro video editor to create unique, eye-catching graphics. With the ability to swap your own videos, photos, and text into an existing MOGRT file within Adobe Premiere Pro, you can add a professional effect to your videos in no time. This can help you create social media content for your brand or develop creative short films. Get started by exploring these different ways to add original content and make customizations to MOGRT files.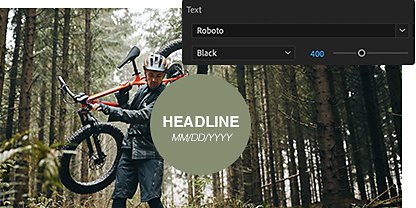 Tweak the text.
With MOGRTs you can change the text, the font, and the text size in your graphics. This lets you creatively add subtitles to a video clip or break up a long voiceover with text on the screen.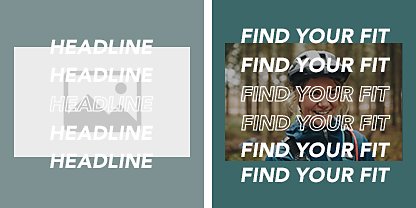 Add your own content.
Get creative with new media replacement MOGRTs and swap your own original photos and videos into the template. If you have a fashion line, for example, you can quickly swap photos of new products into an existing video slideshow.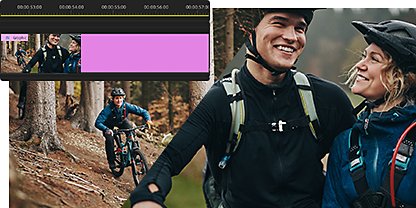 Change the timing.
Adjust a MOGRT to fit the feel of your video by speeding up or slowing down the movement of the graphic. A video about meditation will need different pacing from a kick-boxing tutorial, but they can use the same template as a starting point.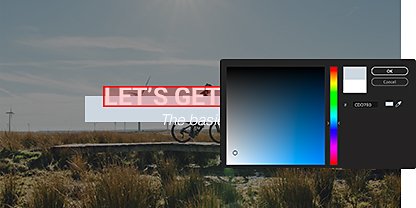 Adjust the color palette.
Change the colors and contrast of the text or graphic elements of MOGRTs to further fit the feel of your video. While bright colors may work best for a travel video, a more muted palette may better fit the intro to a cooking tutorial.
Bring projects to life with customizable MOGRTs.
While MOGRT templates are originally designed and built in Adobe After Effects, it's the ability to easily adjust and edit them in Premiere Pro that makes them more accessible. And when you pull in your own images from Adobe Photoshop or logos from Adobe Illustrator, you can create a collage of elements that come together to tell a unique visual story.
Streamline your workflow.
With customizable templates, you can combine high-quality graphics with your own original content, without needing to create complex After Effects projects. 
Attract attention.
With more people viewing videos online without sound, graphics are more important than ever. Grab your audience's attention with unique, dynamic visuals, and give your videos a chance to go viral. 
How to replace media in MOGRTs.
Follow this Premiere Pro tutorial to customize motion graphics with your own content. 
Start it:
Get started by opening a new project file or an existing clip in Premiere Pro.
Explore it:
Go to the Essential Graphics panel and choose from the preselected MOGRT templates, or browse free Adobe Stock MOGRTs directly within Premiere Pro.
Choose it:
Select the MOGRT you want, and add it to your project by dragging and dropping it into the timeline.
Edit it:
Click on the graphic in the timeline or click the Edit button in your panel to open the MOGRT adjustment options. These options let you change the font, text size, color, and clip timing. 
Customize it:
Replace the placeholder videos and images in the MOGRT with your own original content from Creative Cloud Libraries, and give your graphics a unique look.  
Learn more about MOGRTs.
Motion graphics are complex files with almost unlimited potential. Explore these tutorials and tips to master the art of MOGRTs and add them to your video project.
Premiere Pro Single App
US$22.99/mo
Includes 100GB of cloud storage, Adobe Fonts, and Adobe Portfolio. Learn more
---
Students and teachers
US$19.99/mo
Save over 60% on 20+ Creative Cloud apps — includes Premiere Pro. Learn more
---
Business
US$37.99/mo per license
Get Premiere Pro and all the Creative Cloud apps plus exclusive business features. Learn more
---