Transcribe video to text.
Instantly generate subtitles and captions or create a transcript with automatic Speech to Text features in Premiere Pro.
Collaborate and edit video with your team, anywhere.
Premiere Pro is packed with collaboration features that help creative teams work better together and get to final faster.
Create customizable subtitles and captions with voice recognition.
Use voice-to-text technology powered by machine learning to transcribe audio tracks in video files in real time. Add captions, improve accessibility, boost engagement, and get your story out to a wider audience.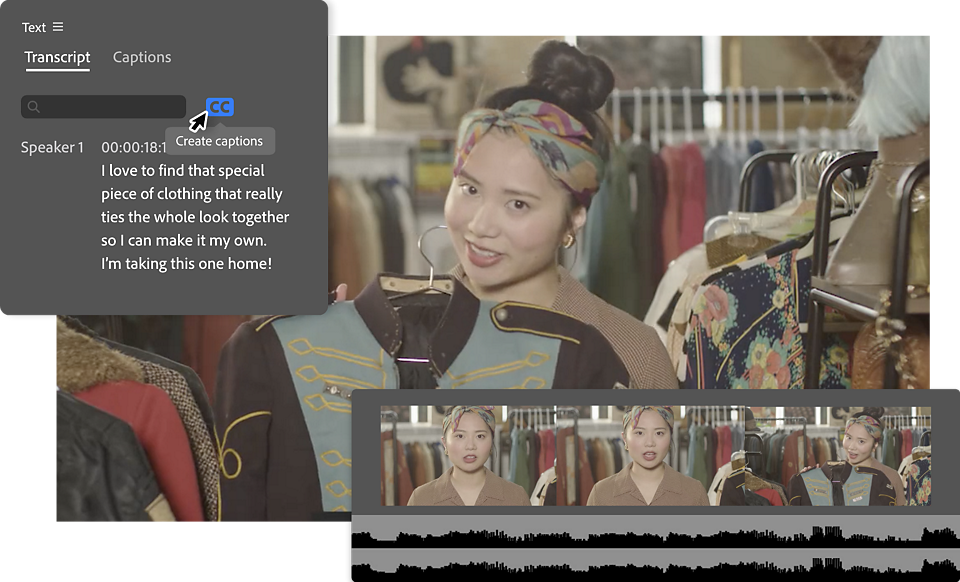 Generate transcripts in a snap.
Transcribe video to text faster than ever using artificial intelligence and accurately create captions, subtitles, and transcripts in 18 languages.
Make a rough cut by copying and pasting text.
Use your transcript to assemble a rough cut with AI-powered Text-Based Editing. Cut and paste blocks of text to move clips around. Search for specific keywords, automatically detect and delete pauses and gaps, and put your clips in sequence faster than ever.
Format your captions and subtitles to fit your style, or convert your captions to graphics. Adjust font, placement, colors, and more. Then save your settings and use them as caption templates for other projects.
Questions? We have answers.
What languages can Premiere Pro transcribe?
Speech to Text is available for: English, English (UK), Simplified Chinese (Mandarin), Traditional Chinese (Mandarin), Traditional Cantonese, Spanish, German, French, Japanese, Portuguese, Korean, Italian, Russian, Hindi, Dutch, Norwegian, Swedish, and Danish.
Does it cost extra to use Speech to Text?
No, Speech to Text is included in your Premiere Pro subscription. There is currently no set limit for fair and reasonable use by individual subscribers, for their own projects.
Do I need an internet connection to use Speech to Text?
With Premiere Pro 22.2 (and later) you can use Speech to Text offline. Premiere Pro includes an English language pack for transcriptions. Additional language packs can be downloaded individually. Once a language pack is installed, you can create transcriptions of your videos without an internet connection.
Does Speech to Text use artificial intelligence?
Yes. Speech to Text leverages AI technology to generate transcripts and position captions on the timeline so that they match the pacing and cadence of the spoken words.
What broadcast standard captioning formats are supported?
Australian OP-47, CEA-608, CEA-708, EBU Subtitle, and Teletext are supported. Export SRT, SCC, MCC, STL, and DFXMP files or embed captions into videos upon export.