Poster design tools at your fingertips.
Explore how Adobe InDesign makes designing your own posters simple and intuitive. Complete integration with all Creative Cloud apps helps you craft professional posters using beautiful typography and customised graphics.
Stand out on the telephone pole with great poster design.
From live music to academic lectures, create the perfect poster with InDesign and turn the notice board into your new exhibition space.
Get the look and feel you want when you design your poster in InDesign using the Smart Text Reflow tool and integration with Adobe Fonts.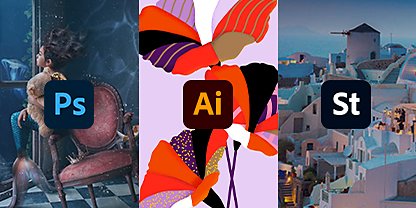 Bring customised design graphics together with seamless integration between InDesign and Adobe Illustrator, Photoshop and Stock to craft the perfect poster design for online and print.
Get a jump start on your poster design.
Easy-to-use InDesign tools and templates turn a creative poster idea into a printable reality.
Print the perfect poster.
Versatile page sizes and bleed margin guides make exporting and printing your poster simple. Now you can paper the town with your customised poster designs.
Collaborate with creatives.
With linking and frame tools, you can put placeholders in your posters as you wait for details or graphics for your designs. It's collaboration made easy.
Not sure where to start? Follow these quick steps and start designing expressive posters for every occasion.
Create it:
Choose your poster size and open a new document in InDesign.
Plan it:
Determine the layout of your poster and add in image and text placeholders.
Write it:
Create beautiful typography quickly with Adobe Fonts.
Design it:
Seamless integration with Photoshop and Illustrator lets you easily enhance your poster with graphics.
Save it:
Export your poster in the desired format and get ready to share or print.
Tips from poster professionals.
Follow these free tutorials and get the help you to need to deliver stunning poster designs.
Say goodbye to garish colours. Instead, develop complete colour schemes from your favourite photos and apply them to other elements in your poster layout.
If you need a break from bright colours, be sure you've optimised your black-and-white settings before hitting print on that monochromatic poster.
Find the plan that's right for you.

Creative Cloud

Photography. Video. Design. UX. If you can dream it, you can do it with Creative Cloud.