Make a lasting impression with tattoo design.
Explore the process of creating a custom tattoo design and see how digital tools can help you express yourself through an ancient art form.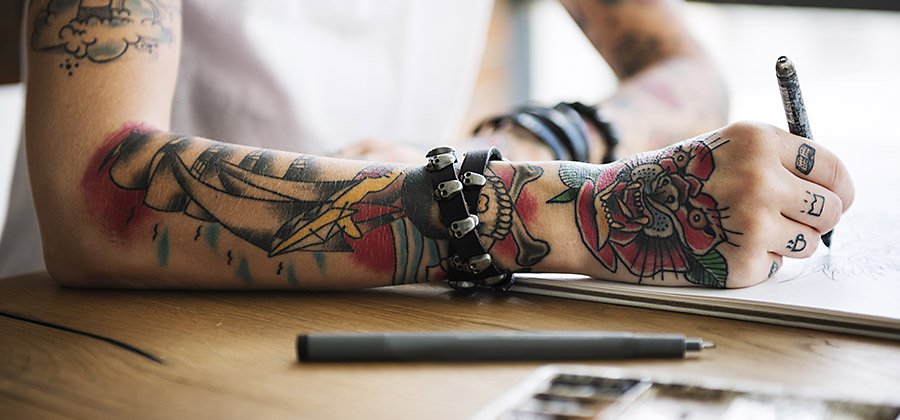 An introduction to tattoo design.

Tattooing, or marking the body with a permanent design by inserting pigment into the skin, is an art form that dates back thousands of years. While some tattoos hold cultural significance, many people get body art for aesthetic or sentimental reasons. Tattoos are an opportunity for people to creatively express themselves. "I encourage my clients to choose tattoos that mean something to them, but to also look at them as artwork, because it'll be on their body forever," says tattoo artist Lorraine Salazar.
Creating tattoos is a unique design challenge. With a curved canvas and complex tools, these designs need to follow specific rules to look good in the long term. When talking with clients about their ideal tattoo, be sure to set expectations with them and explain your techniques and specialties. Creating a design you're comfortable tattooing will ensure it looks beautiful for years to come and help you create the best tattoo for each unique customer.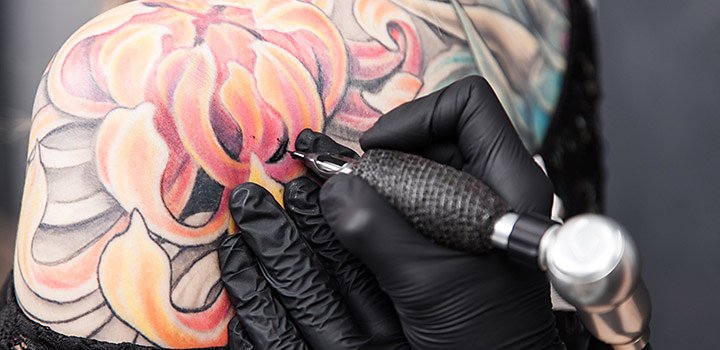 Spark your imagination.

Deciding what tattoo style you want to pursue with your work can be aided by research. "I look to art books and social media for inspiration," Salazar explains. There are endless ways to see what other artists and designers are doing and how those custom designs translate onto skin. Get started by exploring these examples: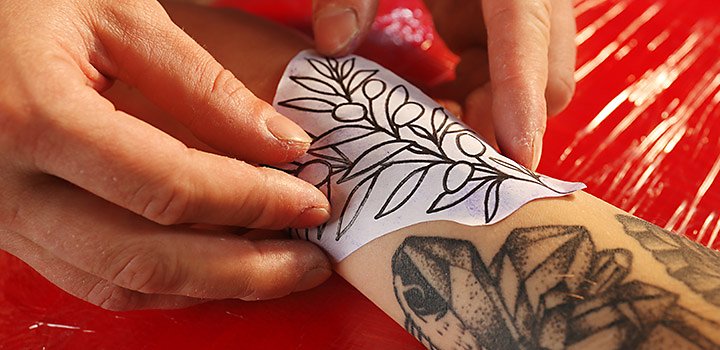 Understanding the basics.

Think about the budget
While it's important to be inspired, it's also important to consider the tattoo budget. As an artist, your time is worth something. So don't design a time-consuming, detailed piece if your client is working with a small budget. You'll end up rushing the work, and the final product will decline in quality.
Design for every body.
"You're going to design differently if it's a forearm tattoo versus the lower back. The curve of the body is different, and you need to design with that in mind," says tattoo artist Carrie Smith. Because the contours of the body are different, the level of pain or discomfort that comes with getting tattooed changes depending on its location. If your client doesn't handle pain well, you may need to counsel them to avoid specific areas like the ribs or feet.
Pick a size.
After choosing a location for the tattoo, it's time to choose a size. While the size is affected by the budget, it's also an aesthetic choice. You'll need to keep in mind that a tattoo's size and design affect the needles used and the speed of the tattoo machine. "Small tattoos can actually be harder to do, because you have to run your tattoo machines slower, therefore you tattoo slower," Salazar notes. When choosing a size, make sure your client is prepared for how size can affect tattooing time, as well as the discomfort that comes with it.
Find your color palette.
When designing a tattoo, work with the colors of other tattoos already on the body. If you're designing someone's first tattoo, ask about their future tattoo ideas. If they've got a full sleeve tattoo planned, make sure the wrist piece you're designing will fit into that aesthetic. Skin tone and undertone should also factor into your color palette, as different colors show up better on different complexions. Additionally, keep in mind that color tattoos will need more touch-ups in the future, so they are sometimes better suited to smaller designs.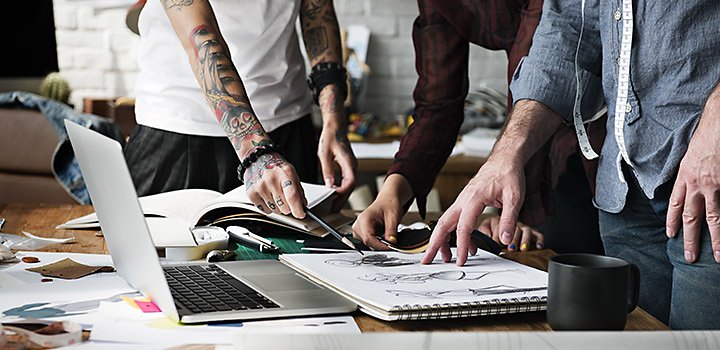 Let's get digital. 
When it's time to sketch, finalize, and digitize a tattoo design, you can get your concept down on paper with a pencil sketch or jump right into a digital drawing program. "There are so many digital tools out there that make drawing and tattoo design easier and more efficient," Smith notes. If you've created a physical drawing of your design, scan it into Adobe Illustrator so you can perfect it. Having a digital version of your tattoo allows you to quickly and subtly change the size of your design, rework the colors, and smooth out linework for quick revisions before you begin tattooing. Tattoos are one of the most permanent forms of art, so it's important to get them right the first time.
"There are so many digital tools out there that make drawing and tattoo design easier and more efficient."
If you've considered the tattoo size, location, color palette, and budget while designing, with practice and training, you'll be ready to tattoo. Each time, preparation will allow you to focus on applying stunning, unique tattoo art to someone's body — a canvas that's an honor to work on.

You might also be interested in…
Take your skills to the next level with drawing exercises and advice from professional illustrators.
Try Adobe Illustrator today.