The ultimate eBook publishing tool.
Calling all wordsmiths. See how Adobe InDesign can help you write, design, and publish your eBook. Turn simple text into a polished ePub book.
Crafting an eBook is easier than ever with InDesign in your corner. Simplify the process, and turn your publishing dream into a reality.
Transform and format with ease.
With InDesign, you can quickly resize eBook designs with intuitive and adaptive layout suggestions.
Working in a team doesn't have to be a pain. Design your eBook faster and smarter with InDesign tools built for collaboration.
Browse thousands of fonts with Adobe Fonts and make creative ideas look beautiful too.
Create the perfect page layout for your eBook with InDesign's adjustable spacing and custom styles.
Elevate your eBook design.
Get your eBook ready for readers by adding artwork from other Adobe platforms and preparing it for publishing.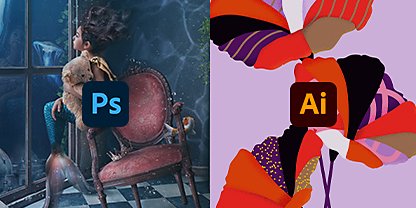 InDesign integrates seamlessly with Adobe Photoshop, XD, Premiere Pro, and Illustrator. Go ahead, add an eye-catching cover.
Prepare your eBook for publishing with versatile ePub formats supported by Apple iBooks, Kindle, and more. When your text eBook is organized, it's easier to read.
Need help getting started? Turn your manuscript into a published eBook with a few simple steps.
Kick it off:
Begin by creating a new document in InDesign.
Organize it:
Place your text, images, and videos in the document.
Beautify it:
Preview fonts and enhance your eBook with stunning typography.
Tweak it:
Polish it up by tightening the page layout and white space.
Share it:
Use the Publish Online feature and send your eBook to important readers for review and editing.
Finish it:
Make your edits, and then export the document in an ePub format.
Follow these custom tutorials and start crafting a new, creative eBook.
Whether you're making content-rich eBooks or multipage web documents, follow these steps to create versatile storyboard layouts.
An eye-catching cover can make all the difference. Grab extra attention by creating a bold eBook cover design with this tutorial.
Learn to design a content-rich eBook page from a storyboard layout using InDesign, and turn placeholders into creative, custom content.
Find the plan that's right for you.

Creative Cloud

Photography. Video. Design. UX. If you can dream it, you can do it with Creative Cloud.