Convert PowerPoint slides to interactive eLearning
Maximize productivity by converting existing PowerPoint-based learning content to mobile-ready interactive eLearning in a few clicks. Hit import and easily bring in your PowerPoint slides into Adobe Captivate. Add zing to your courses with 75,000+ free professionally designed eLearning assets. Roundtrip with Adobe Creative Cloud to enhance your eLearning content. Engage learners by adding different kinds of interactivity such as quizzes, questions, text blurbs and more. Publish your eLearning project on Adobe Learning Manager and enable learners to access it across all devices.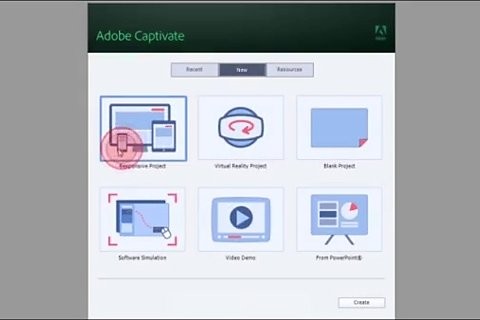 PowerPoint to mobile learning
Fast-forward to smart eLearning authoring by importing PowerPoint presentations to Adobe Captivate with just a few clicks*. Transform static PowerPoint slides into eLearning content that works seamlessly across all devices. Enhance the learning experience by adding interactive elements, assets, and quizzes.
Asset store
"Work smarter—unlock value with in-product access to Adobe Stock and our library of 75,000+ free eLearning assets. Choose from a universe of royalty-free images, people cutouts, interactions, themes, games, scenarios and much more. Find the perfect asset for your eLearning projects and delight your learners with content that dazzles.
---
CSV question import template
Reduce authoring time and effort with the .csv Question Import template in Adobe Captivate, which helps you automatically create question slides in your Adobe Captivate Project. Include all question slide logic in the same .csv file such as marks, correct answers and feedback. You can also import format-compatible question banks from other authoring tools with just a few clicks. 
Responsive motion effects without programming
Create fluid object transitions, that include motion paths and rotations, even in responsive projects. Now add effects to both individual objects and groups of objects. Define Linear, Custom or Scribble motion paths to completely control the way objects move. Preview animations on hover, and see how effects play out on the integrated Effects and Project timeline. Deliver a superior, responsive learning experience by designing different effects for different devices.
---
Try out the new PowerPoint to mLearning features
Try out the new PowerPoint to mLearning features
Also use
Adobe Captivate for:
Also use Adobe Captivate for: